MINORS: The 2018 HQ100 Roundtable, part 2
By Brent Hershey

@BrentHQ
January 16th, 2018 12:05am
In Part Two of our week-long look at the HQ100, our group of writers that contributed to the list—Jeremy Deloney, Rob Gordon, Chris Blessing, Alec Dopp, Nick Richards, Jock Thompson and myself—delve into the differences between our own personal lists and the final HQ100. Subscribers can find of all our HQ100 content at the links following. And a reminder that even more prospect information can be found in our 2018 Minor League Baseball Analyst, which ships on January 24.
2018 Organization Reports | 2018 HQ100 | Roundtable, pt 1
Q3. Based on your own Top 100, who did the group underrate? Make a case for someone you ranked higher than the HQ100.
Dopp: I think Tyler O'Neill (OF, STL) deserved to be a tick higher than where he ended up (#89). This is guy looked like the definition of muscle when I saw him in the Arizona Fall League back in 2016, with the raw and easy plus in-game power to back it up. I think the concerns about the hit tool are somewhat valid, but I remember talking with scouts and evaluators in Arizona about how hard this guy worked and the mentality he brought to the weight and video rooms every single day. In other words, he's an absolute gym rat. Combine that work ethic with the raw tools he has (including enough speed to possibly nab 15-20 SB annually), and I think he's going to be a valued fantasy asset. Eventually, he'll find a way to make more contact. Also, he's still only 22.
Deloney: This is an easy one for me. I had J.P. Crawford (SS, PHI) at #7. The next highest ranking on an individual ballot was #29 and he finished at #42. Too much was made of his slow start to begin 2017. He was outstanding the second half of the season and ended up establishing an easy career-high in HR while continuing to get on base at a very high clip. He is a premium defender who can play multiple positions. Add it all together and he could become a star. In addition, he'll play all of 2018 at age 23 and will likely be the Phillies everyday shortstop.
Thompson: I was high man on Carson Kelly (C, STL). Offensive catchers who excel behind the plate (and with job assurance) don't grow on trees, especially fantasy trees. In my opinion, Kelly has Top 5 fantasy catcher upside. Yes, he's blocked right now in STL, but he's just 23 years old with good size, and the power has ticked up in recent seasons. Kelly set personal highs in HR and SLG (10/ .459) in just 280 AB at AAA-Memphis before being promoted to STL to (mostly) sit behind Yadier Molina. His plate skills (33/40 BB/K) continue to improve as well. Kelly is reportedly ready now defensively; arm, framing, quickness—he is the entire package. Dynasty league owners need to sit on him for now, but he should be worth the wait.
Richards: Michel Baez (RHP, SD) came in at #58 while I had him at #33. Baez had played in Cuba since he was 18 years old, so when the Padres sent him to full-season Fort Wayne (Class A Midwest League) in July after one start in rookie ball, they probably weren't sure what to expect. Though it was only in 58 innings, he responded with a Dom of 12.7—not surprising for some who can throw a fastball at 98 mph—and a Ctl of 1.4—something very surprising for a 6'8" pitcher who is only 21 years old. Baez not only has that plus fastball, shows flashes of a plus change-up, as well as two developing breaking pitches. The dominance is there, and he could be an quick riser if his secondaries become more consistent.
Blessing: The group underrated Giants OF prospect Heliot Ramos at #79. He appeared on five ballots and I ranked him as at #40. Talking with a scouting contact about a few Reds prospects, he brought up Ramos' name without provocation. Ramos has five-tool potential, gaining especially high marks for his foot speed, defensive skills in CF and raw power potential. Ramos' hit tool is one that gets evaluators excited. Ramos put up a .348/.404/.645 line with 6 HR in 35 Arizona League (Rookie) games. However, he struck out at a 32% rate—in fact, that's where the concern lies. It's not a question of bat speed, but his swing is extremely raw, needing polish and refinement. While the package is raw, the upside and potential warrant a much higher overall ranking.
Gordon: Mickey Moniak (OF, PHI) was one of the more divisive and difficult prospects to evaluate. I got mixed reports from contacts and his slash line of .236/.284/.341 wasn't exactly scintillating. Moniak appeared on only 3 of the 8 lists and came in at #82 overall, but I had him at #58. Moniak, who was the #1 overall pick in the 2016 draft, was more aggressive at the plate than in the past, but previously showed better plate discipline and has the bat speed to hit for average. He is certainly trending in the wrong direction, but I still like the bat and above-average speed and he should add more power as he matures and fills out his lean 6-2, 185 frame.
Hershey: As the #12er on Juan Soto (OF, WAS), I'd have to pick him. This well may indicate my biases, as we discussed in part 1, as this ranking is a confluence of circumstances. First, I got a chance to see Soto in a game in April 2017 before he got injured, and he was easily the best player on the field that night. Ball jumped off his bat; multiple hard hits, and advanced pitch recognition and approach. As a full-season player at 18 years old, that's impressive. Second, it's an example of attempting to identify high-upside players early on. In this case, it's not just grasping at straws in hopes of a "hit," but instead based on Soto's whole package: skill set, age, maturity, reports from others. Yes, he's still just had limited time on the field so far, but with regards to what he's shown at a level far above his age, I feel confident Soto is going to be an impact outfielder at the MLB level.
---
Prospect coverage for the fantasy player from the ground up, and a whole lot more. Subscribe to BaseballHQ.com now to prepare for 2018.
---
Q4. Based on your own Top 100, who did the group overrate? Make a case for someone you have doubts or concerns about relative to their HQ100 ranking.
Richards: This is where I come clean about why I ranked Francisco Mejia (C, CLE) at #76, while the group put him at #22. But, isn't he the best catching prospect in baseball? Well, that's the issue. Sounds like even Cleveland is not sure of his position, as their choice to send him to the Arizona Fall League to play 3B indicates. His catching skills are still in development, so at either position, he is working on improving his defense, and that can slow a prospect down. As a catcher, he has the bat skills to be very good. But if he moves to 3B, he won't stand out quite as much. My ranking reflects the fear that he won't play catcher right away and thus be less valuable for fantasy purposes.
Thompson: I ranked Nick Gordon (SS, MIN) #79, and with a do-over, I'd put him outside my Top 100. Gordon's SS defense reportedly fell off last year, and in the mind of some observers he's beginning to look more like a second baseman. The problem with this is that Gordon delivered nothing special offensively last season at Double-A. Power was up, but 9 HR in 578 AB is still sub-par, and his ct% deteriorated from 81% to 74%. Despite good speed, his running game isn't developing (13/7 SB/CS). All of this suggests Gordon's ascent is not imminent, particularly with Jorge Polanco's (SS, MIN) glove improving—and that he'll need some time. Gordon was slightly young (21) for Double-A, so I'll circle back on him this year. But especially with the trend of offensive second basemen, I'm not seeing Gordon as that impact player yet.
Deloney: I, too, was going to say Mejia, but Nick stole my thunder. Instead I'll provide the counterpoint to Brent about Soto. He finished at #28 on the HQ100 and outside of the #12, was ranked #20, 22, 29, 35, 37, and 44 on the other ballots. I had him at #70. To be frank, I thought I was going to be higher on him than most. Boy was I wrong! I think his potential is extremely impressive, but I need to see more than 86 AB above Rookie ball before I get that excited.
Blessing: I go way back with Ryan McMahon (1B/3B, COL). I first scouted McMahon in April of 2014 with Single-A Asheville. This year I ranked him #95 while others had him as high as #14. I don't trust him. Why? I won't disregard the serious gains he made in 2017. While the numbers drastically improved last season in Double-A and Triple-A, he struggled getting the bat head into the contact zone against velocity in a small MLB sample. This is the same issue I observed in 2014 and in 2016. I'm okay hanging out alone on an island regarding McMahon; but I'm still very surprised he made our Top 50.
Hershey: Brendan McKay (LHP/1B, TAM) is one that I came in a good bit lower than most. I had him #72; he graded out at 45 with the group. Obviously, McKay is a tough call because his hitter/pitcher destination is still TBD, but I'm a bit surprised so far that his position has not been decided. If he's is a two-way guy, I'm skeptical that a he can really have an impact on both sides of the ball at the highest level. Another player that, with a stellar collegiate career and good tools, am interested in seeing play a full season professionally—but not convinced he's Top 50 material just yet.
Dopp: As a switch-hitting catcher with feel for barrel, soft hands and only 19, there's no doubt that Keibert Ruiz (C, LA) is going to be a very good contributor at the next level. But I'm not sure he's ready to be the best catching prospect in baseball behind Mejia, which is where we had as a group (I had him at #70, so the difference wasn't colossal). I'd just like to see a little bit more arm and CS% success rate than he sported in full-season ball last season. Again, I'm a fan, but I'd prefer someone like Jorge Alfaro (C, PHI) or Chance Sisco (C, BAL) as prospect catchers rather than Ruiz.
Q5. Outside of the two players you mentioned above, which one player's HQ100 ranking surprised you the most?
Hershey: I'd have to say Luis Robert at #33 was the most surprising—and I guess this means I do have a limit as far as attempting to be ahead of the curve. Seems Robert is similar to Maitan last year—an HQ100 ranking for a guy going only on international scouting reports. (Maitan was #87 in 2017 HQ100.) Now I did have Robert at #53 on my personal list; so I believe he's Top 100 material—just was surprised he made it comfortably into the Top 50. Hope that I get to see him play in 2018, and think that for next year's list we'll at least have a bit of a better perspective on what type of talent he'll be.
Dopp: I was pleasantly surprised with Monte Harrison (OF, MIL) at #60 overall, especially after not being ranked at all last year. He's earned that type of recognition; he was a major eye-opener in the Arizona Fall League after what amounted to a relatively historic showing of power and speed in Low/High-A last season. He's got the tools for dynamic impact and he's finally putting it all together. I personally had him only slightly lower, but I'm glad to see everyone else was on the same page with how they value his skillset.
Thompson: I'm always a little surprised to see a Colorado pitcher in the Top 100 fantasy rankings, just based on track record. But one with just low minors experience, a 5+ ERA, and walk issues? No thank. But, there sits Riley Pint.
Blessing: One thing with Pint: the Rockies took away Pint's breaking pitches for two to three months in an attempt to help refine his fastball command. Pint throws hard, but doesn't have much fastball movement and must rely on hitting locations. I hear you on the Colorado angle, but I gave the tools the benefit of the doubt given the circumstances around his statistical struggles.
But for me: Kyle Lewis (OF, SEA) as a Top 50 prospect? What has he done? The health reports out of the Arizona Fall League were not encouraging. He played in two games and was sent home because of swelling in his surgically repaired right knee. Reports out of the California League even hinted that he had lost a step. Sure, Lewis has big power. However, with questions remaining about his hit tool while also losing some foot speed, his power tool is the only tool we can really project. I believe best-case scenario here is Khris Davis. I hope I'm wrong and he regains what he lost from his devastating knee injury, but right now he's too high for me.
Deloney: I was surprised that everybody other than me included Kevin Maitan (3B, LAA) in their Top 100. He appeared at #40, 44, 54, 69, 76, 77, and 86 in the other 7 ballots and finished at #63 in the HQ100. Similar to my assessment of Soto, I would think others would want to see more out of him than 162 AB in rookie ball. Again, his ceiling is extraordinarily high, but his floor is extremely low as well. Please note that this doesn't mean I'm not fond of Maitan—I am, however, I'm just not ready to pull the trigger on a Top 100 just yet. I've spoken with several baseball people about him and most share my assessment.
Richards: I was surprised Adonis Medina (RHP, PHI) was not ranked in the Top 50 (I had him at #30). He's been going a level a year as a teen through short-season ball, and then last year at age 20 he spent the year at A-ball Lakewood, and he really stepped up. Batters don't get many hits off him, his control is good, and his strikeouts jumped into double digits. With a plus mid-90s fastball, plus slider, and two more pitches in development, he's one whose number I thought would be higher.
Deloney: Medina only appeared on 3 ballots; he likely finished as high as he did in the HQ100 based upon Nick's ranking of #30.
Blessing: I was also surprised Medina appeared on only three ballots. I had Medina 65th and easily guessed that Brent and Nick were the two other contributors ranking Medina on their list. There is a lot to love here. A four-pitch pitcher, Medina has three pitches projecting above-average or better. His fastball command and change-up effectiveness took big step forward in 2017, which transformed the FB/SL reliever profile into a bona fide starting pitching prospect. Don't play around with Medina. Roster him now.
For more information about the terms used in this article, see our Glossary Primer.
Shopping Cart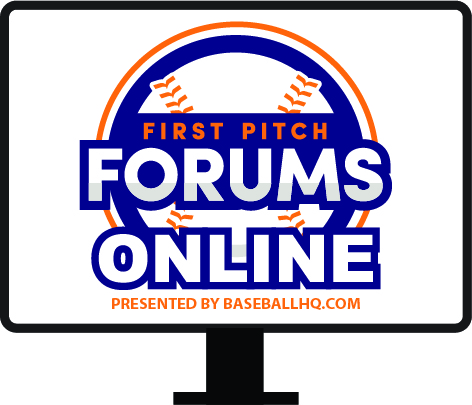 Our virtual First Pitch Forum returns!
Three online-only events: March 5, 11, 17
Join us live, or watch when you want
Just $19!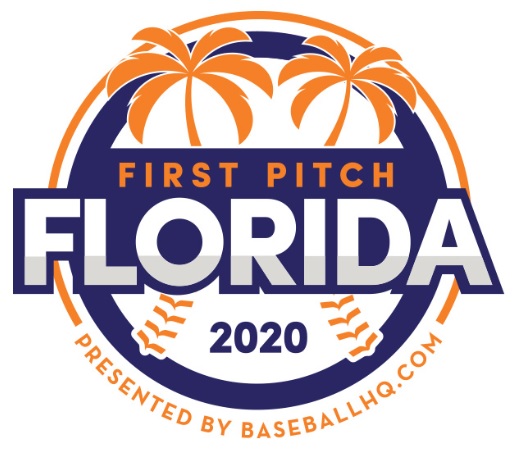 Inaugural Event!
February 28-March 1, 2020
St. Petersburg, FL
A few seats still left!