MASTER NOTES: April news
By Patrick Davitt

@Patrickdavitt
April 28th, 2017 11:04pm
This is the last Master Notes of the opening month, and a time to look back, with mixed fondness, on some of the statistical quirks that have popped up through 630-odd major league games before we head on to the warm months.
First, what the heck is going on with "established closers"? On Thursday afternoon, Roberto Osuna of Toronto came into the game in the ninth to protect a two-run lead. He gave up a double, then got two outs, then ... WHAM! (And this is not a reference to "Careless Whispers.") Randall Grichuk homers, and it's a tie game with another blown save for Osuna.
Now, this kind of thing will happen from time to time. But for Osuna, it is becoming the rule rather than the exception. Osuna has appeared in five games this year and has exactly zero clean, hit-free, run-free innings. He has given up nine hits and five earned runs. He has one save, and now three blown saves.
Three blown saves doesn't even lead baseball. Osuna is tied with former closer Sam Dyson of Texas, and behind them there's a parade forming of closers, former closers and potential closers at two blown saves apiece: Jim Johnson of ATL, Frankie "K-Rod" Rodriguez of DET, Mychal Givens of BAL, potential Osuna replacement Joe Biagini of TOR, former Wade Davis backup Koji Uehara of CHC (now third in the pecking order behind Davis and Hector Rondon) and now-you-see-him-now-you-don't PHI Edubray Ramos of PHI.
Meanwhile, some other back-end bullpen artists have inauspicious first months as well: Xavier Cedeno (TAM) has three blown saves, and Dan Altavilla (SEA) and Tyler Clippard (NYY) have two each, with no saves to at least offset the damage.
It might be that most of these pitchers' managers will play it patient with this cavalcade of save-blowing. Some teams have had effective closing, with Greg Holland (COL) already 9-for-9, Ken Giles (HOU), Tony Watson (PIT) 7-for-7, and a bunch at 5-for-5, including Aroldis Chapman (NYY), Kenley Jansen (LA) and Davis.
It's also interesting that a couple of closers not given any chance to keep the gig are doing just fine as well: Brandon Kintzler is 5-for-5 in MIN, Brandon Maurer (SD) is 4-for-4, and Raisel Iglesias (CIN) is 3-for-3. Not going to be a ton of wins in either location, so temper those expectations.
But the blown save count is up. Last season, it was around 12% of total games (keeping mind that one game can have multiple blown saves, especially for Toronto), and this year so far, it's more like 16%.
*
Quick—without looking, how many batters have OPS over 1.200 so far? And how many starting pitchers have ERAs under 1.00? Answer a little later!
*
One of the issues that spotty relieving creates is more tough losses for otherwise successful starters. I say this as the proud owner of Marco Estrada, JA Happ, and Francisco Liriano, who have been the beneficiaries of the Blue Jays bullpen generosity. Estrada, for example, has four quality starts in five outings—and no wins. Similarly, Madison Bumgarner (SF) is 4-for-4 in QS, with no wins and even worse luck dirt-biking.
Other victims of bad bullpen work (and/or anemic offense) include Jerad Eickhoff (PHI), Ian Kennedy (KC), Jacob deGrom (NYM), Jered Weaver (LAA), Mike Foltynewicz (ATL), Hisashi Iwakuma (SEA), Jaime Garcia (ATL) AND Jon Lester, all of whom have two or more QS—and no wins.
(On the flip side, lucky pitchers, with no QS but at least one win include Zach Davies (MIL), and Tyler Anderson (COL), with two wins each, and singleton wins by Alex Cobb (TAM), Rich Hill (LA), Brian Johnson (BOS), Zach Lee (SD), Kenta Maeda (LA), Joe Musgrove (HOU), Tommy Milone (MIL), Erasmo Ramirez (TAM), Adam Wainwright (STL) and Zack Wheeler (NYM).
*
A lot of pundits predicted Eric Thames would not be able to maintain the power pace he set in his time in the Korean Baseball Organization. I think they might be wrong. Thames has been a big story so far, of course, with 11 HR, 19 RBI and a 1.393 OPS. Since his previous high-water mark in the majors was a league-average .769 six years ago, it could be a forgivable error to assume he wasn't going to be the next coming of Henry Aaron.
But this hot start has the earmarks of more than just, well, a hot start. There looks like more to it. Last week on BaseballHQ Radio, guest Mike Podhorzer and I discussed Thames, and the possibility that he had indeed discovered something new and valuable in his game while toiling for the NC Dinos in Changwan, where he was the league's first-ever 40/40 guy, the 2015 MVP and something of a cultural icon. Some reports around the web have cited Thames as saying he really absorbed the baseball culture of Korea.
In particular, Thames took to heart the importance of having fun with the game and being a good team player, which for his situation meant cutting down the whiffs and accepting the walks. In his previous MLB stint, those numbers were between 25% and 36% strikeouts and 5-6% walks. In Korea: 18% strikeouts, 14% walks. And this year in MIL? 21% strikeouts, a bit higher than in Korea but understandable considering the relative talent levels of pitching in MLB and the KBO, and a whopping 18% walk rate. He's also greatly improved his discipline as far as which pitches he's swinging at, swinging at far fewer out-of-zone offerings and making contact with way more in-zone.
Thames is out of action after leaving a Wednesday game with what was called "tightness" in his left hamstring.
*
Finally, our trivia answers: Just four hitters are over 1.200 OPS, all in the NL: Thames at 1.393, Harper at 1.373, Freddie Freeman at 1.291, Ryan Zimmerman, 1.239. Mike Trout leads the AL at 1.083). Meanwhile, just two starters were under 1.00 ERAs through Wednesday's games, and this time, they're both in the AL: Ervin Santana was at 0.77 and Chris Sale was at 0.91, although Sale gave up two earnies in eight innings on Thursday and saw his ERA shoot up ... to 1.19.
For more information about the terms used in this article, see our Glossary Primer.
Free Weekly eNewsletter
The industry's #1 analytical weekly e-mail newsletter is ABSOLUTELY FREE!
More Information
Shopping Cart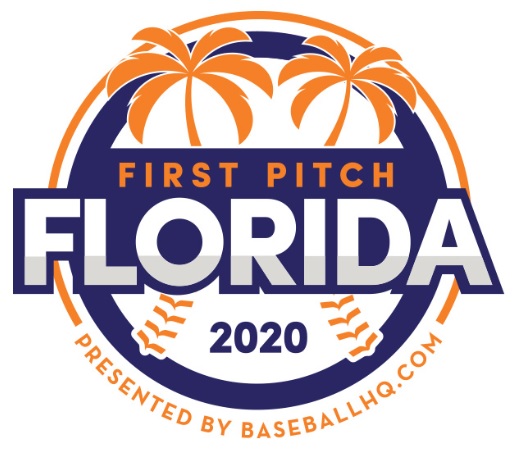 Inaugural Event!
February 28-March 1, 2020
St. Petersburg, FL
Early-bird registration now open!