MARKET PULSE: Will Cordero, that is Franchy Cordero, save your season?
By Joseph Pytleski

@ShoelessJoeHQ
June 24th, 2017 11:04pm
Market Pulse keeps your ear to the ground in order to give you a more complete look at the free agent market. Using data from OnRoto.com, this column identifies the players who have been Most Added and Most Dropped during the previous week. For additional context, the column provides links to the prior week's PT Today, PT Tomorrow, Facts/Flukes and Call-Ups columns that mention that player, to give a holistic picture of their circumstances. Plus, a few of the important players are highlighted for your consideration as you allocate your FAAB dollars or waiver priority.
Our coverage is sorted into deep mixed/AL and NL only leagues and shallow leagues. In each table, the top 10 most-added and top 10 most-dropped players from the week are sorted by percent ownership. The deep-league table represents players owned in 25 percent of leagues or less, while the shallow-league table indicates players owned in more than 25 percent of leagues. In addition, we provide each player's Mayberry Score for those seeking specific category help.
The players are color coded either green (buy), yellow (caution), or red (pass). A green "buy" is a comfortable recommendation based on skills, reliability, and price. A yellow "caution" is a mixed bag—perhaps a new skill has emerged and playing time has increased, but health and reliability remain in question. Depending on your league context and team needs, you may want to buy or pass. A red "pass" means that the combination of skills, reliability, or health precludes picking up the player at this time.
Deep league owners are busy renovating their late-inning relivers with southpaws and hoping that playing time continues for some new middle infielders. There are some strong 2B plays among the most dropped this week that should get FAAB consideration based on skill set and a shot at playing time. Shallow league owners are taking advantage of Chris Davis' DL stint, but the real value may lie is some 2B veterans who are getting cut prematurely.
DEEP & AL/NL ONLY LEAGUES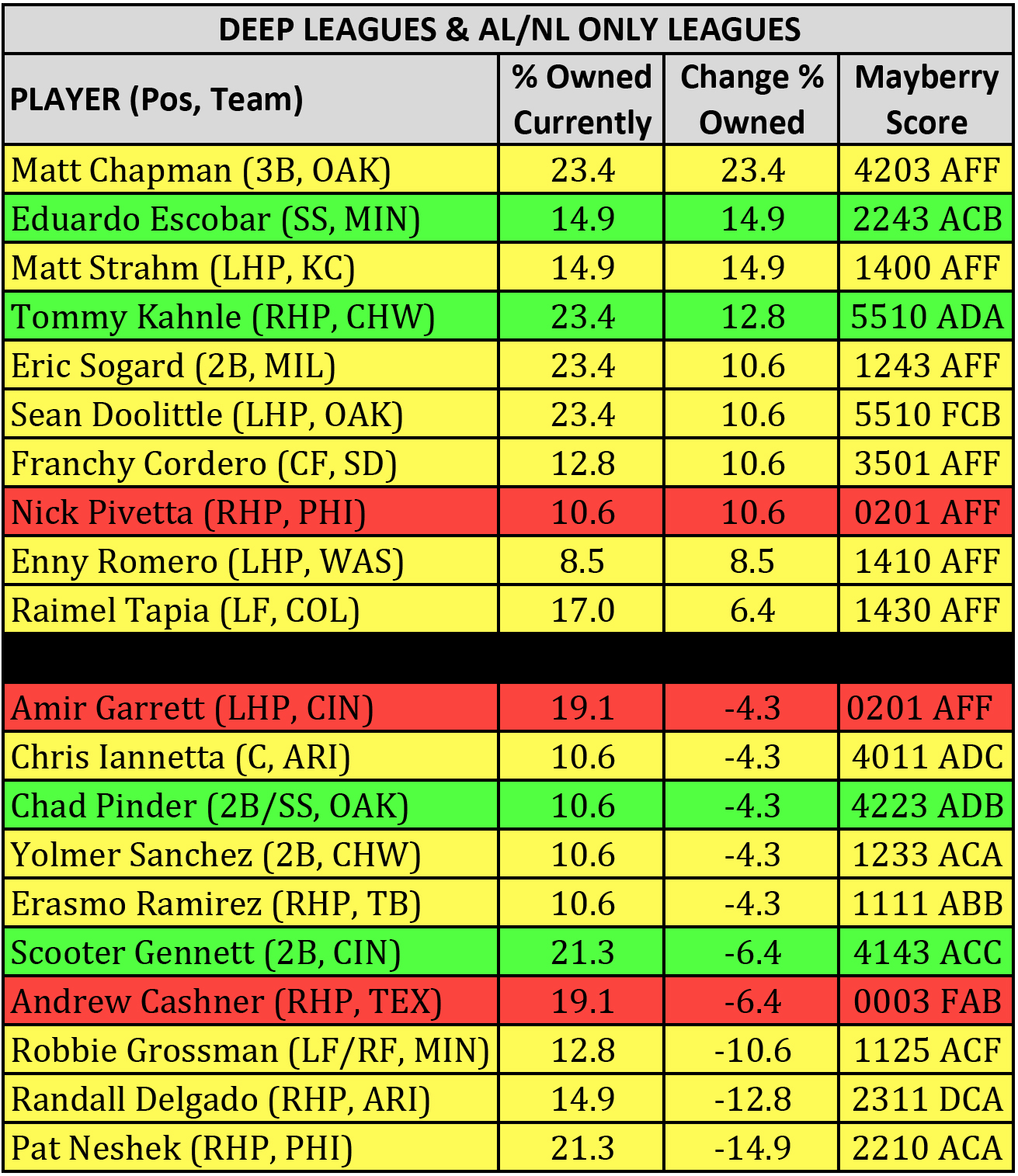 PT Today/Tomorrow and Call-Ups hits from the last 7 days: Matt Chapman, Eric Sogard, Sean Doolittle, Enny Romero, Scooter Gennett, Andrew Cashner, Randall Delgado (Fact/Fluke Spotlight), Pat Neshek
Most Added–Highlights
Franchy Cordero (CF, SD): The rookie is taking advantage of a Manuel Margot (CF, SD) DL stint and is flashing an enticing power/speed combo in his debut (156 PX/171 Spd). BHQ Call-Ups from May 28 notes his "questionable BA potential" because of poor pitch recognition, which has borne out in with a 58% ct%. However, he's not completely inept at taking a walk (8% BB%) and is displaying at least league-average hard contact (99). His 48% GB% at PETCO portend more future success on the basepaths rather than round trippers, but his quickness and glove in CF along with his left-handed bat should keep him fantasy relevant for the short-term.
Eduardo Escobar (SS, MIN): Escobar is riding a hot June to fantasy relevance, posting an enormous .489/.540/.756 line making over 90% ct%. He makes a lot of contact, which buoys his .297 BA (.281 xBA)., but his 50% h% is not sustainable. The 28-year-old switch hitter is making harder contact and is well on his way to demolishing his career high in HR (12), though his 15% HR/FB is over twice his career norm. He's no base stealer (75 Spd), but he could be a double digit earner the rest of the way provided he continues to hit. If not, then Jorge Polanco (SS, MIN) will be waiting for a second chance.
Most Dropped–Highlights
Chad Pinder (2B/SS, OAK): Pinder isn't the perfect player. He does not make enough contact (67%), has below average Spd (82), and doesn't walk enough (6% BB%). However, at the middle infield position he's got great power nine HR, 135 AB) with league average HctX (99), has a nice batted ball mix that includes 22% LD% and47% FB%. He's got some room to grow in BA (xBA .260) and is getting extra PT at both 2B and SS. He won't kill you in BA and SB and can help you in HR and RBI (24 in 135 AB). That will play as a starting MI in deep and AL-only leagues for sure.
SHALLOW LEAGUES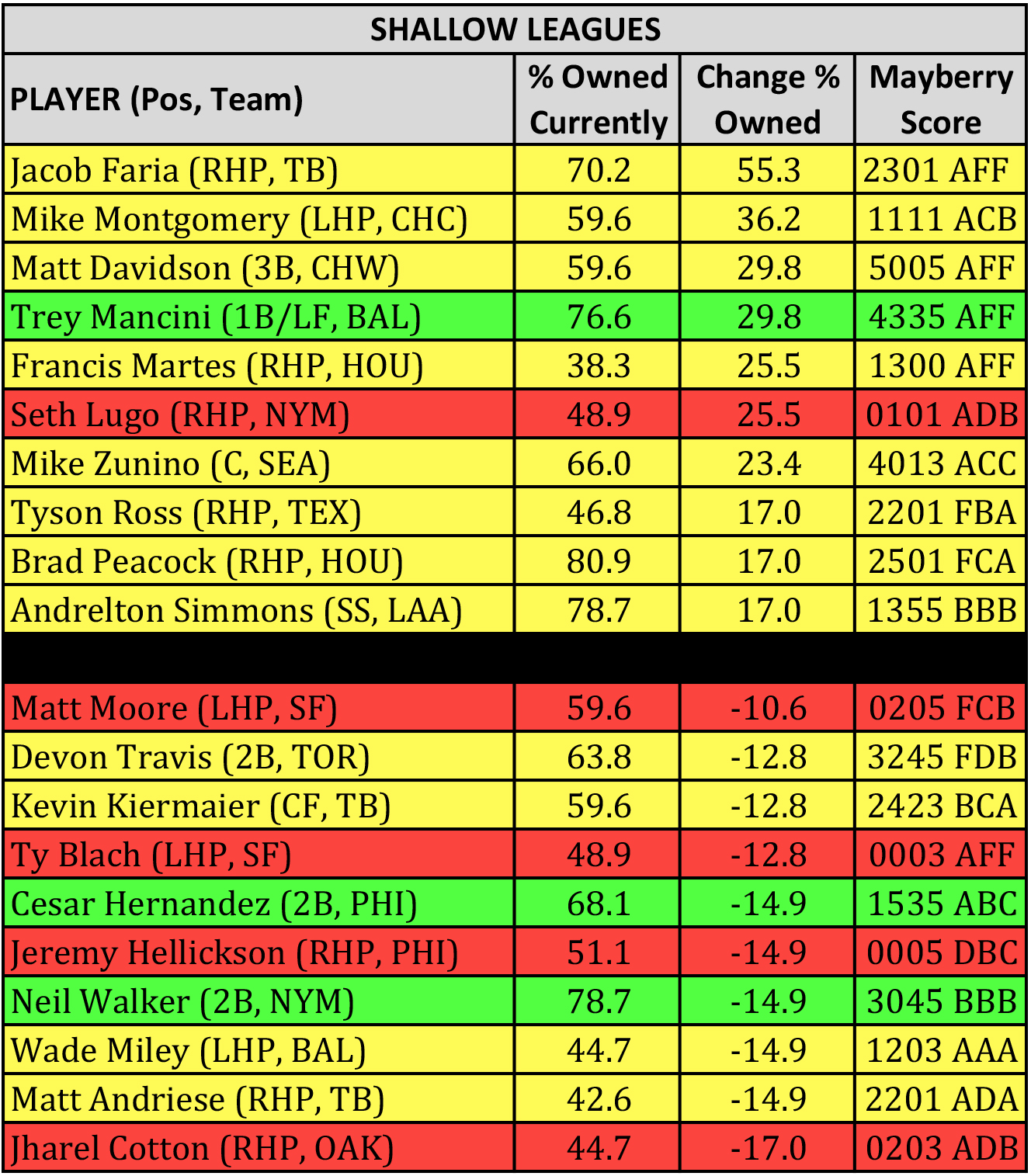 PT Today/Tomorrow and Call-Ups hits from the last 7 days: Trey Mancini, Tyson Ross, Devon Travis, Neil Walker, Matt Andriese
Most Added–Highlights
Mike Zunino (C, SEA): It is difficult to recommend buying here, despite his torrid June (eight HR, 1.259 OPS). A 57% ct% rate, below average 7% BB%, and 39% h% tell me that this is mostly smoke and mirrors. Yes, he has good power (185/138 PX/xPX) but not great power, and his HctX of 94 isn't anything special. Despite the paucity of power among catchers, view this as a great opportunity to sell high to whoever believes but employ your FAAB dollars elsewhere.
Brad Peacock (RHP, HOU): Something's going on here. No, he's still struggling to throw strikes, as evidenced by his career high 4.8 ctl rate. However, the 29-year-old righty has a 33% increase in Dom (13.0) this season, which is saying something. Early indications point to a lowered arm slot, but whatever the reason it's made him a useful fantasy commodity. Considering his "F" health grade and lack of consistency, it's difficult to give the green light, especially considering the command issues. However, the 133 BPV doesn't lie and his 2.82 ERA (3.12 xERA) is backing up his stuff. I'm cautiously optimistic here, but I wouldn't be surprised to see him on the DL next week either.
Most Dropped–Highlights
Neil Walker (2B, NYM): Walker recently went to the DL (hamstring) until the All-Star break, but not before hitting nine HR in 222 AB while batting .270/.352/.468. Another solid campaign was in the works for the 31-year-old veteran, so the fact that he's among the most dropped this week could present a buying opportunity. Though he will not reach the BHQ Forecaster UP: 30 HR ceiling this season, his BB%, ct%, Spd, and FB% were all at career highs. Add in a rock-solid BBB reliability score, and there is no reason to think the switch hitter won't come back strong for the second half. If an owner is wavering or has cut bait prematurely, now is the time to invest.
For more information about the terms used in this article, see our Glossary Primer.
Shopping Cart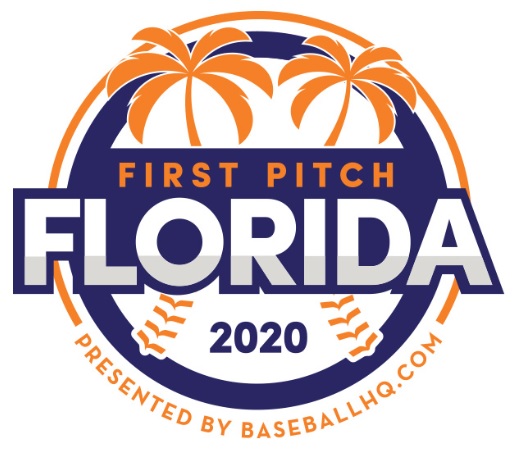 Inaugural Event!
February 28-March 1, 2020
St. Petersburg, FL
A few seats still left!