MARKET PULSE: Run, Wilmer, Run
By Joseph Pytleski

@ShoelessJoeHQ
August 5th, 2017 11:04pm
Market Pulse keeps our ear to the ground in order to give you a more complete look at the free agent market. Using data from OnRoto.com, this column identifies the players who have been Most Added and Most Dropped during the previous week. For additional context, the column provides links to the prior week's PT Today, PT Tomorrow, Facts/Flukes and Call-Ups columns that mention that player, to give a holistic picture of their circumstances. Plus, a few of the important players are highlighted for your consideration as you allocate your FAAB dollars or waiver priority.
Our coverage is sorted into deep mixed/AL and NL only leagues and shallow leagues. In each table, the top 10 most-added and top 10 most-dropped players from the week are sorted by percent ownership. The deep-league table represents players owned in 25 percent of leagues or less, while the shallow-league table indicates players owned in more than 25 percent of leagues. In addition, we provide each player's Mayberry Score for those seeking specific category help.
The players are color coded either green (buy), yellow (caution), or red (pass). A green "buy" is a comfortable recommendation based on skills, reliability, and price. A yellow "caution" is a mixed bag—perhaps a new skill has emerged and playing time has increased, but health and reliability remain in question. Depending on your league context and team needs, you may want to buy or pass. A red "pass" means that the combination of skills, reliability, or health precludes picking up the player at this time.
Plenty of new, high-profile callups are making the market react strongly this week. Look for peaks and valleys as a strong initial investment gives way to just as much selling as owners become disappointed with early volatility with the rookies. There is deep league value if one looks under the surface, though there's just not enough playing time and skills to merit green light buys this week. There are plenty of relievers being dumped after the trade deadline. Don't be so quick to discard proven, skilled assets just because they aren't getting saves. There are still peripheral gains to be made, and handcuffing incumbent closers is still a valid strategy in an ever-changing closer market.
DEEP & AL/NL ONLY LEAGUES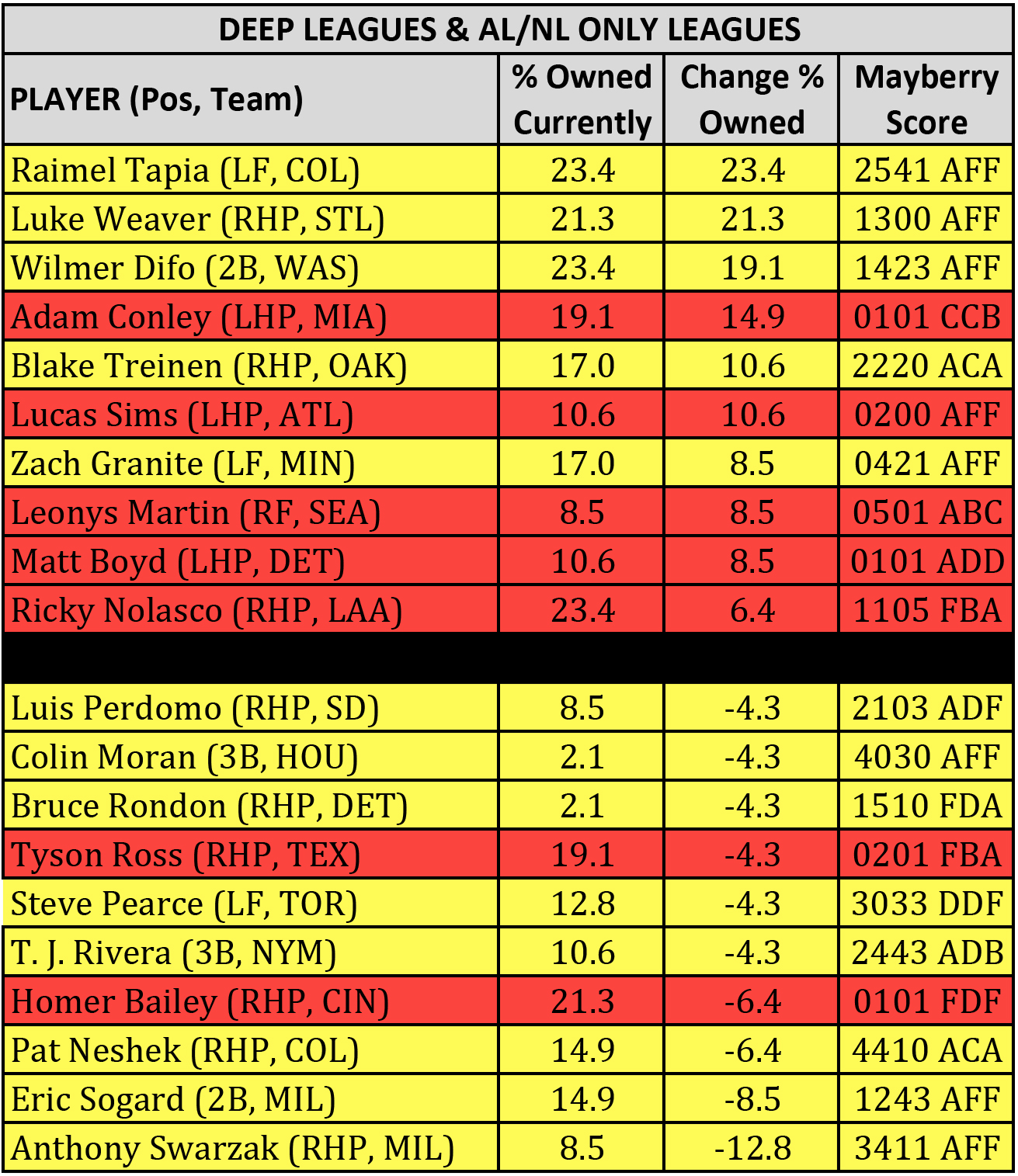 PT Today/Tomorrow and Call-Ups hits from the last 7 days: Raimel Tapia, Lucas Sims, Leonys Martin, Bruce Rondon, TJ Rivera
Most Added–Highlights
Wilmer Difo (2B, WAS): The needle is starting to move on Difo, and now may be the time to invest. In the last month Difo has posted an 82% ct% coupled with an 11% BB% (xBA .307). Though he's hit 3 of his 4 HR during this span, don't count on the power production to last (77 xPX). What is more encouraging is that he's beginning to take advantage of his speed (154 RSpd/144 Spd). He had stolen at least 30 bases in each of his last three minor-league seasons, topping out at 49 in 2014. Hitting near the top of a loaded WAS lineup, making more contact, and being more selective will only help him take advantage on the basepaths.
Most Dropped–Highlights
Bruce Rondon (RHP, DET): Manager Brad Ausmus has already anointed Shane Greene (RHP, DET) as the new closer moving forward. However, Rondon has actually been the better pitcher during the last month, despite his wildness (4.3 Ctl). He's managed to increase his Dom to 14.0 while decreasing his walk rate by nearly 25%. He throws 97 mph heat, and when he does throw it over the plate (51% FpK) he's getting the whiffs (15% SwK%). His 148 BPV over the past 30 days indicates that if he can harness his stuff, there is still closer potential down the stretch. The caution flag comes out as he's managed to tally 8 ER in his last 4 appearances, so consider yourself warned. It'll continue to be a bumpy development road.
Pat Neshek (RHP, COL): The veteran right-hander is in the midst of his best season as a professional, increasing his Dom nearly 20% (10.3 Dom) and putting up an unbelievable 9.8 Cmd in the process. Everything from GB% and HR9 to FpK and SwK are trending in the right direction this year. It's hard to believe that pitching in Coors Field will help his numbers, and it's a sure bet that he won't keep a 91% S% up (3.04 xERA), but he is currently putting up a 276 BPV during the past month, and he's (by far) the best setup man behind closer Greg Holland (RHP, COL) right now. At 14% ownership, there is legitimate reason to spend FAAB here.
SHALLOW LEAGUES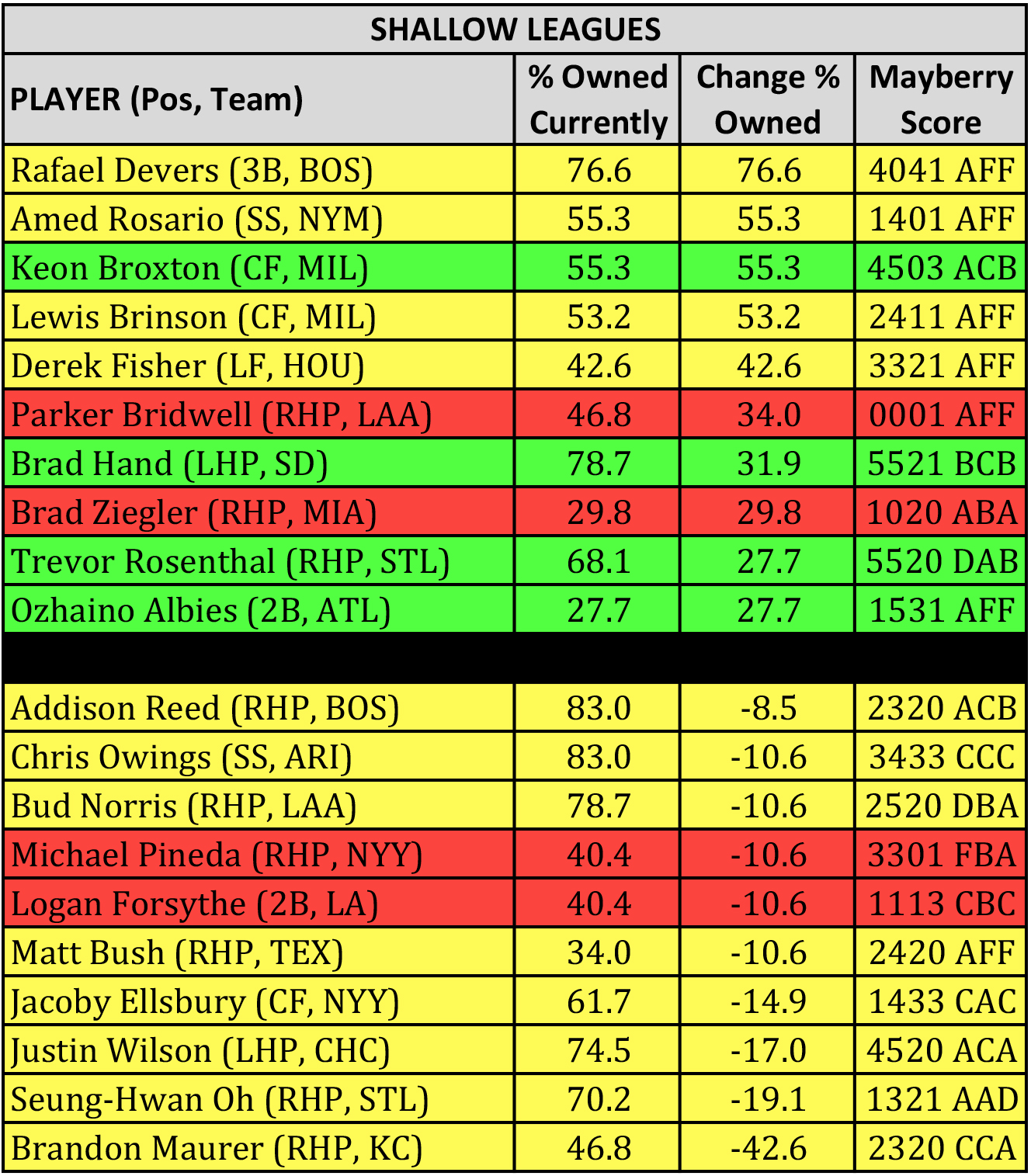 PT Today/Tomorrow and Call-Ups hits from the last 7 days: Amed Rosario, Keon Broxton, Derek Fisher, Brad Ziegler, Ozhaino Albies, Addison Reed, Chris Owings, Jacoby Ellsbury, Justin Wilson
Most Added–Highlights
Keon Broxton (CF, MIL): The 27-year-old was recently called back up to the big club, and if last year is any indication (8 HR, 16 SB), then he could be in line for a big second half this time around. That's no guarantee with his putrid 57% ct%, but he does know how to take a free pass (12% in last 30 days). He has game changing speed, and despite the BA drain (.222 xBA), he had 14 HR/17 SB in just under 300 AB in the first half. If an owner was quick to cut him during his demotion, there is ample reason to invest if you can stomach the 0-fer nights in between his explosions.
Ozzie Albies (2B, ATL): The BHQ prospect team had Albies at #19 in their pre-season top 100 rankings, which may have been the highest in the industry ... and for good reason. The kid can hit, he's got game-changing speed (90% SB success rate), and he has plenty of playing time in his future. With Dansby Swanson's (SS, ATL) recent demotion, there's a chance he could get enough exposure to keep his SS designation for next season as well. If you need a cheap source of speed in the MI, look no further.
Most Dropped–Highlights
Matt Bush (RHP, TEX): As the market sours on Bush, he continues to put up solid Dom marks (12.5 in the last month). He's throwing harder than ever (98 mph avg), and generating more grounders than he has all season (43%). Unfortunately, he just can't seem to find the plate, as indicated by his plummeting 48% FpK% and subsequent 5.8 Ctl. His mediocre 91 BPV over the past 30 days is better than all the other relievers on the roster, so there's still reason to believe that Bush can reclaim the role. With TEX slowly falling out of playoff contention, the 31-year-old flame thrower could use some low-leverage situations to regain his confidence. His price is hitting rock bottom, which is always a good investment opportunity.
For more information about the terms used in this article, see our Glossary Primer.
Shopping Cart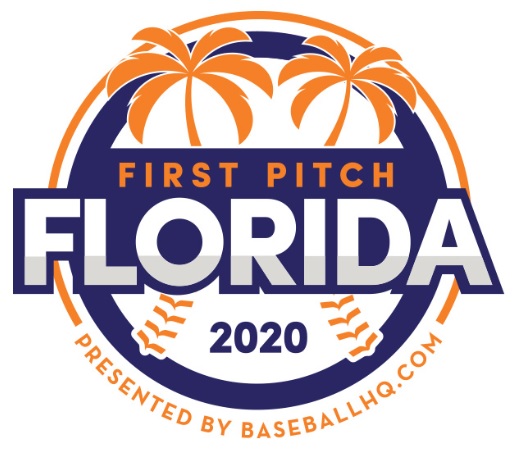 Inaugural Event!
February 28-March 1, 2020
St. Petersburg, FL
A few seats still left!