MARKET PULSE: Olson muscles up
By Joseph Pytleski

@ShoelessJoeHQ
September 9th, 2017 11:04pm
Market Pulse keeps our ear to the ground in order to give you a more complete look at the free agent market. Using data from OnRoto.com, this column identifies the players who have been Most Added and Most Dropped during the previous week. For additional context, the column provides links to the prior week's PT Today, PT Tomorrow, Facts/Flukes and Call-Ups columns that mention that player, to give a holistic picture of their circumstances. Plus, a few of the important players are highlighted for your consideration as you allocate your FAAB dollars or waiver priority.
Our coverage is sorted into deep mixed/AL and NL only leagues and shallow leagues. In each table, the top 10 most-added and top 10 most-dropped players from the week are sorted by percent ownership. The deep-league table represents players owned in 25 percent of leagues or less, while the shallow-league table indicates players owned in more than 25 percent of leagues. In addition, we provide each player's Mayberry Score for those seeking specific category help.
The players are color coded either green (buy), yellow (caution), or red (pass). A green "buy" is a comfortable recommendation based on skills, reliability, and price. A yellow "caution" is a mixed bag—perhaps a new skill has emerged and playing time has increased, but health and reliability remain in question. Depending on your league context and team needs, you may want to buy or pass. A red "pass" means that the combination of skills, reliability, or health precludes picking up the player at this time.
There are a number of outfield options that are at least worth looking at in deep and "only" leagues this week. That's not to say that each one is a sure bet; there's plenty of risk to go around, but beggers can't be choosers at this stage of the game. The closer carousel has quieted down for the most part, LAA notwithstanding. Shallow league owners still have some options left as you allocate your final few FAAB dollars. (Keeper league owners should take note that a red designation is mostly for redraft managers. There are a number of players that are worth investing in for next season if they are out for 2017.)
DEEP & AL/NL ONLY LEAGUES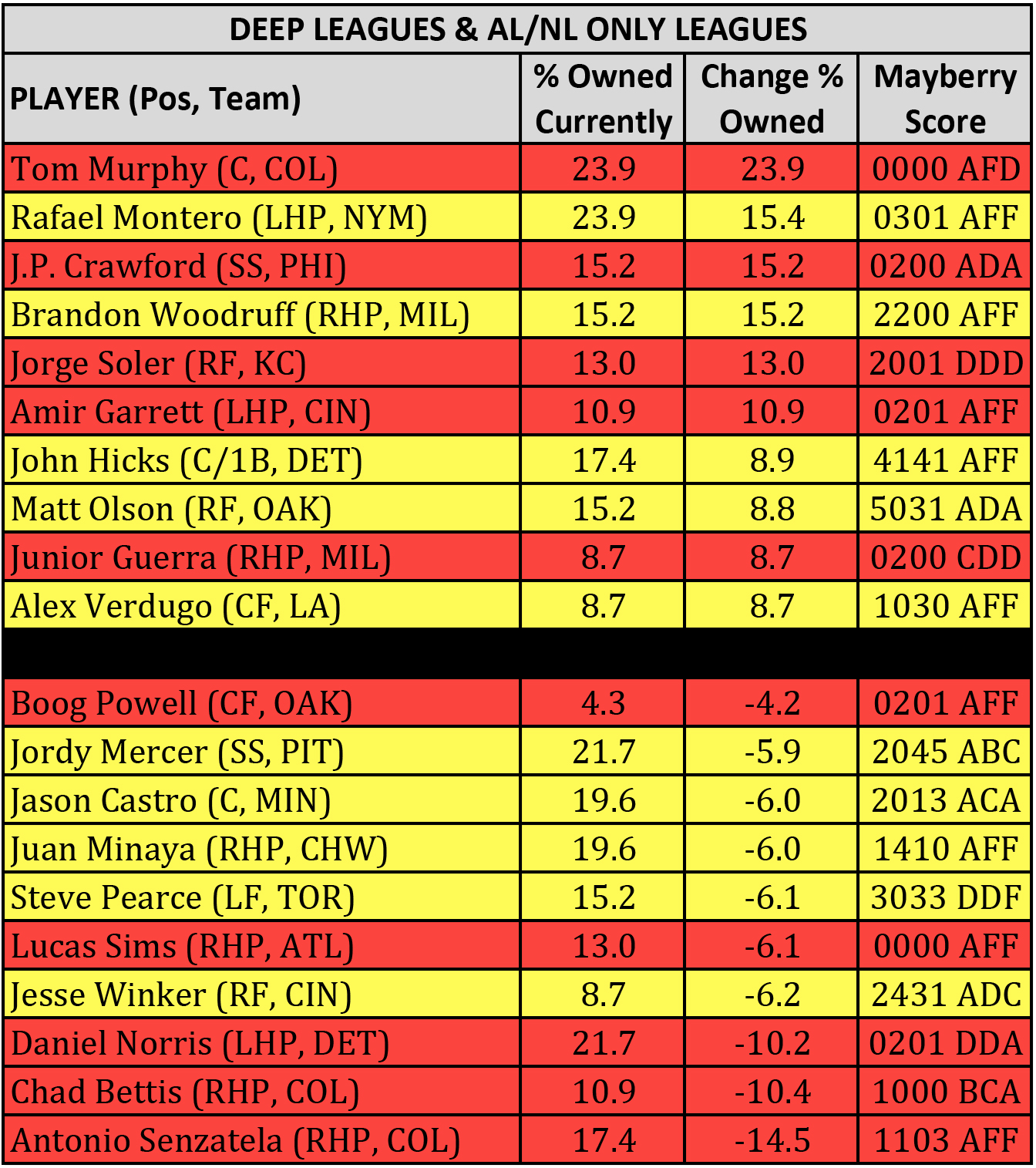 PT Today/Tomorrow and Call-Ups hits from the last 7 days: Rafael Montero, J.P. Crawford, Jorge Soler, Alex Verdugo, Lucas Sims, Jesse Winker, Daniel Norris
Most Added–Highlights
Matt Olson (RF, OAK): The nice part about Olson is that he should find PT down the stretch, and those in need of power could invest, as 15 HR in 135 AB doesn't exactly grow on trees (191 PX/165 xPX). The .250+ BA is surprising because he's not a great contact hitter (67% ct%), but he's walking enough (9%) to make it work. That said, don't expect him to keep up a 38% HR/F rate going forward. Considering OAK is a bottom-tier, run-scoring team and their home park suppresses LHB, there is reason for skepticism. Roll the dice and take your chances.
John Hicks (C/1B, DET): Hicks has gotten a chance to showcase his skills because of injuries and suspensions. He has made the most of his opportunity by hitting six HR in 130 AB and slashing .313/.372/.537. While his 69% ct% rate over the past month has been subpar, he is walking at a respectable rate (11%) and has flashed an above-average 119 HctX. The market is mostly reacting to his 3–4, two-HR performance on Sept. 5, so no need to go crazy here. However, he could have some value as a short-term C fill in until his PT dries up again.
Most Dropped–Highlights
Steve Pearce (LF, TOR): The results simply haven't been there for the veteran over the past 30 days, as he's managed to eke out a .238/.297/.396 line with a mere two HR. He's been mostly unlucky, as his underlying BPIs are solid (81% ct%, 9% BB%, 118 HctX). In many leagues he still qualifies at 1B/2B/LF, so there should still be some room for him on your bench. Expect his 6% HR/F rate to go back up to his 12% career norm, and throw a $1 if you need a bench bat.
SHALLOW LEAGUES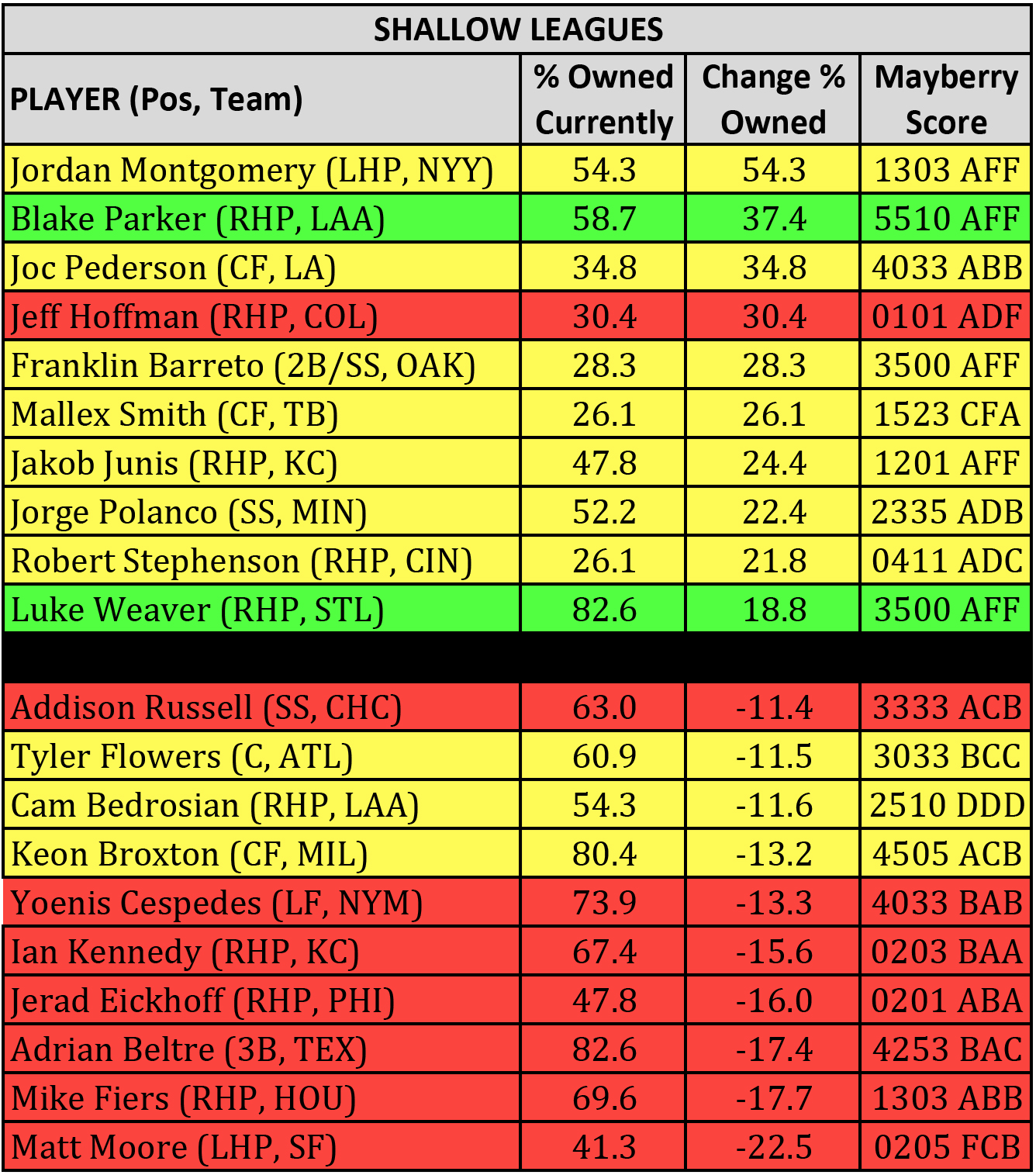 PT Today/Tomorrow and Call-Ups hits from the last 7 days: Jordan Montgomery, Joc Pederson, Jakob Junis, Jerad Eickhoff, Mike Fiers
Most Added–Highlights
Robert Stephenson (RHP, CIN): The young right-hander continues to tantalize with big strikeout totals (11.3 in the last month), but he cannot throw strikes. His 6.0 Ctl and 55% FpK make him impossible to trust, though he has managed to twirl two consecutive PQS-3s in his last two turns. In the Aug. 27 First Impressions, Brandon Kruse recommended patience while looking for "signs of growth in Ctl and FpK." That's good advice for keeper league owners. Redraft managers, however, should look elsewhere as this is a long-term project.
Luke Weaver (RHP, STL): While Stephenson represents a long-term play, Weaver is here to help your team today. Boasting a 196 BPV in the past month, the 23-year-old has three PQS-4 or better out of his last four starts in August. He's got an elite 12.5 Dom and 5.0 Cmd to go along with a solid 51% GB%. There's nothing not to like in his profile except for the fact that he's about to hit his career innings pitched ceiling (118 IP). With STL battling COL for the final wild-card spot in the NL, look for them to deploy Weaver strategically down the stretch in order to keep him fresh.
Most Dropped–Highlights
Ian Kennedy (RHP, KC): What a difference a year makes. A $13 earner in 2016, Kennedy is limping to a finish in negative territory this year. With an ERA almost a full two runs higher than last season, the veteran righty has seen his Dom, Ctl and velocity trend the wrong way. Although he's managed to increase his GB% while concurrently dropping his LD rate, it hasn't translated into meaningful results. His 1.9 HR/9 rate represents the worst mark of his career, and at 32 years old, there's not a lot of upside left in the tank. He'll be an end-game flier in next year's draft, but for now there's little reason to invest.
For more information about the terms used in this article, see our Glossary Primer.
Shopping Cart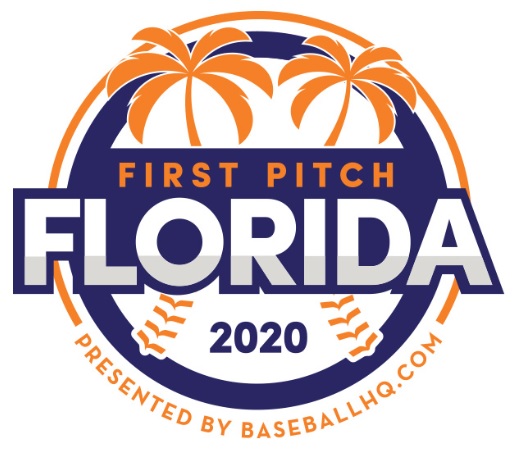 Inaugural Event!
February 28-March 1, 2020
St. Petersburg, FL
A few seats still left!