MARKET PULSE: Minaya a diamond or coal?
By Joseph Pytleski

@ShoelessJoeHQ
August 26th, 2017 11:04pm
Market Pulse keeps our ear to the ground in order to give you a more complete look at the free agent market. Using data from OnRoto.com, this column identifies the players who have been Most Added and Most Dropped during the previous week. For additional context, the column provides links to the prior week's PT Today, PT Tomorrow, Facts/Flukes and Call-Ups columns that mention that player, to give a holistic picture of their circumstances. Plus, a few of the important players are highlighted for your consideration as you allocate your FAAB dollars or waiver priority.
Our coverage is sorted into deep mixed/AL and NL only leagues and shallow leagues. In each table, the top 10 most-added and top 10 most-dropped players from the week are sorted by percent ownership. The deep-league table represents players owned in 25 percent of leagues or less, while the shallow-league table indicates players owned in more than 25 percent of leagues. In addition, we provide each player's Mayberry Score for those seeking specific category help.
The players are color coded either green (buy), yellow (caution), or red (pass). A green "buy" is a comfortable recommendation based on skills, reliability, and price. A yellow "caution" is a mixed bag—perhaps a new skill has emerged and playing time has increased, but health and reliability remain in question. Depending on your league context and team needs, you may want to buy or pass. A red "pass" means that the combination of skills, reliability, or health precludes picking up the player at this time.
There are a plethora of pitchers worth skipping over this week, with an inordinate number of southpaw starters that just don't pass the muster. Deep league owners may find some value in the OF, but there's just not a lot of talent on the mound to bid on. Shallow league owners have a couple of intriguing speed options available, but much of the pitching available is suspect. With most league trade deadlines already past, it makes spending FAAB dollars tenuous.
DEEP & AL/NL ONLY LEAGUES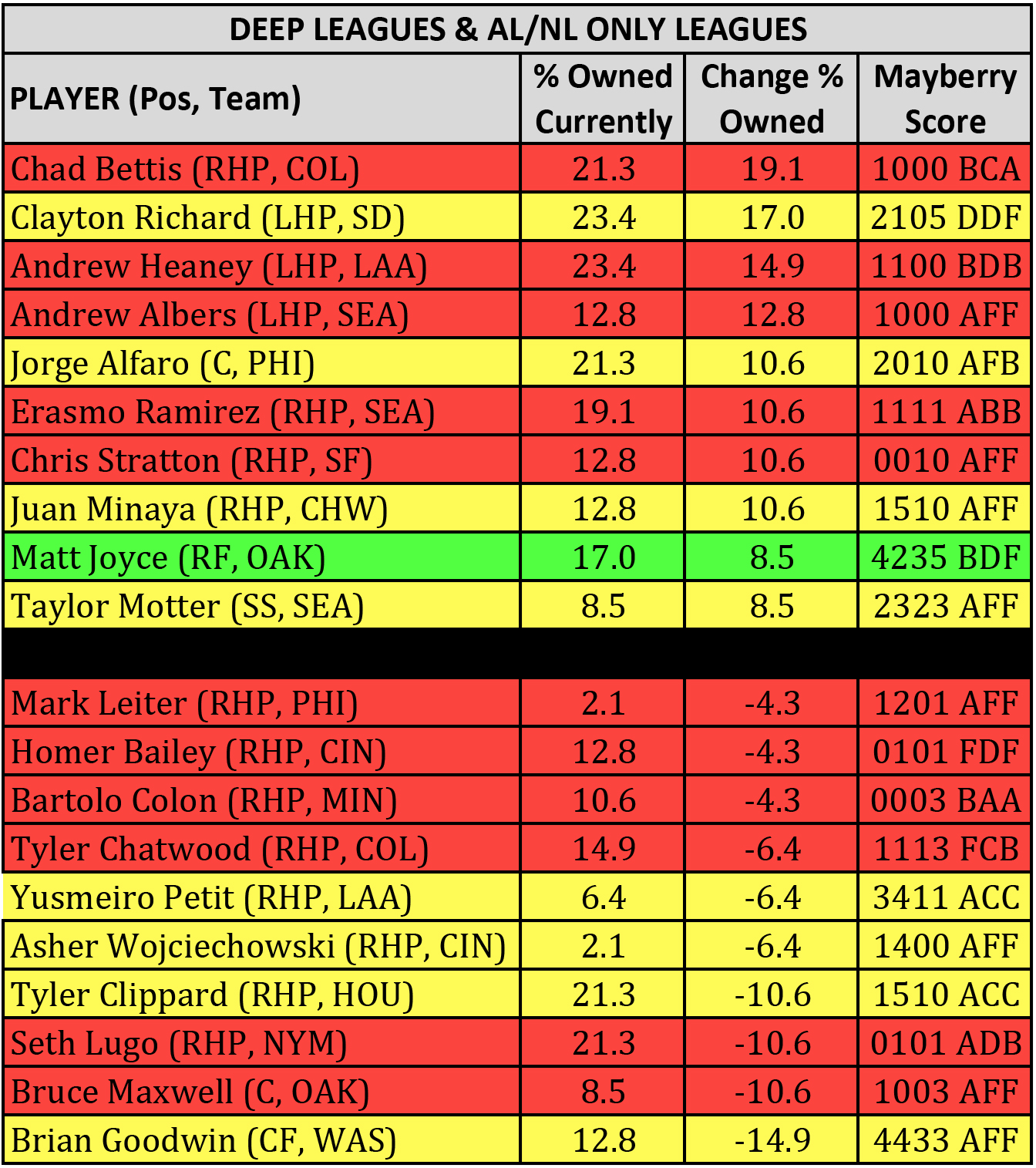 PT Today/Tomorrow and Call-Ups hits from the last 7 days: Andrew Heaney, Taylor Motter, Mark Leiter, Homer Bailey, Yusmeiro Petit, Asher Wojciechowski
Most Added–Highlights
Juan Minaya (RHP, CHW): Tabbed a "diamond in the rough" by manager Rick Renteria, Minaya has, by default, inherited the closer role on the south side of Chicago. The market isn't buying, as his ownership has surged to 12% last week. And rightly so: his 1.9 Cmd and 2.0 HR/9 are troubling. While his ERA has tumbled to a more than respectable 2.79 in August, his xERA remains bloated at 4.90 due to 20% H% and season-high 82% strand rate. Fly ball pitchers with 6.5 Ctl are not primed for success at Guaranteed Rate Field. Though the young Dominican has enjoyed some relative success early on, better to place your bets elsewhere.
Matt Joyce (RF, OAK): Joyce hasn't been a double-digit earner since 2011 ($17), but his 19 HR, four SB and .332 OBA in under 400 AB has vaulted him atop the OAK lineup vs. RHP. At 32, Joyce is what he is: a platoon bat with power, an above average eye, and a smattering of speed. Trades and injuries have opened up playing time for the veteran, and he's taking advantage, hitting six HR and stealing a couple of bases in August. All is not rosy, however, as he's sacrificing contact (68%) and OBA (8%) to power up. That said, he should see a majority of AB moving forward, so owners needing an OF filler could do worse at this point.
Most Dropped–Highlights
Brian Goodwin (CF, WAS): Goodwin has been WAS best CF this season but has been sidelined with a groin strain since the middle of August. Replacement Michael Taylor (CF, WAS) has responded with a putrid .162/.205/.216 line in the past 40 AB, though his glove is keeping him in the lineup for now. One can only hope that Goodwin can return for the stretch run, as a CF with above-average power (155 PX/133 xPX) and speed (115 RSpd/103 Spd) is somewhat of a rare commodity these days. He struggles making contact (72%), but he was on his way toward earning double-digit dollars before his injury. If there's room to stash him in deeper formats, he will provide value hitting atop a loaded WAS lineup and be a worthy UTIL starter down the stretch.
SHALLOW LEAGUES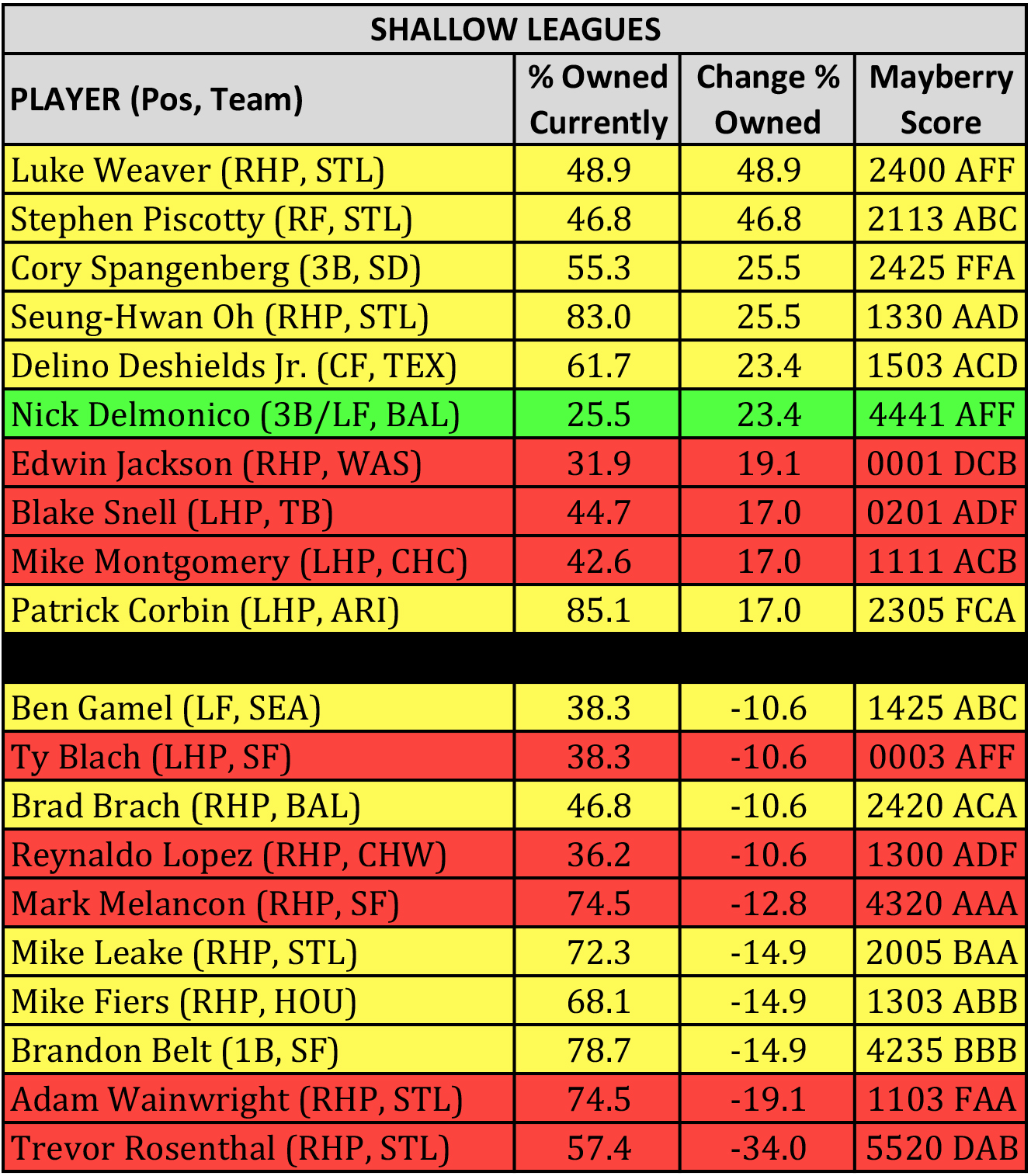 PT Today/Tomorrow and Call-Ups hits from the last 7 days: Luke Weaver, Stephen Piscotty, Seung-Hwan Oh, Delino Deshields, Mike Montgomery, Reynaldo Lopez, Mark Melancon, Mike Leake, Adam Wainwright, Trevor Rosenthal
Most Added–Highlights
Cory Spangenberg (3B, SD): A once-touted prospect, the former middle infielder now finds himself playing the hot corner and LF. He's acquitted himself well by smashing 13 HR and stealing eight bags in under 350 AB. However, he won't be able to keep up a 35% h%, and he hits too many grounders (52% in last month) to keep up a 29% HR/F rate. Speed has been his calling card, and it is reasonable to expect that he will take advantage of his 121 Spd. That said, a 49 BPV and an "F" health/consistency grade do not inspire confidence with limited FAAB dollars to spend. Are you feeling lucky?
Nick Delmonico (3B/LF, BAL): While pundits drool over Rhys Hoskins (1B, PHI) hitting eight HR in just over 50 AB, Delmonico has been good in his own right. The young lefty scored a superior 1.07 Eye rate, posting a 17% BB% paired with an 81% ct%. While it is impossible to compare power numbers between the two, Delmonico still has an above average 129 PX mark (225 Hoskins) with some speed (105 Spd). Lest one think he cannot maintain his current .307 BA, the 24-year-old still has a .288 xBA as his advanced eye mitigate his lack of track record. The sample is still small, but profiles like these don't grow on trees.
Most Dropped–Highlights
Ben Gamel (LF, SEA): Hitting .187 in his last 90+ AB, Gamel has seen ownership levels drop below 40% in the last week. Steven Nickrand noted back in July that Gamel is "someone who could decline significantly down the stretch" as his xBA didn't support his overall numbers. Like clockwork, Gamel has responded in kind, posting a 6 BPV in the last month. With SEA fighting for a wild-card spot in a crowded AL, Gamel can ill afford to continue on this track. He's starting to make more contact and hit more grounders, both of which bode well for taking advantage of his speed (139). However, hitting down in the lineup will continue to limit his chances. If he's not running, then there's not much upside left here.
For more information about the terms used in this article, see our Glossary Primer.
Shopping Cart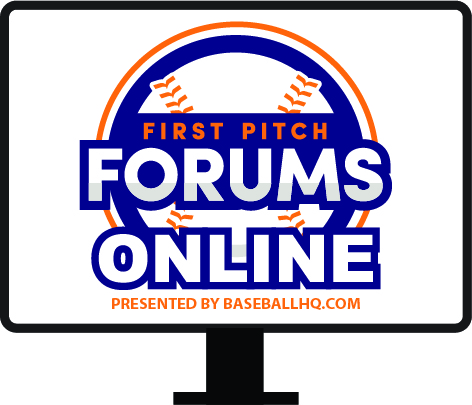 Our virtual First Pitch Forum returns!
Three online-only events: March 5, 11, 17
Join us live, or watch when you want
Just $19!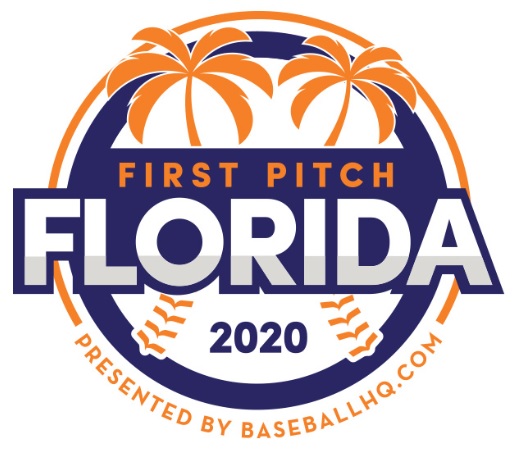 Inaugural Event!
February 28-March 1, 2020
St. Petersburg, FL
A few seats still left!