MARKET PULSE: Junis a bright spot
By Joseph Pytleski

@ShoelessJoeHQ
September 2nd, 2017 11:04pm
Market Pulse keeps our ear to the ground in order to give you a more complete look at the free agent market. Using data from OnRoto.com, this column identifies the players who have been Most Added and Most Dropped during the previous week. For additional context, the column provides links to the prior week's PT Today, PT Tomorrow, Facts/Flukes and Call-Ups columns that mention that player, to give a holistic picture of their circumstances. Plus, a few of the important players are highlighted for your consideration as you allocate your FAAB dollars or waiver priority.
Our coverage is sorted into deep mixed/AL and NL only leagues and shallow leagues. In each table, the top 10 most-added and top 10 most-dropped players from the week are sorted by percent ownership. The deep-league table represents players owned in 25 percent of leagues or less, while the shallow-league table indicates players owned in more than 25 percent of leagues. In addition, we provide each player's Mayberry Score for those seeking specific category help.
The players are color coded either green (buy), yellow (caution), or red (pass). A green "buy" is a comfortable recommendation based on skills, reliability, and price. A yellow "caution" is a mixed bag—perhaps a new skill has emerged and playing time has increased, but health and reliability remain in question. Depending on your league context and team needs, you may want to buy or pass. A red "pass" means that the combination of skills, reliability, or health precludes picking up the player at this time.
There are some fringe-useful pitchers for deep leaguers to consider this week, although the best options from a skill perspective are save speculations. Outside of a few risky outfielders, there just isn't much in the way of position players to consider in these formats presently. Shallow league owners still have a shot at scooping up a few relevant rookies who could have significant impact during the last month of the season. For those in a 2-catcher league, there are a couple of guys on the dropped list that still have value.
DEEP & AL/NL ONLY LEAGUES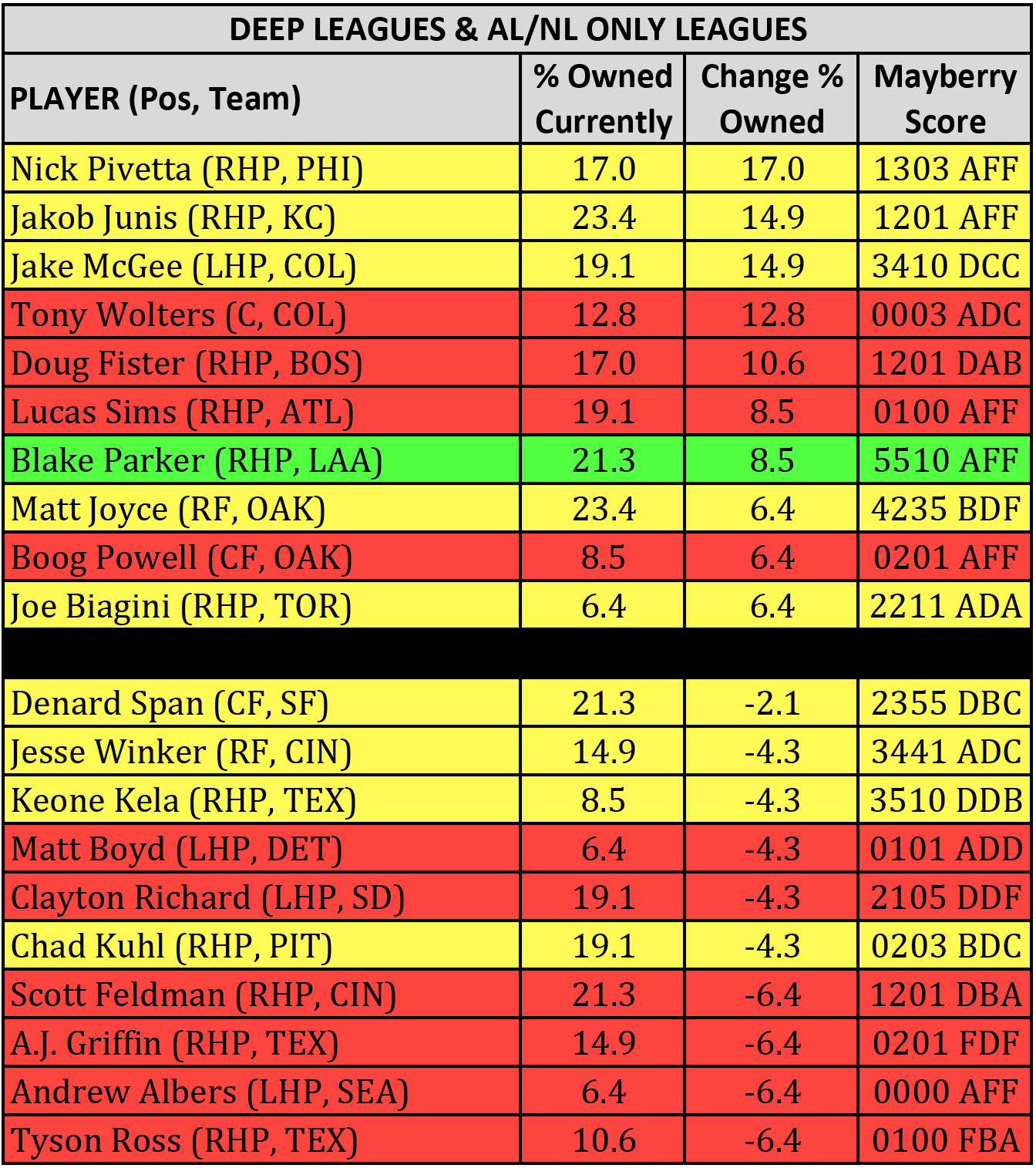 PT Today/Tomorrow and Call-Ups hits from the last 7 days: Jake McGee, Boog Powell, Joe Biagini, Tyson Ross
Most Added–Highlights
Jakob Junis (RHP, KC): It's difficult to recommend any pitcher in KC, who were recently shut out for over 40+ innings offensively. However, Junis has been a bright spot during the last month. Posting an enormous 13.5 Cmd rate coupled with a stingy 0.3 HR/9 mark, the young righty has put together his best five game stretch of the season, including a season-high 8K in 5.2 IP on Aug 30. Three of his last five appearances have been PQS-3 or higher. It remains to be seen if there a rotation spot available to him, but with injuries to incumbent starters Trevor Cahill (RHP, KC) and Danny Duffy (LHP, KC) there could be room for Junis if he continues to pitch well.
Blake Parker (RHP, LAA): Though fellow reliever Yusmeiro Petit (RHP, LAA) was featured only two weeks ago in this column, it's Parker who's emerged as the latest Scioscia-pathic closer experiment in Anaheim. The veteran right hander has stopped the bleeding on a declining Dom rate throughout the season, posting a positive increase to 9.5 in August. His 49% FpK rate is uninspiring over the last month, and a 17% H% is sure to rise. However, his last two appearances, including a 3-K inning vs. OAK on Aug 28, have netted two saves. There's no reason to believe he has any job security at this point, but Parker is the best bet for saves speculators at this point.
Most Dropped–Highlights
Jesse Winker (RF, CIN): Placed on the DL (hip) on Aug 25, Winker's ownership levels have dropped below 15%. With no timetable for his return, there is no reason to think he can still make a significant viable fantasy contribution down the stretch. Before the injury, though, the rookie has acquitted himself well of MLB pitching by posting a 15% BB% and 80% ct% while slashing .297/.402/.500 in over 70 AB. Small sample caveats aside, he should have ample opportunity to play when he returns, and owners in OBP leagues would be wise to keep him on a watch list as a UTIL filler who could contribute some HR and a stray SB.
SHALLOW LEAGUES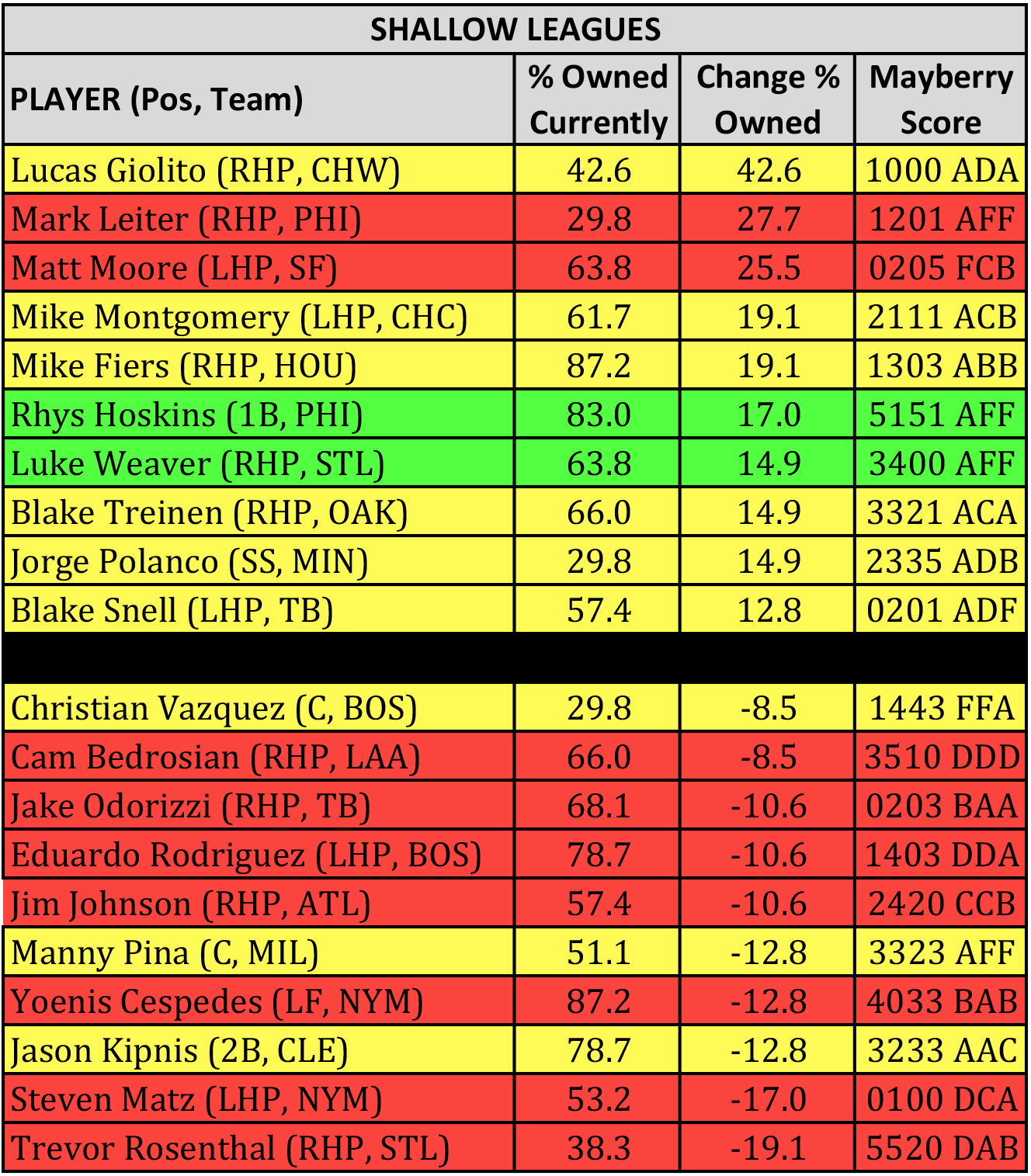 PT Today/Tomorrow and Call-Ups hits from the last 7 days: Lucas Giolito, Blake Snell, Jake Odorizzi, Yoenis Cespedes
Most Added–Highlights
Mike Fiers (RHP, HOU): Fiers epitomizes the height of frustration for fantasy owners. On Aug 23, he goes out and throws a PQS-5 (7 IP, 0 ER, 6/1 K/BB) against WAS. Ownership levels subsequently jump from 19% to 87%. Fast forward to his next start vs. TEX (hosted in Tampa) on Aug 29 in which he gets bombed for 8 ER in 4 IP. There's obviously talent there (career 8.6 Dom, 2.8 Ctl) but he just hasn't been able to put together a string of consistent starts and his HR rate is trending in the wrong direction. Fiers is not the type of player to invest in with the playoffs around the corner. Sure, he could put you over the top ... just as easily as he could end your season.
Jorge Polanco (SS, MIN): The 23-year-old has come out of nowhere in August to blast a career-best 6 HR (177 PX/100 xPX) in just under 100 AB, punctuated by his first ever 2-HR game on Aug 29. The young Dominican has begun to hit the ball with more authority, increasing his LD rate nearly 20% from July while decreasing his GB% nearly 15%. Don't get too excited, though. Every single HR was hit off of the CHW pitching staff, who just happens to be the second most generous staff in the league at giving up the long ball. Call it a run of luck (42% h% in August) for the switch hitter and move on.
Most Dropped–Highlights
Jake Odorizzi (RHP, TAM): Does anyone remember Jake Odorizzi, the $15 earner from 2013? Those days seem like a distant memory, as the veteran is in the midst of a terrible stretch, walking more batters than he's struck out. His FB rate is up to a ghastly 62%, and hitters aren't even getting lucky (28% H%, 8.03 xERA). He's giving up loud contact, lots of HR (as per his normal), and owners can no longer stomach the -85 BPV. With TAM falling out of the Wild Card race, it wouldn't be surprising to see him shut down in short order if he doesn't turn it around quickly. Invest elsewhere.
For more information about the terms used in this article, see our Glossary Primer.
Shopping Cart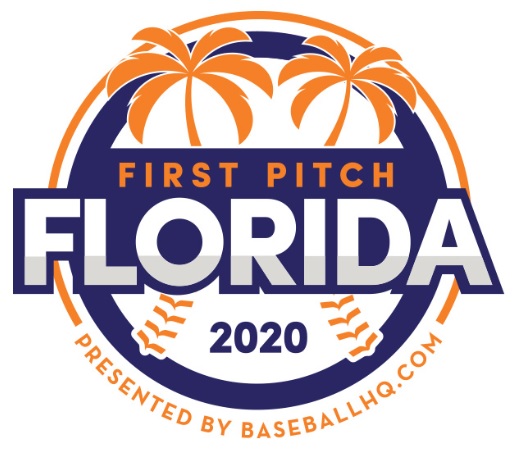 Inaugural Event!
February 28-March 1, 2020
St. Petersburg, FL
A few seats still left!