MARKET PULSE: Granite a foundation?
By Joseph Pytleski

@ShoelessJoeHQ
July 29th, 2017 11:05pm
Market Pulse keeps our ear to the ground in order to give you a more complete look at the free agent market. Using data from OnRoto.com, this column identifies the players who have been Most Added and Most Dropped during the previous week. For additional context, the column provides links to the prior week's PT Today, PT Tomorrow, Facts/Flukes and Call-Ups columns that mention that player, to give a holistic picture of their circumstances. Plus, a few of the important players are highlighted for your consideration as you allocate your FAAB dollars or waiver priority.
Our coverage is sorted into deep mixed/AL and NL only leagues and shallow leagues. In each table, the top 10 most-added and top 10 most-dropped players from the week are sorted by percent ownership. The deep-league table represents players owned in 25 percent of leagues or less, while the shallow-league table indicates players owned in more than 25 percent of leagues. In addition, we provide each player's Mayberry Score for those seeking specific category help.
The players are color coded either green (buy), yellow (caution), or red (pass). A green "buy" is a comfortable recommendation based on skills, reliability, and price. A yellow "caution" is a mixed bag—perhaps a new skill has emerged and playing time has increased, but health and reliability remain in question. Depending on your league context and team needs, you may want to buy or pass. A red "pass" means that the combination of skills, reliability, or health precludes picking up the player at this time.
Deep league owners have had some intriguing OF options crop up last week in the market, though only one offers the combination of skill and playing time to merit a green light endorsement. There are also a number of skilled relievers who should still be rostered due to strikeout ability and at least an outside shot at saves (though unlikely). Meanwhile, shallow league owners should zag this week, looking to the most dropped list in order to bargain shop. Owners are flocking to Randal Grichuk (LF, STL), who popped 4 HR last week, but don't let his 47% h% and 47% GB% during that span blow up in your face.
DEEP & AL/NL ONLY LEAGUES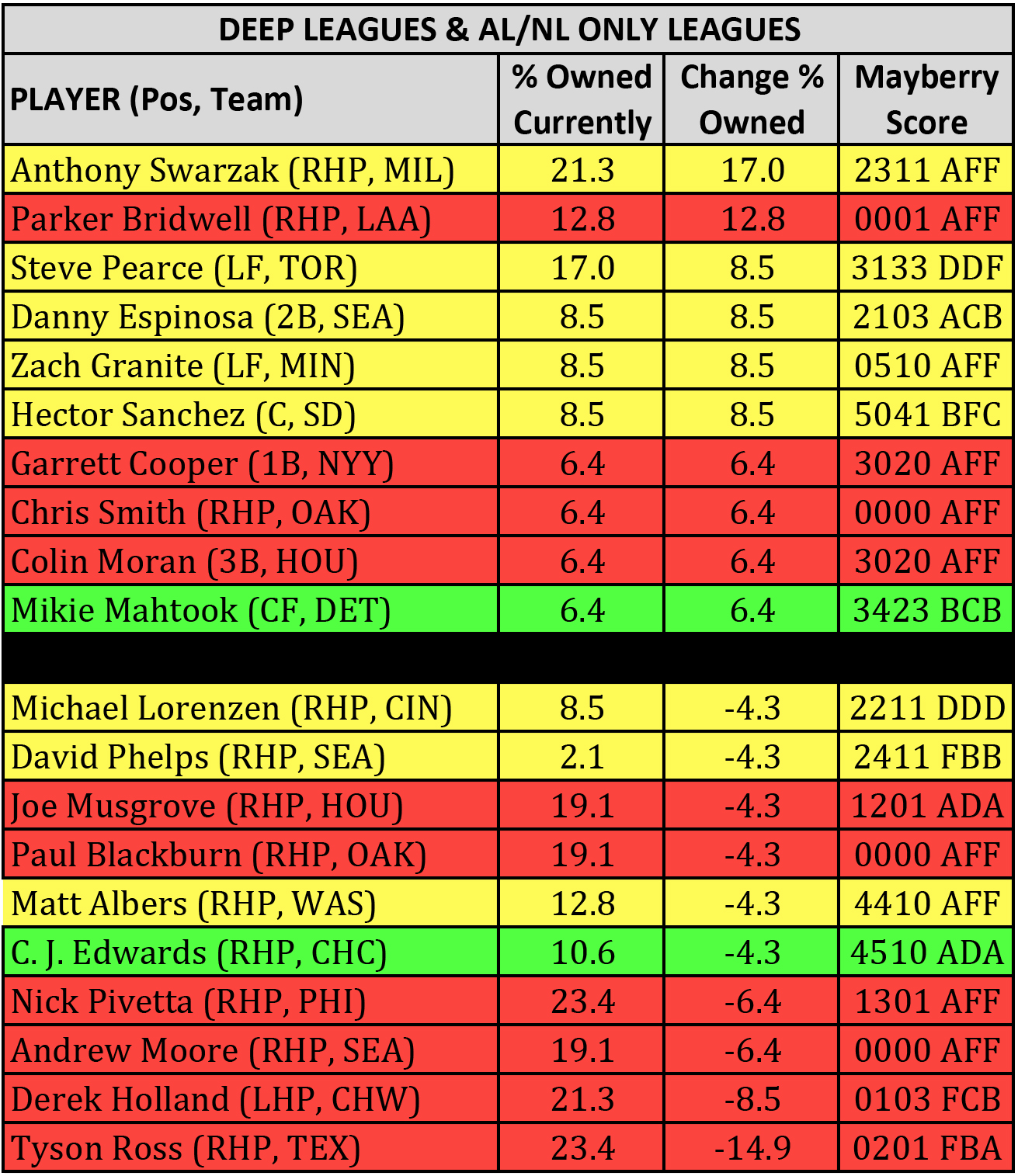 PT Today/Tomorrow and Call-Ups hits from the last 7 days: Anthony Swarzak, Steve Pearce, Danny Espinosa, Colin Moran, Joe Musgrove
Most Added–Highlights
Zach Granite (LF, MIN): The 25-year-old may not have an active roster spot for long, but he's made a decent first impression. He makes loads of contact (89%) on the ground (57%) in order to take advantage of his wheels. A career .295/.359/.377 hitter in the minors with almost no power, the lefty led the Southern League with 56 SB in 2016. With Byron Buxton (CF, MIN) set to return shortly and Eddie Rosario (LF, MIN) playing better of late, Granite will most likely be sent down in short order. However, he's a decent speed stash for those with roster space given the paucity of SB this season.
Hector Sanchez (C, SD): The 27-year-old backstop has turned heads in July by slashing .311/.319/.622 with 6 HR in his last 50 AB. His batted ball profile and 200 PX/138 xPX suggest that the power is somewhat real, but he is still averse to taking a walk (2%) and makes middling contact (71%) during that same span. That said, a .330 BA (.303 xBA) and 200 PX in July mean that he could steal AB from Austin Hedges (C, SD), even after he returns from the 7-day DL. Sanchez is a fine stopgap option for those in two-catcher leagues.
Most Dropped–Highlights
Matt Albers (RHP, WAS): Albers has been one of the most consistent arms for WAS, doubling his Dom from last year to post a 10.7 mark this year. He's thrown more first-pitch strikes (62%), increased his SwK% to 10%, and cut his HR/9 rate in half (1.0). He's getting a significant amount of luck (23% H%, 89% S%), so expect his shiny 1.78 ERA to rise (3.03 xERA). With the front office adding high-leverage relievers recently, don't expect Albers to sniff the 9th again, but his 50% GB% and 145 BPV suggest that he'll continue to be a good source of holds and peripherals down the stretch.
SHALLOW LEAGUES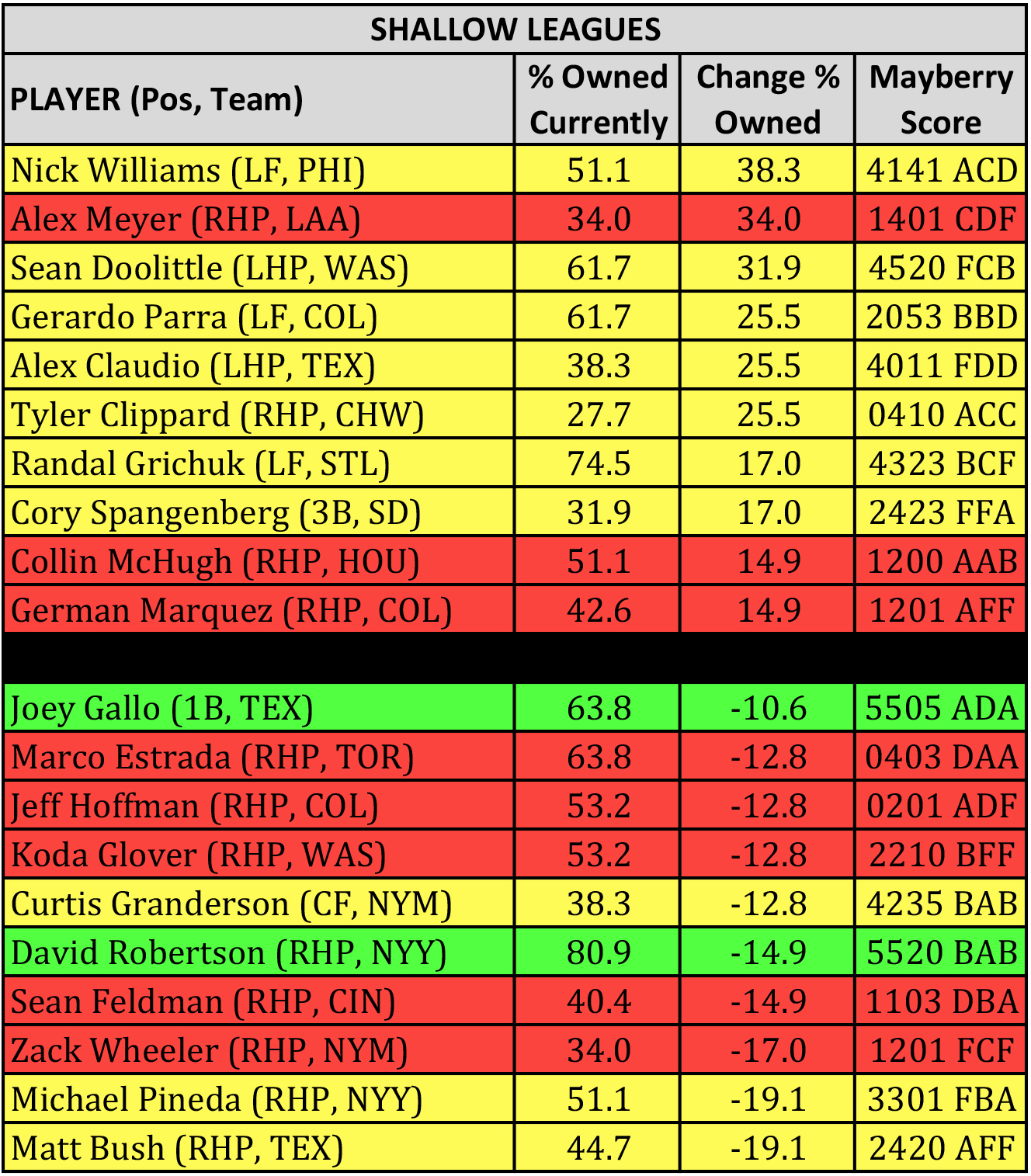 PT Today/Tomorrow and Call-Ups hits from the last 7 days: Alex Meyer, Randal Grichuk, Collin McHugh, Zack Wheeler, Michael Pineda, Tyson Ross
Most Added–Highlights
Nick Williams (LF, PHI): In BHQ's July 1 Callups, Williams was labeled "one of baseball's most divisive prospects." Supporters will point to his .309/.348/.580 line with 4 HR in 81 AB as proof enough of his burgeoning skill set. The rookie makes hard contact (125 HctX) and has not shown any noticeable platoon splits thus far. However, detractors will point to his continued lack of patience (6% BB%), contact woes (73%), and penchant for grounders (51%) that will cap his upside. All argument aside, the organization has every reason to give him AB moving forward, and there are worse ways to speculate with FAAB at this point in the season.
Tyler Clippard (RHP, CHW): Clippard is now the closer de jour as CHW empties the cupboards before the trade deadline. The owner of 57 career saves, Clippard was a double-digit earner from 2011–15, though has fallen on hard times of late. While his 10.3 Dom is still a tick above his career average, his lack of Ctl (5.0) is troubling. With an ERA/xERA combination hovering around 5.00, there's little reason to think Clippard will have success in the closer role moving forward. A fly ball pitcher maxing out at 91 mph is not a recipe for success in the friendly confines of Guaranteed Rate Field.
Most Dropped–Highlights
Joey Gallo (1B, TEX): It's not often you see a 5505 ADA Mayberry Score, and it's strange to see the market reacting negatively to the young slugger. In the last 31 days, Gallo has concurrently doubled his walk rate to 26%, decreased his ct% to 51%, and upped his power output to an elite 330 PX/190 xPX mark. As one pundit noted, he's on pace to be the first player in major league history to hit under .200, have an OPS of more than .800, and hit more than 30 HR. It's easy to see the bust factor, but at 23 years old, there's reason to believe hulking lefty will be able to shore up some of the holes in his approach. Playing time should be abundant if TEX sells at the deadline, so invest with confidence if you can stomach the BA drain.
For more information about the terms used in this article, see our Glossary Primer.
Shopping Cart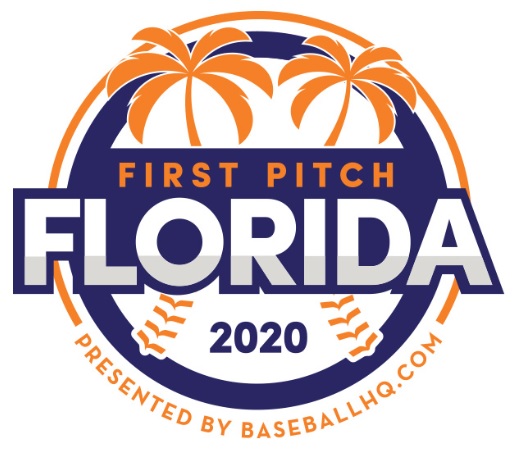 Inaugural Event!
February 28-March 1, 2020
St. Petersburg, FL
A few seats still left!