MARKET PULSE: (C)hirinos stepping up behind the plate
By Joseph Pytleski

@ShoelessJoeHQ
July 1st, 2017 11:05pm
Market Pulse keeps your ear to the ground in order to give you a more complete look at the free agent market. Using data from OnRoto.com, this column identifies the players who have been Most Added and Most Dropped during the previous week. For additional context, the column provides links to the prior week's PT Today, PT Tomorrow, Facts/Flukes and Call-Ups columns that mention that player, to give a holistic picture of their circumstances. Plus, a few of the important players are highlighted for your consideration as you allocate your FAAB dollars or waiver priority.
Our coverage is sorted into deep mixed/AL and NL only leagues and shallow leagues. In each table, the top 10 most-added and top 10 most-dropped players from the week are sorted by percent ownership. The deep-league table represents players owned in 25 percent of leagues or less, while the shallow-league table indicates players owned in more than 25 percent of leagues. In addition, we provide each player's Mayberry Score for those seeking specific category help.
The players are color coded either green (buy), yellow (caution), or red (pass). A green "buy" is a comfortable recommendation based on skills, reliability, and price. A yellow "caution" is a mixed bag—perhaps a new skill has emerged and playing time has increased, but health and reliability remain in question. Depending on your league context and team needs, you may want to buy or pass. A red "pass" means that the combination of skills, reliability, or health precludes picking up the player at this time.
There are interesting catcher options cropping up in the market this week in both league formats. Considering the struggles of some incumbents, there is reason to spend on the position right now. The CF carousel in WAS continues to spin, and Brian Goodwin is the latest to take advantage. He represents one of only two green lights this week. Shallow league owners may want to pay attention to some LHPs this week, while deep leaguers will have to play it safe this week as red lights pervade the landscape.
DEEP & AL/NL ONLY LEAGUES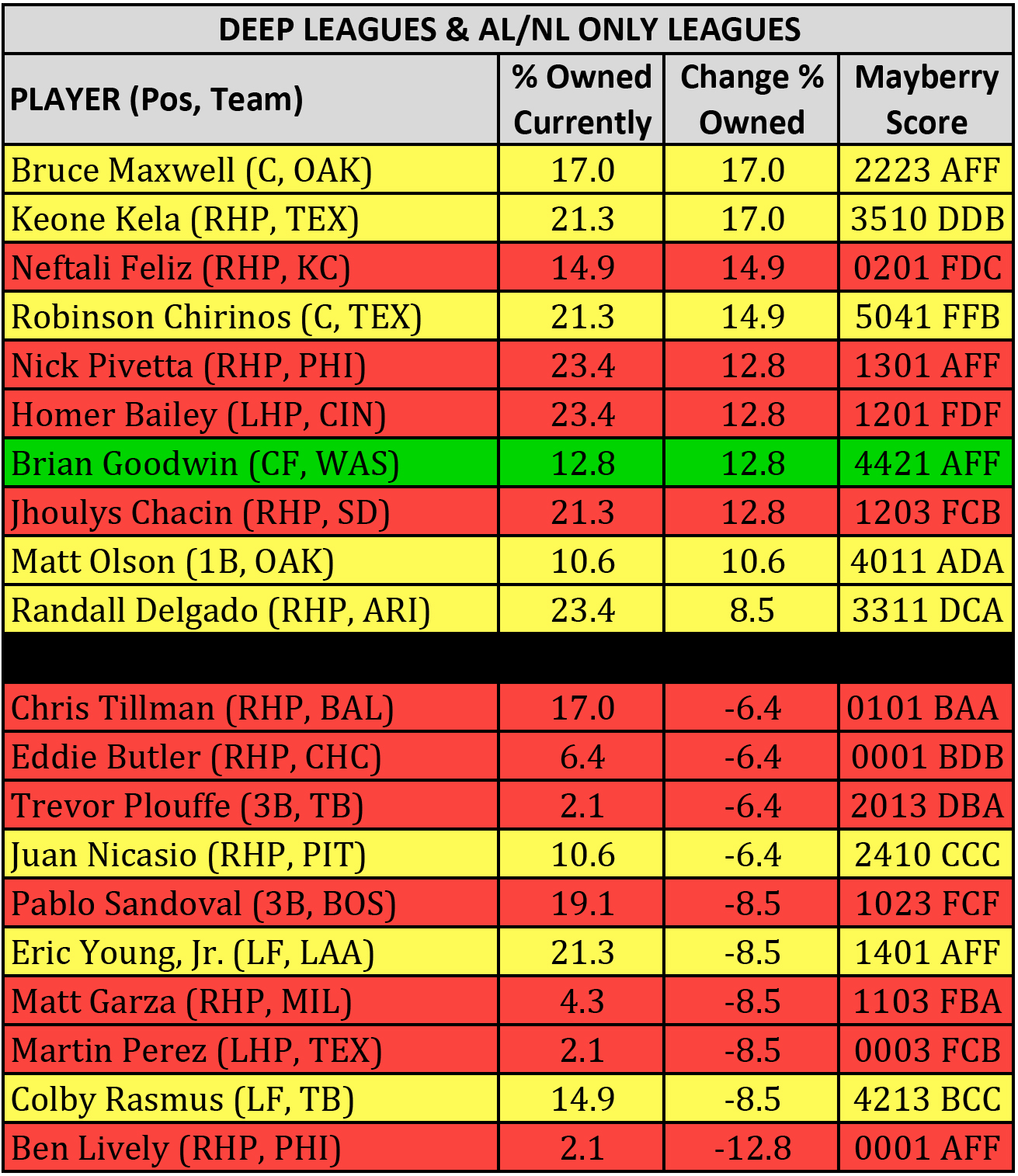 PT Today/Tomorrow and Call-Ups hits from the last 7 days: Neftali Feliz, Homer Bailey, Brian Goodwin, Eddie Butler, Juan Nicasio, Martin Perez, Colby Rasmus
Most Added–Highlights
Robinson Chirinos (C, TEX): The 33-year-old veteran is enjoying a renaissance of sorts this season, as he's mashing the baseball (124 HctX) to the tune of 12 HR in just over 100 AB (210 PX/194 xPX). What he's subtracted in grounders, he's translated into fly balls, which only serves to boost his power profile. His 10% BB% and 72% ct% indicate that he's not flashing an all-or-nothing approach, and his current .248 BA has room to grow (.285 xBA). Jonathan Lucroy (C, TEX) has failed to impress this year, so if TEX falls out of Wild Card contention, Chirinos may find himself with steady PT during the second half. Health and lack of track record preclude a "green light," but there's sneaky C value here.
Matt Olson (1B, OAK): Olson's limited sample size (34 AB, 3 HR, 53% ct%) has reinforced his Minor League Baseball Analyst profile as a "mistake masher" whose limited contact ability will ultimately determine whether or not he can be a starter at the MLB level. That said, his patient approach (18% BB%) helps mitigate the contact woes, and his 209 xPX (101 HctX) shows that he can really put a charge into the ball when it's placed just so. He's getting looks in RF as well, which could help his overall value, but he'll have to shore up his approach to be effective moving forward. Last-place OAK should give him every shot to do so in the second half.
Most Dropped–Highlights
Eric Young, Jr. (LF, LAA): At 32 years old, Young is no spring chicken, but he's always been able to steal bases. With Mike Trout's (CF, LAA) return at hand, Young will most likely head back to the bench. In the meantime, his career 80% ct%, 7 SB, and .286/.368/.440 slash (3 HR!) in 84 AB have made some waves. On a speed-starved roster, Young can provide some value now, and as he may have played himself into a bench role over Ben Revere (LF, LAA) there could be AB for him moving forward. Cameron Maybin's (LF, LAA) "F" health grade lingers, so deep league owners may throw a $1 Young's way.
SHALLOW LEAGUES
PT Today/Tomorrow and Call-Ups hits from the last 7 days: Franklin Barreto, Randal Grichuk, Mike Montgomery, Mike Zunino, Joe Biagini, Tony Watson, Steven Vogt
Most Added–Highlights
Randal Grichuk (LF, STL): Grichuk is benefiting from Dexter Fowler's (CF, STL) absence, but it remains to be seen if he can parlay his call up into a regular role again. Tommy Pham (LF/CF, STL) will have something to say about that, as he has been the better hitter. Grichuk has hit two HR since his return but his 5:1 K/BB continues to limit his upside. The power is there (143 xPX) and he's at a career-high 18% SBO%. However, he'll have to make more contact (68% career) and try walking more if he hopes to reclaim his starting role.
Sean Newcomb (LHP, ATL): The rookie has some sparkling peripherals after his first 24-inning sample. A 1.48 ERA and 1.07 WHIP punctuated by an 8-strikeout (0 ER, 6 IP) performance at SD on June 27 has his stock rising. Add to that a 49% GB% and good 93 MPH velocity from the left side and it's difficult to see the yellow designation. His luck couldn't be better, though. A 26% H%, 88% S%, and 0.4 HR/9 are buoying his 3.90 xERA. His minor league track record portends well for his future: only 14 HR and 412 K in nearly 350 IP means that he should be useful moving forward. Keeping a reign on the walks (3.0 Ctl) will determine his value moving forward. Expect some bumps in the road as he's not going to be this good all the time.
Most Dropped–Highlights
Wade Miley (LHP, BAL): Miley has not produced positive double-digit value since 2012, and he's currently sporting a 4.55 ERA (4.63 xERA) with the lowest Cmd (1.6) of his career. It's difficult to see any silver lining here; owners are beginning to concur. However, he is sporting a career high 8.2 Dom, 53% GB%, and 76% S%. Walks are the issue. The veteran southpaw's 5.1 Ctl coupled with a career low 54% FpK is masking some solid skill gains. To put it simply, if Miley starts throwing strikes there's something here. Monitor his strikes-to-pitches for his next few starts and be ready to pounce if there's any discernable shift; there might still be meat left on this bone.
For more information about the terms used in this article, see our Glossary Primer.
Shopping Cart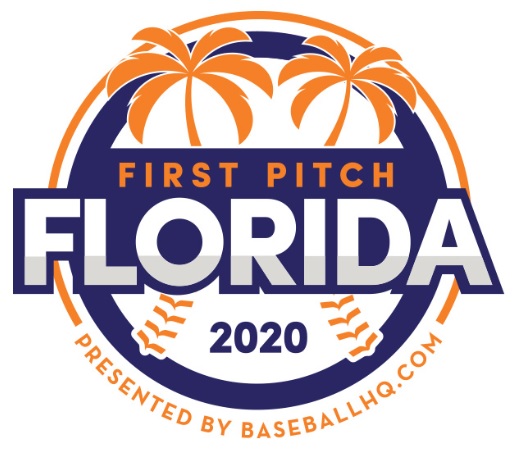 Inaugural Event!
February 28-March 1, 2020
St. Petersburg, FL
A few seats still left!