MARKET PULSE: Catchers (and DH)
By Matthew Cederholm
January 27th, 2014 12:04am
Please note that as an exercise in identifying the gaps between the valuation of the "popular" market ("ADP:" below) and that of BaseballHQ.com, not every eligible player is covered in this article. If a player is not mentioned, readers can safely assume that there is little difference between the popular ranking and the BaseballHQ.com ranking. It is also worth noting that each hitter is being considered at his scarcest qualified position (in order: C, SS, 2B, 3B, OF, 1B), as it is the scarcest eligible position that typically drives fantasy value. The rankings are a risk- and position-adjusted estimate using current BaseballHQ.com projections. They are not the "official" BaseballHQ.com straight-draft rankings, but they should be close.
Note that this article assumes a standard 15-team, mixed, 5x5 league, though the recommendations here will generally apply in most formats.
Welcome to the pre-season.
Okay, so BaseballHQ.com has been in pre-season mode for some time now, but for this space, it begins in earnest now. It would certainly be enjoyable to start with someone exciting, like the next Mike Trout (OF, LAA). But tradition dictates taking the positions from most to least scarce, so we begin with those harbingers of joy, the catchers. And there are catchers to be drafted.
Note that they are catchers. Because catcher is the only truly scarce position (i.e., fewer positive-value players than roster spots to be filled), their positional adjustment is significant. Note that it's generally a sound strategy to forego the top catchers and fill your slots in the middle rounds, when they aren't quite to overvalued, but still have positive value.
The First Four Rounds (ish)
There is a scrum of four catchers going in the fifth round, on average. That's a good place to grab an elite catcher if one of these guys is available. There's really no need to jump on one earlier, as the top of the heap is fairly deep.
Joe Mauer (C, MIN; HQ: 21, ADP: 68) is actually the highest-ranked catcher on our board. The projections (566 AB, .314 BA, 15 HR) are certainly on the optimistic side, but Mauer is a rare breed: a catcher-eligible player who won't be playing catcher. Sure, all of those marks would be his highest in years, but don't underestimate the toll that catching everyday took on him, especially his knees. If you hit the fifth round looking weak in BA and still need a catcher, he's a good pick here.
Wilin Rosario (C, COL; HQ: 23, ADP: 70) had a solid sophomore season, leading to promise of further growth, and he's certainly at a growth age. However, there's little to pin our hopes to in terms of skills growth that would indicate he's on the verge of anything. Further, he outperformed his xBA by 25 points and saw declines in eye and PX. He's not a sure thing at all, but if he's there in the fifth, don't feel guilty about grabbing him.
If you only look at home runs, Yadier Molina's (C, STL; HQ: 24, ADP: 73) season doesn't look that hot. But his skills were virtually identical to previous years. Like Mauer, his BA is where much of his value lies, so keep that in mind if you're not stocked with counting stats when you pick him. He's a decent value in the fifth round.
Carlos Santana (C, CLE; HQ: 32, ADP: 66) is another catcher-eligible player who will be seeing a lot of time out from behind the plate. His steady skills (aside from some fluctuation in PX) should give you comfort when calling out his name, and he's only 28, which is young for a catcher. His 2013 skills—15% bb%, 80% ct%, and 100 PX—all hit the BaseballHQ.com benchmarks for a solid hitter.
The Early Middle Rounds
Drafters tend to devalue DH-only players who aren't elite hitters. That may be what's happening to Billy Butler (DH, KC; HQ: 68, ADP: 150). Or maybe it's the drop-off in his second-half skills last year. But while a rebound to his 2012 production seems unlikely, even the slightest rebound makes him better than a 10th round value. He's a solid buy in the 8th or 9th.
Time was that Brian McCann (C, NYY; HQ: 57, ADP: 86) would be the first or second catcher off the board. But there's reason to think he may return to that level, or close. His move to Yankee Stadium should yield more home runs for the lefty fly-ball hitter: more home runs could improve BA, and he has a lot of .270+ BA in his history. His ADP is late sixth round, but you should consider going a round or two earlier.
Matt Wieters (C, BAL; HQ: 46, ADP: 102) has been due for a breakout for some time now, but be happy with his mostly consistent production. His PX and home run production have been very consistent, and while his .235 BA was disappointing last year, that was 20 points shy of his xBA. His low risk profile also comes with little upside, but he is going several rounds late based on his production.
The Late Middle Rounds
Buy Victor Martinez (DH, DET; HQ: 91, ADP: 185). It's really that simple. What is 500+ AB of 90% ct% and 100+ PX worth? Note his second-half 99 PX and realize that much of his early struggles were due to his year off. BaseballHQ.com projects a .300 BA and 15 HR, but he still has some home run upside from there. Despite his age and 2012 injury, he's a relatively safe choice, and can be had three to four rounds later than his projection.
Yan Gomes (C, CLE; HQ: 119, ADP: 215) is a risk. His mini-breakout was supported by skills, but they were rather new to the scene. If he repeats in any measure, he'll be a steal in the 13th or 14th round. At that point in the draft, it's a risk worth taking.
Forget his 2013. Miguel Montero (C, ARI; HQ: 112, ADP: 222) is still a solid choice at catcher. Don't let one bad year, much of it injury marred, deter you. He's not the most reliable guy out there, but he has the potential to deliver 8th or 9th round value with a much later pick.
The Endgame
Carlos Ruiz (C, PHI; HQ: 177, ADP: 256) is going well below his projection, but the risk may justify his drop, as he is 35 and coming off an ugly season. A very late-round #2 catcher, maybe. But try to look elsewhere.
Alex Avila (C, DET; HQ: 201, ADP: 295) was undone last year primarily by his poor contact. After three years at 70%+ ct%, he dropped to 66%, and it was a year-long slump. But he's still only 27, and despite his elevated risk, he's a good candidate to rebound. And really, any positive-value catcher in the 20th round is a good find.
J.P Arencibia (C, TEX; HQ: 492, ADP: 340) is a rebound candidate, sure. But to where? When you pray for a .235 season from a hitter, you know you're walking a tightrope. Sure, he makes a great reserve pick, but to rely on him in any meaningful way, even in the 23rd round, is a disaster waiting to happen.
There's more where this came from. Click here to purchase a Draft Prep subscription plan, which gives you complete access to BaseballHQ.com's insights through April 30, 2014.
For more information about the terms used in this article, see our Glossary Primer.
Free Weekly eNewsletter
The industry's #1 analytical weekly e-mail newsletter is ABSOLUTELY FREE!
More Information
Shopping Cart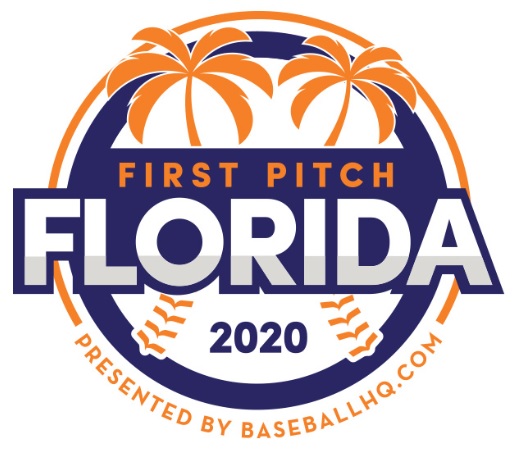 Inaugural Event!
February 28-March 1, 2020
St. Petersburg, FL
Early-bird registration now open!