MARKET PULSE: Bye, bye Blackburn
By Joseph Pytleski

@ShoelessJoeHQ
July 23rd, 2017 12:04am
Market Pulse keeps your ear to the ground in order to give you a more complete look at the free agent market. Using data from OnRoto.com, this column identifies the players who have been Most Added and Most Dropped during the previous week. For additional context, the column provides links to the prior week's PT Today, PT Tomorrow, Facts/Flukes and Call-Ups columns that mention that player, to give a holistic picture of their circumstances. Plus, a few of the important players are highlighted for your consideration as you allocate your FAAB dollars or waiver priority.
Our coverage is sorted into deep mixed/AL and NL only leagues and shallow leagues. In each table, the top 10 most-added and top 10 most-dropped players from the week are sorted by percent ownership. The deep-league table represents players owned in 25 percent of leagues or less, while the shallow-league table indicates players owned in more than 25 percent of leagues. In addition, we provide each player's Mayberry Score for those seeking specific category help.
The players are color coded either green (buy), yellow (caution), or red (pass). A green "buy" is a comfortable recommendation based on skills, reliability, and price. A yellow "caution" is a mixed bag—perhaps a new skill has emerged and playing time has increased, but health and reliability remain in question. Depending on your league context and team needs, you may want to buy or pass. A red "pass" means that the combination of skills, reliability, or health precludes picking up the player at this time.
The market is dry for deep league and AL/NL only leaguers. Big name prospects a la Yoan Moncada (3B, CHW) are likely already owned, and there are few standouts that can help deep rosters this week. Fantasy owners will want to monitor early bullpen usage in both WAS and OAK to see who will emerge for ninth-inning duties. There are a couple of names on the drop list in shallow leagues that could represent value additions if owners hastily jettisoned them. Paul DeJong (2B/SS, STL) owners should tap the brakes when they see his abysmal contact rates. If there's a small window to sell high, now would be the time to do it before Aledmys Diaz (SS, STL) reclaims his job.
DEEP & AL/NL ONLY LEAGUES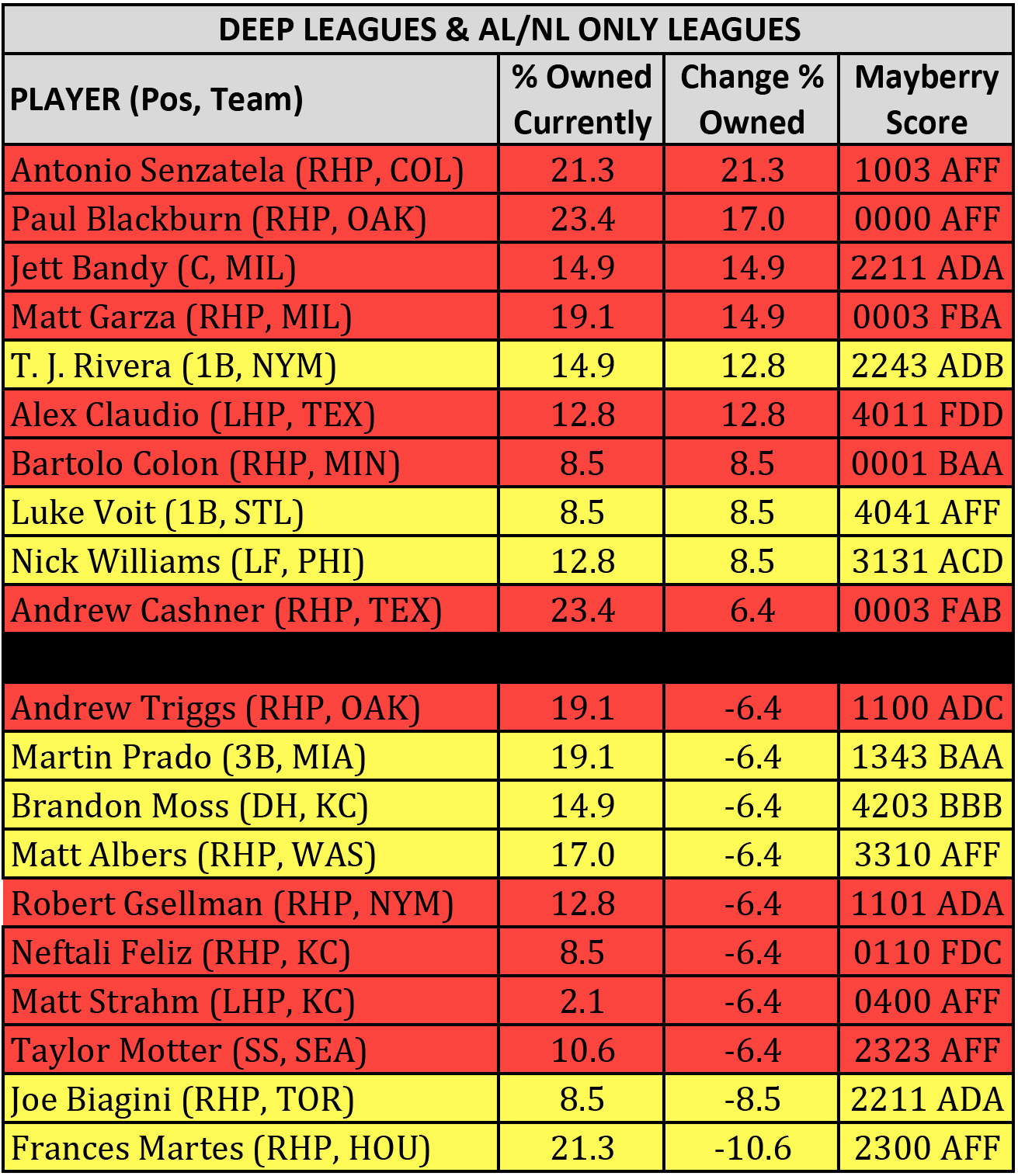 PT Today/Tomorrow and Call-Ups hits from the last 7 days: Antonio Senzatela, Jett Bandy, Bartolo Colon, Andrew Triggs, Martin Prado
Most Added–Highlights
Paul Blackburn (RHP, OAK): With a 1.82 ERA and 1.12 WHIP, the market is bullish on the young right hander. His 54% GB tilt in the friendly confines of Oakland Coliseum seem to bode well for the rookie's future success. However, Blackburn's underlying metrics are not so friendly. His 3.7 Dom (1.3 Cmd) is hardly MLB worthy, and the combination of 23% H% and 90% S% mean that his 4.85 xERA is well within play. When the bottom falls out, it's going to be ugly.
T.J. Rivera (1B, NYM): The MLBA tabbed him a 6A utility player due to his lack of power and unwillingness to walk. To date, he's lived up to his billing, powering out a mere 5 HR (107 xPX) in under 200 AB and a 4% BB rate. However, injuries to starters have allowed him to get work in at 2B, 3B, and LF this season, and he makes good contact (84%) and won't kill you with his .290 BA (.272 xBA). There's certainly a place for a multi-position eligible bat with league average power and speed, but with the uncertainty surrounding the organization as the trade deadline looms, he's probably best left alone until the dust settles.
Most Dropped–Highlights
Brandon Moss (DH, KC): Coming off what is arguably his best game of the season on July 19 (3–4, HR, 2B, 2 RBI), Moss has had a season-long power outage in KC. Deep leaguers have had enough, as his ownership now sits under 15%. If he's not hitting HR, there's not much to like here, as Moss is contact challenged (69% career) and has been terrible against RHP this season (.165/.233/.354). He continues to mash LHP (206 PX), however, and his 19% H% vs. righties suggest that he can still turn things around. Given his history of relative good health and consistency, there could be bargain-basement cost power here for the stretch run.
SHALLOW LEAGUES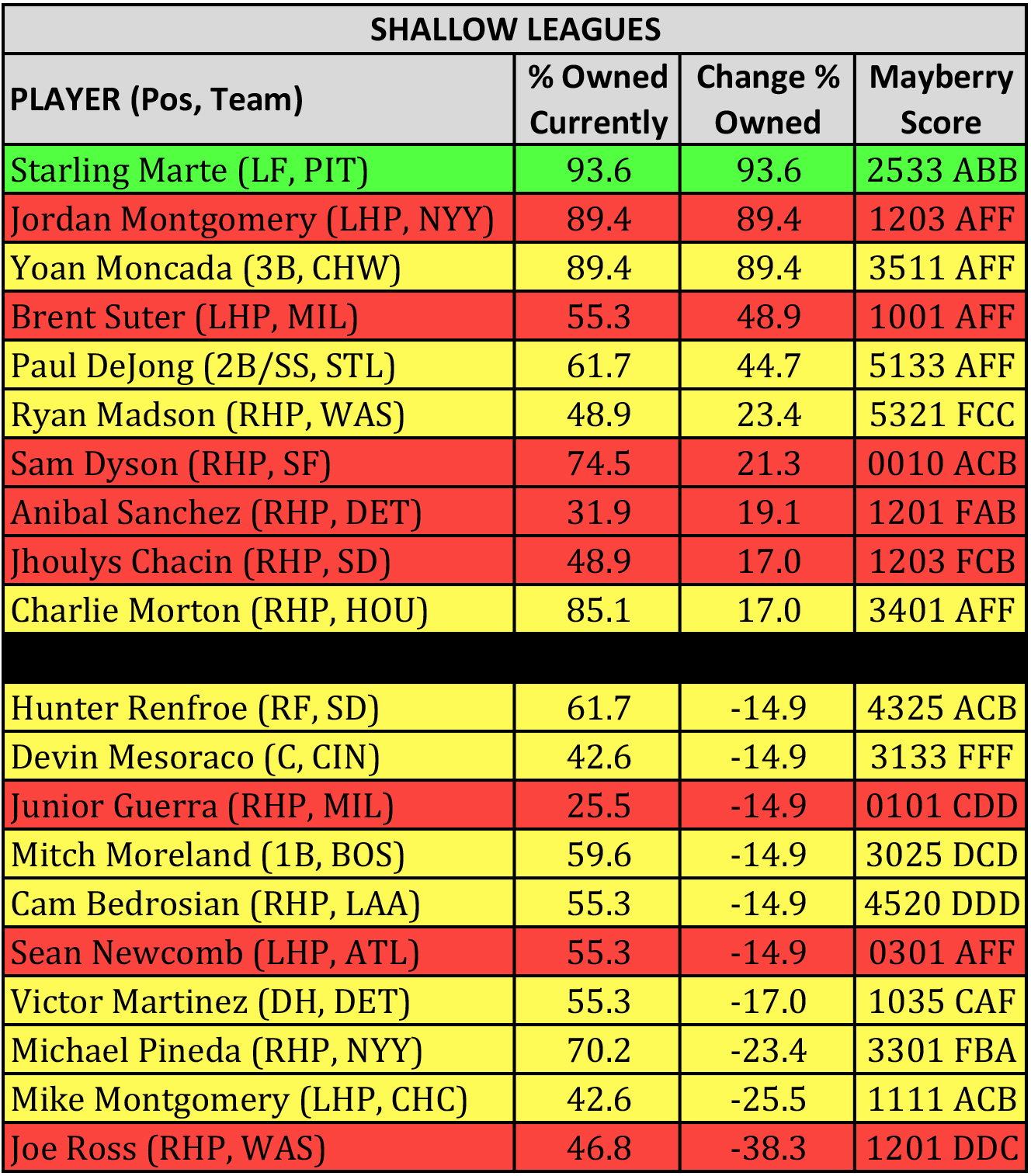 PT Today/Tomorrow and Call-Ups hits from the last 7 days: Starling Marte, Yoan Moncada, Ryan Madson, Hunter Renfroe, Devin Mesoraco, Junior Guerra, Michael Pineda, Mike Montgomery, Joe Ross
Most Added–Highlights
Brent Suter (LHP, MIL): With back-to-back PQS-DOM starts vs. AL East opponents in early July, Suter's ownership levels spiked last week to over 50%. A 3.09 ERA, 7.2 Dom, and 48% GB% for first place MIL generated some buzz along with the fact that his manager publicly stated he'd have a permanent rotation spot moving forward. His 4.06 xERA and 86 mph velocity are uninspiring. He throws a ton of strikes (68% FpK) and has a league average SwK rate, but his margin for error is razor thin. As hitters get more familiar with him, expect his 0.3 HR9 to rise along with his ERA.
Most Dropped–Highlights
Hunter Renfroe (RF, SD): Fifteen percent of owners decided to cut bait on Renfroe after he hit the DL with a neck strain, but he has already resumed playing as of July 20. With 16 HR and 3 SB in over 300 AB, he had an outside shot at 30 HR and 6–8 SB before the injury. Though his BA spiked to .259 so far in July, his first HR in the month didn't come until July 20 and his ct% has dipped to an ugly 56% (with zero walks). If you can acquire the RF at a discount, there is power upside here if you can stomach the inconsistency and BA drain.
Cam Bedrosian (RHP, LAA): As Bedrosian ownership levels approach 50%, now could be a good time to invest. His 7.7 Cmd put him squarely within the top 15 RPs in the league (180 BPV). Though he's a FB pitcher (42%), his 14% SwK rate and home ball park mitigate some of the risk. It remains to be seen whether or not incumbent closer Bud Norris (RHP, LAA) will remain an Angel after this month, and common wisdom says Bedrosian is next in line for save opportunities. His DDD reliability score prohibits a green-light endorsement, but there are worse save speculations at this point in the season.
For more information about the terms used in this article, see our Glossary Primer.
Shopping Cart