MARKET PULSE: Big things in a Petit package
By Joseph Pytleski

@ShoelessJoeHQ
August 19th, 2017 11:04pm
Market Pulse keeps our ear to the ground in order to give you a more complete look at the free agent market. Using data from OnRoto.com, this column identifies the players who have been Most Added and Most Dropped during the previous week. For additional context, the column provides links to the prior week's PT Today, PT Tomorrow, Facts/Flukes and Call-Ups columns that mention that player, to give a holistic picture of their circumstances. Plus, a few of the important players are highlighted for your consideration as you allocate your FAAB dollars or waiver priority.
Our coverage is sorted into deep mixed/AL and NL only leagues and shallow leagues. In each table, the top 10 most-added and top 10 most-dropped players from the week are sorted by percent ownership. The deep-league table represents players owned in 25 percent of leagues or less, while the shallow-league table indicates players owned in more than 25 percent of leagues. In addition, we provide each player's Mayberry Score for those seeking specific category help.
The players are color coded either green (buy), yellow (caution), or red (pass). A green "buy" is a comfortable recommendation based on skills, reliability, and price. A yellow "caution" is a mixed bag—perhaps a new skill has emerged and playing time has increased, but health and reliability remain in question. Depending on your league context and team needs, you may want to buy or pass. A red "pass" means that the combination of skills, reliability, or health precludes picking up the player at this time.
We're at the point in the season where deep and AL/NL only owners are scraping the bottom of the barrel. Mike Scioscia's unorthodox closer deployment strategy keeps any potential closers in LAA from getting the green light. Mostly there are back end rotation options that could just as easily blow up a team ERA than help it this week. Shallow league owners will be all over the recent slew of rookie callups, and for good reason. There are intriguing skill sets here that nevertheless need to be tempered by the fact that they've never competed against MLB pitching.
DEEP & AL/NL ONLY LEAGUES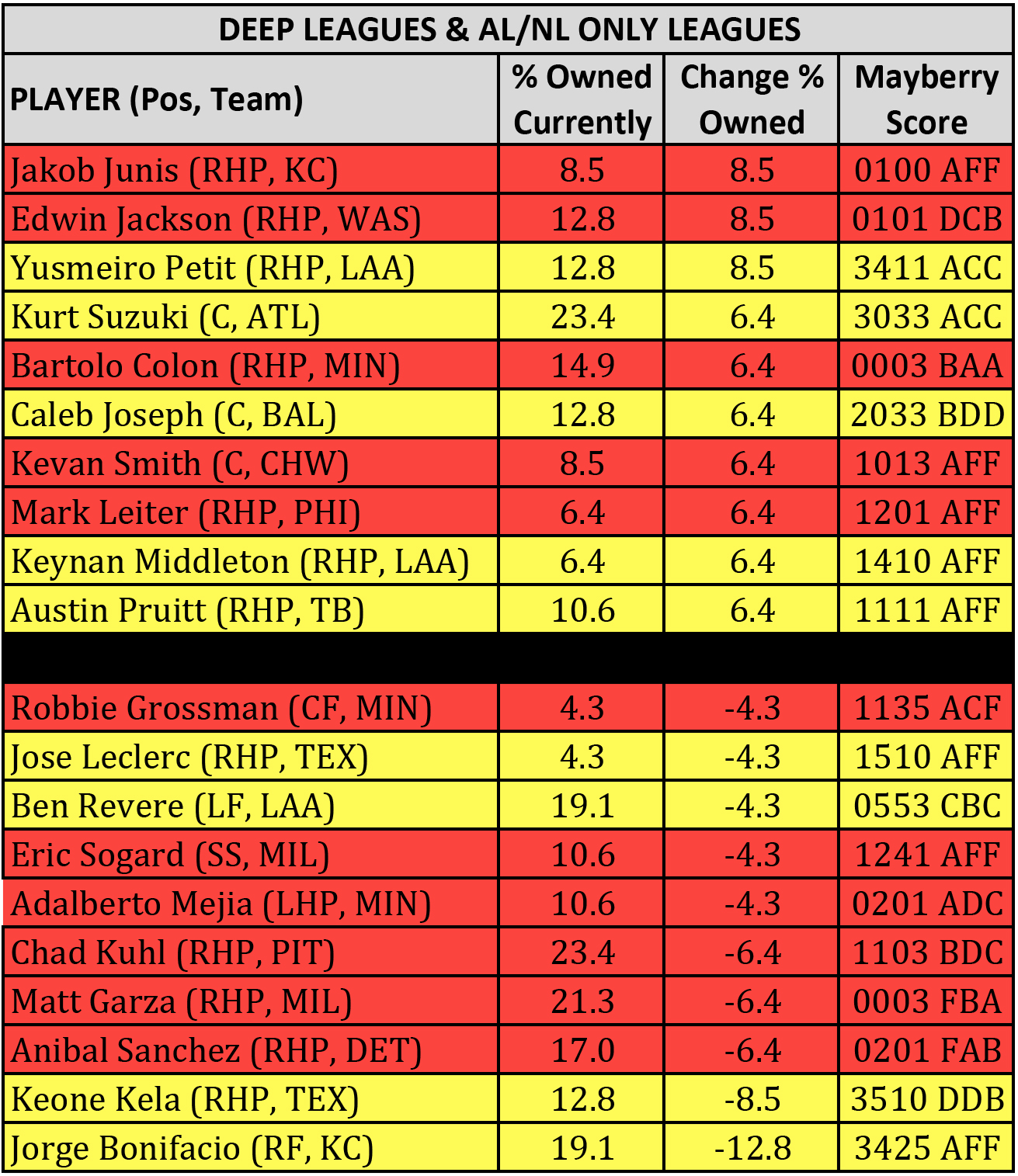 PT Today/Tomorrow and Call-Ups hits from the last 7 days: Kevan Smith, Mark Leiter, Chad Kuhl, Jose Leclerc, Eric Sogard, Keone Kela
Most Added–Highlights
Yusmerio Petit (RHP, LAA): Petit has been the most skilled reliever for LAA over the last month, which has put him squarely in the 9th inning conversation of late. Garnering a 22:1 K/BB ratio over his last 17 IP (11.6 Dom) despite subpar velocity (90 mph), the veteran right hander has gotten lucky, stranding every runner against him in his past eight appearances before struggling on August 18. He's throwing lots of FpK (72%), though, and limiting free passes. There's no telling who Mike Scioscia might give the ball to on any given night, but at 12% ownership, it's worth rolling the dice on Petit. The returns will outweigh the initial investment.
Austin Pruitt (RHP, TAM): Pruitt seems to be settling into his role in the back end of the TAM rotation, posting three QS in his last few outings. Although he has a middling 6.9 Dom over the last month, he has decent Cmd (3.6) and is generating a fair amount of grounders (51%). His 3.54 ERA in his last four starts is not far from his 4.17 xERA, and in deep leagues he will be a nice back-end filler. He needs to continue to work the ball down in the zone, as he's had trouble giving up the long ball (1.5 HR/9). However, there are worse streaming options to put $1 on at this point in the season.
Most Dropped–Highlights
Jorge Bonifacio (RF, KC): It's understandable why owners have jumped ship here. Bonifacio has posted a -35 BPV over the past month, punctuated by a putrid 60% ct%. That's gotten him more time on the bench lately. However, Alex Gordon (LF, KC) frustrating 2017 woes continue (-49 BPV in last 31 days), so Bonifacio should continue to get PT as KC fights for a wild card spot. There's nothing to suggest that the HR barrage will continue, as his 27% HR/F rate is unsustainable, but there is some untapped speed there (109 Spd, 1 SB). That said, he'll have to keep balls clearing the fence to sustain his fantasy value, which is a risky proposition.
SHALLOW LEAGUES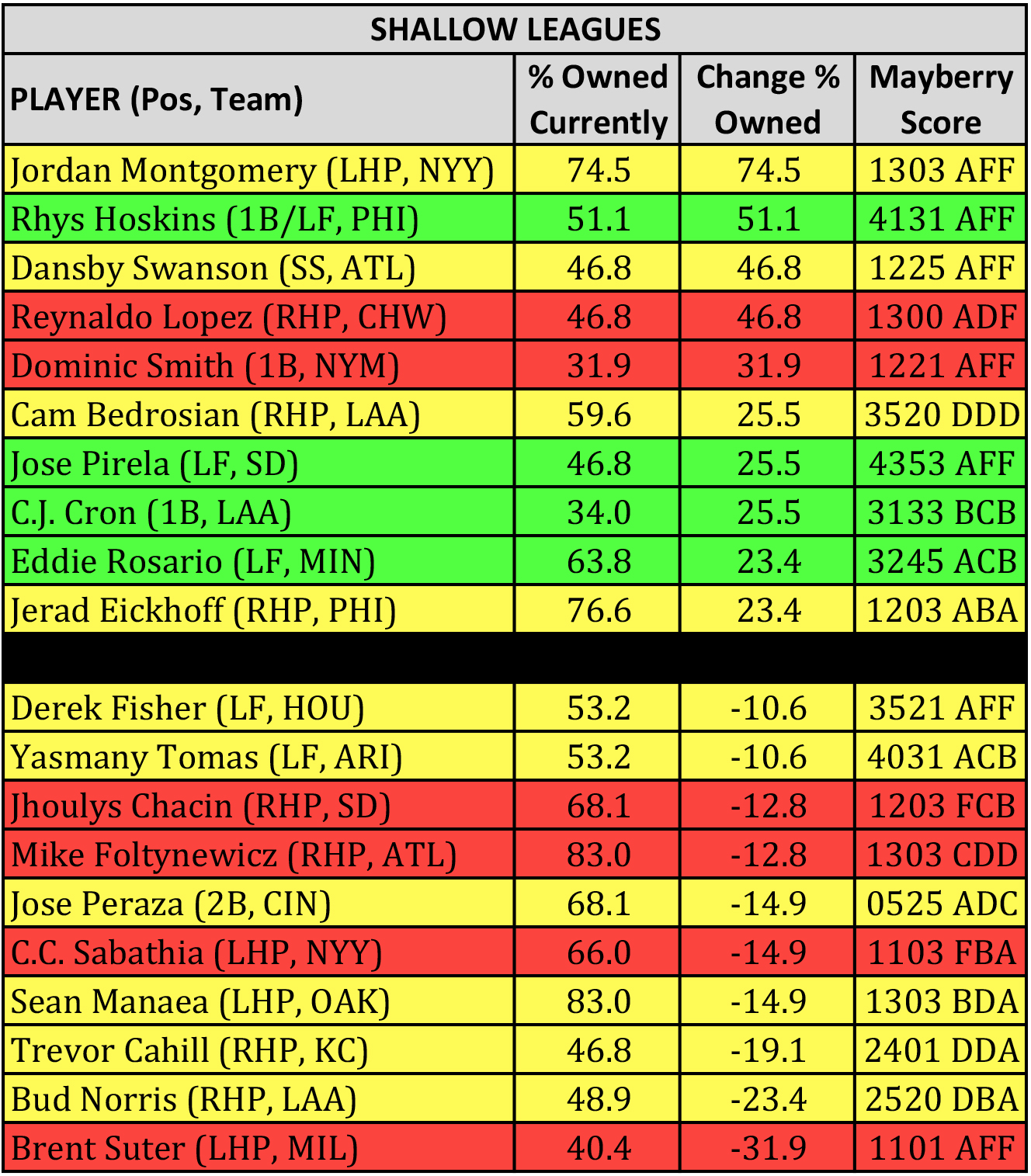 PT Today/Tomorrow and Call-Ups hits from the last 7 days: Jordan Montgomery, Rhys Hoskins, Reynaldo Lopez, Dominic Smith, C.J. Cron, Jose Peraza, C.C. Sabathia, Brent Suter
Most Added–Highlights
Eddie Rosario (LF, MIN): The 25-year-old has gotten hot along with the weather, posting 56, 60, and 104 BPVs throughout the summer months. He's been generating more hard contact (138 HctX) in August, which has led to 5 HR in under 60 AB without sacrificing his contact rate (80%). It's difficult to see him maintaining an almost 40% h%, but there is an above average power and speed combination worth investing in. If he can keep his walk rate where it's been during the last month (8%), then there's solid value here.
Most Dropped–Highlights
Derek Fisher (LF, HOU): The young left-handed OF has acquitted himself well in his first 80+ AB, generating 4 HR, 3 SB, and a .247/.354/.435 slash in the process. Owners, however, are getting impatient already, as his ownership levels are just over 50%. Though he has yet to tap into his full power potential yet (113 HctX) and he's struggling to make contact (68%), his walk rate is intact (13%) and he's got great wheels (150 Spd). He needs to get the ball into the air more (50% GB%), and it's probably best to sit him vs. LHP for now (57 PX), but there's still serious upside here if you can acquire him at a discount.
Jose Peraza (2B, CIN): The young middle infielder has put himself back on the map in August by slashing .350/.435/.400 in his last 40 AB. It remains to be seen, however, whether his 11% BB% is real or not (3% career). There are some whispers that a change in his stance have helped him stay more balanced in the box, which has led to less chasing and staying on breaking pitches longer. If that's the case, he could begin taking advantage of his game changing speed. At this point in the season it's worth gambling to find out.
For more information about the terms used in this article, see our Glossary Primer.
Shopping Cart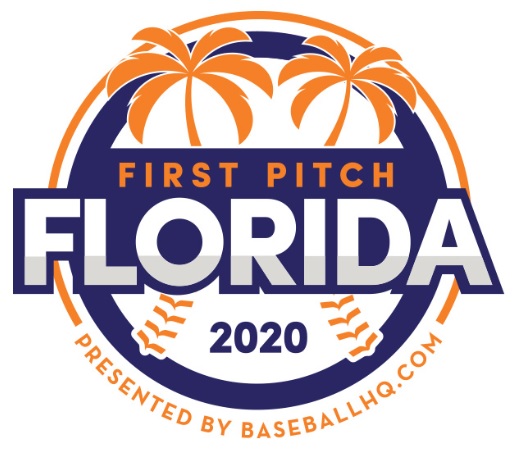 Inaugural Event!
February 28-March 1, 2020
St. Petersburg, FL
A few seats still left!