GM's OFFICE: Spring starts with a bang
By BaseballHQ
February 12th, 2021 1:07am
by Ray Murphy and Brent Hershey
We generally treat the end of the Super Bowl as the start of our sprint toward Opening Day. On multiple fronts—sales/promotion, content here on the site, live events—the end of football season is also the end of the quiet(er) part of our offseason, and signifies the starting gun on eight weeks or so of (hopefully controlled) chaos around here.
Even knowing that was coming, this week has been quite a jolt. There has been a lot going on—even beyond our look-at-what-we-have-in-store, free Preseason Plan article on Monday—so we wanted to share some updates here.
FSWA Awards
The Fantasy Sports Writers Association announced their annual award winners earlier this week, and we collected some hardware!
First, our Speculator columnist/social media voice/event producer Ryan Bloomfield won the FSWA's "Baseball Writer of the Year" award. Ryan is the third BHQer to take home this honor (Alex Beckey, 2012; Ray Murphy, 2016). BHQ subscribers are certainly already aware of Ryan's consistently-excellent work; we're glad to see the rest of the industry acknowledge it as well.
Second, Ron Shandler's 2020 Baseball Forecaster was honored as the FSWA's print publication of the year. It's the second straight year that the Forecaster has won this particular award, and third year in a row collecting some hardware. (The 2018 edition won a similar award from the Fantasy Sports and Gaming Association.)
Last but certainly not least in the awards category, as we previously announced, our friends Rick Wilton (a.k.a Dr. HQ) and Todd Zola were honored as this year's inductees into the FSWA Hall of Fame.
We extend our congratulations and appreciation to Ryan, Rick, Todd; all of our Forecaster contributors; and also a sincere tip-of-the-cap to all of the other nominees and winners. The industry is in very good shape these days.
In celebration of all of this #winning, how about a flash sale? Take 10% off any site subscription plan or book this weekend, using code RYAN at checkout. Code expires Sunday evening.
Site tool updates
We have a laundry list of enhancements in the queue for our site tools, both in reaction to the short 2020 season and in extending new metrics introduced in the (ahem, award-winning) Baseball Forecaster. We're able to report some good progress here:
Position eligibility
One of the outcomes of the odd-in-so-many-ways 2020 season was that it trashed the traditional standard of 20-games played at a position in order to gain eligibility at that position for the following year. Making that standard more flexible in our site toolset has been a long-desired site enhancement, so with that nudge from 2020, we've gone and made that change.
First, in the Stats and Projections area, you'll see three new columns added to our projections dataset:
In this screenshot, Ehire Adrianza makes a great example: if your league is basing eligibility on 5 games played at a position in 2020, you can see in the "LY5" column that he's eligible at 3B, SS, and 2B. If your league (like the NFBC) is using a 7-game standard, the "LY7" column shows that he is 3B/SS eligible. And if you're playing with 10 games as your standard, "LY10" shows that Adrianza can only play 3B for you.
Besides the Stats and Projections area, we have also added the same capability to our Custom Draft Guide, in the form of a selector you can choose on the CDG input screen:
In the CDG output, we don't show all three of those LY5/7/10 columns like we did in the static files; instead the "QLFY" column just shows the appropriate values for the input choice you selected. And in the popular "grid" output view, players will be placed in the grid at all positions they qualify for per your input choice.
New Metrics
With that critical draft-season enhancement in place, next on the agenda is to finish the site transition from BB/9, K/9 and Cmd to BB%, K%, and K-BB%. Our intent is that, unlike in the Baseball Forecaster where we were constrained by the physical dimensions of a printed book, here online we'll be able to keep the /9 and % metrics both available as we make this transition. More to come on that in the near future...
And a special call-out to our RESEARCH article today, where analyst Arik Florimonte has already broken down the week's news about the "deadening" of the baseball, and applied it to what it means in terms of our xHR metric, as well as global applications for pitchers. It's this kind of timely response, in-depth detail, and actionable results that is the hallmark of our work here at BaseballHQ.com that all aims to get you as ready as possible for Draft Day and then the season. (And yes, after we get the % pitching metrics into the site toolset, next up after that is the crop of other new metrics from the Forecaster: xHR, QBaB, Brl%, xWHIP)
First Pitch Florida - Online
About a week ago, we announced First Pitch Florida Online, our virtual replacement for last year's stunningly successful spring-training get-together. If you haven't bounced over to that page to see what we have in store, you're missing out. The event will run from Friday night through Sunday evening March 5-7, 2021, and for veterans of our live events, you can expect many of the same personalities, topics and activities when we've been able to shake each others' hands and raise those beer glasses. For first-timers, expect 2 1/2 packed days of fantasy analysis and draft prep from many of your favorite writers/analysts throughout the community—BaseballHQ.com and beyond.
Among the current confirmed speakers are Ron Shandler, Eno Sarris, Eric Longenhagen, Derek VanRiper and Emily Waldon; plus BHQers Ray Murphy, Brent Hershey, Ryan Bloomfield, Chris Blessing and many more. Additional confirmations and finalized sessions will be announced in the days ahead, but you can be sure that this event will raise your fantasy IQ and will allow you to rub virtual elbows with the best in the business!
One of the best parts? Through Monday, February 15, 2021, the Early Bird registration fee is just $59 (after that, it returns to our normal $79). Plus ... all registrants also receive a $50 coupon off one in-person event in the next year (either First Pitch Arizona 2021 or First Pitch Florida 2022). Yes, we're optimistic (and itchy!) to get back to our live events, when it's safe to do so. But for now, we've got some great plans for First Pitch Florida Online.
So, check out that option and join the MANY that have already registered so far this week. And do it before Monday 2/15 at 11:59 pm to save yourself some bucks.
Phew! Things are a-happenin' around here, and we couldn't be more excited. Seven more weeks til Opening Day. The chaos is just beginning...
For more information about the terms used in this article, see our Glossary Primer.
Free Weekly eNewsletter
The industry's #1 analytical weekly e-mail newsletter is ABSOLUTELY FREE!
More Information
Shopping Cart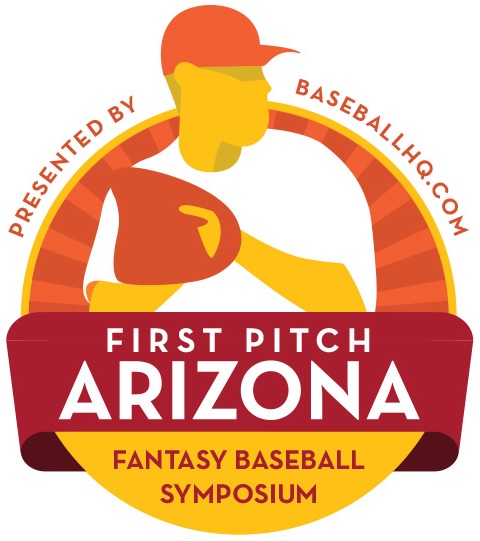 November 3rd-6th, 2022
Sheraton Mesa Wrigleyville West
EARLY BIRD REGISTRATION NOW OPEN
!