GM's OFFICE: Missteps (and recoveries?) at 2021 Tout Wars Mixed
By Brent Hershey

@BrentHQ
March 24th, 2021 1:03am
In last year's post-Tout Wars Mixed article, I advanced the concept of discarding the winning player bids from any post-draft analysis. The cliff notes version is that once you leave the draft, the team you've assembled is what matters most. Of course you want to maximize player stats with that $260 cap during the draft, but how you got there is far less important than the players who make up your Opening Day roster.
Nonetheless, the draft game is allocating one's resources. I am traditionally a more conservative drafter, one much more likely to spread the risk than to go full-on Stars and Scrubs. In a 15-team mixed league like this one, with a fruitful free agent pool, I've been thinking this offseason that perhaps I needed to extend myself beyond my comfort zone in this league and spring for a few more higher-priced players; trusting my ability to fill in the pieces in the end game and via FAAB during the season. So I set a couple of goals going in:
Don't be afraid to spend $40-ish for a 5-category guy at the top
Don't be shy in laying down $20 for closer
Get a $25+ starting pitcher—though preferably one with an "A" health grade and some innings track record
Roster a few multi-positional players, which in theory will make it easier to carry more pitchers on my reserve list in this anticipated race for innings in 2021
The end results were mixed, via my self-evaluation. Or maybe this is just not the type of team I'm used to rostering. Anyway, the roster:

Player              Pos(also)   $
=================   =========  ==
Willson Contreras       C      14
Victor Caratini         C       1
Cody Bellinger        1B(OF)   38
Jean Segura           3B(2B)    8
Brandon Belt           COR      2
Brandon Lowe          2B(OF)   18
Xander Bogaerts         SS     30
Kolen Wong             MIF      6
Jeff McNeil          OF(2B/3B) 16
Hunter Dozier         OF(1B)    4
Myles Straw             OF      7
Jorge Soler             OF      7
Mark Cahna              OF      9
Wander Franco         UT(SS)    4
---------------------------------
Aaron Nola              P      26
Jack Flaherty           P      24
Sixto Sánchez           P       8
John Means              P       5
Jordan Montgomery       P       5
Tarik Skubal            P       3
Tyler Mahle             P       3
Adam Wainwright         P       2
Edwin Díaz              P      20

Reserves: José Alvarado, Tanner Scott, Nick Wittgren, Ronald Guzmán, Evan White, Michael Kopech


Let's run though three categories here, as related to my guidelines above: what went wrong, what went right, what kinda happened on its own.
---
Gunning for a 2021 title? You'll get calls and tips like these all offseason long with a subscription to BaseballHQ.com. Winning. Fantasy Baseball. Insight.
---
What went wrong
Rostering Adam Wainwright: This is more about process than results. Big-picture, he's fine as a ninth pitcher here, and could even turn a profit. But knowing that he was the first pitcher I rostered—and the 15th player nominated overall—via falling for one of the oldest tricks in the book (throw out a $1 scrub early, get some sucker—me—to bid 2 and then … crickets) was a bit unsettling, to say the least. Was not a confidence-inspiring moment.
Rostering Jack Flaherty: Similar to Wainwright, I got caught price-enforcing—plain and simple. By this time I was thrilled with my $26 starter, Aaron Nola, had filled my $20ish closer goal with Díaz, and had no inkling of adding a second starter in this price range. Surely there was someone who believed in Flaherty at $25. But there came the countdown (what?), and my pitching gaffe ($72 spent on four pitchers before the first break) just ascended to a whole new level.
Rostering Wander Franco: This was much later in the festivities, but given my budget crunch, spending $4 on a long-shot like Franco was probably a mistake. Though I believe in the bat and think he has the skill level to impress from the get-go, we don't really know when that is, and that $4 could have been better allocated elsewhere given my predicament.
Not fully understanding the draft software: (Warning: you're entering the Old Man Yelling at the Clouds portion of this article.) I made several missteps related to the online software. On several occasions, in the time between when my brain decided to hit the "Bid +1" and when my finger actually clicked the button, another bidder slid in, making my bid $1 more than what I anticipated. Sometimes I was bailed out by another bidder, but sometimes I wasn't. While not earth-shattering, it made for some unanticipated results. More frustrating, though, was the fact that the draft software didn't automatically apply multi-position eligibility to the ongoing player bidding process. Late in the draft, I had rostered enough multi-position players so that I knew I hadn't shut myself out of any one position. So when Justin Turner came up and was sitting at $3, I happily clicked the "+1" button. I was surprised to get the message that he was ineligible for my roster. At that specific moment, I realized that via the software, my 1B, 3B, COR and UT were all filled. But I had an OF spot open, and Bellinger was my current first baseman. By the time I realized what was going on, and tried to reset my roster mid-bid, it was too late. I'm still a bit miffed that the software can't compute those eligibility requirements on the fly.
Anyway, enough complaining.
What went right
Rostered Bellinger for $38: This is such a sharp group of owners, and the fact that the room is so unpredictable is related. A year ago, there were no less than five $50 players purchased. I assumed (wrongly) that this would hold for 2021, but the prices were much more in line with a traditional curve. As a result—though probably some injury risk was a part of it, too'—the bidding on Bellinger slowed down in the high 30s. When I secured him at $38, I felt like I had got a big bopper at a price under what I had figured to pay.
Nabbed Nola: At $26, he fit the bill for what I wanted to do with this goal: An "A" health rating, and a history of ~200 IP seasons. Great staff anchor at a reasonable price.
A closer for $20: I was also thrilled to get Díaz at $20; again, this was a bit more than I usually allocate for saves, but wanted to trust my gut to fill in a couple other late saves shots.
Found some late gems: Was happy with the several single-digit buys near the end: Skubal, Mahle, Soler in particular. Related, I also stayed away from too many $1 players—though perhaps that was my old conservative self seeping through.
What kinda happened on its own (a.k.a. maybe this should have been my plan)
Starter-centric pitching staff: I ended the auction portion with a staff heavily slanted towards starters; 8-to-1, in fact. That final decision was made late, when Tyler Mahle was on the board at $2 and I had one pitching slot left. I convinced myself on the spot I could make this work, and ended up with Mahle at $3. In retrospect, given the overall 2021 innings questions re: COVID, Mahle's relative health and experience, and what seems like a more fluid closer situation this year (i.e., more pieces to take shots on), I wonder if the 8:1 move was fine. I essentially rostered my starting pitching depth in the auction portion—rather than in the reserve rounds—and flipped my saves speculations until later. I then made Alvarado, Scott, and Wittgren my first three reserve picks, each easily fungible if they aren't getting saves chances early in the season, giving me space to chase the next hot saves source in FAAB.
Maybe I got the right rookie: Again from hindsight, if was going to take one shot on minor-leaguer, Franco would likely be the one. Yes, Kelenic and Witt have generated more hype over the past three weeks, but I still feel Franco has best combination of skill level and minors experience to be a contributor from the start, even in an organization known for slow-pedaling prospects. I think Franco could be up by mid-season, and that Tampa also knows what it has here.
Conclusion
Maybe all of this is wishful, 20/20 hindsight thinking. Because I deviated from RotoLab at points during the draft, it has me more in the middle-of-the-pack than nearer to the top than I'm used to in its projected standings. Maybe that's part of stepping out of my comfort zone as well.
Open to hearing your thoughts/questions/feedback in the comments below.
For more information about the terms used in this article, see our Glossary Primer.
Free Weekly eNewsletter
The industry's #1 analytical weekly e-mail newsletter is ABSOLUTELY FREE!
More Information
Shopping Cart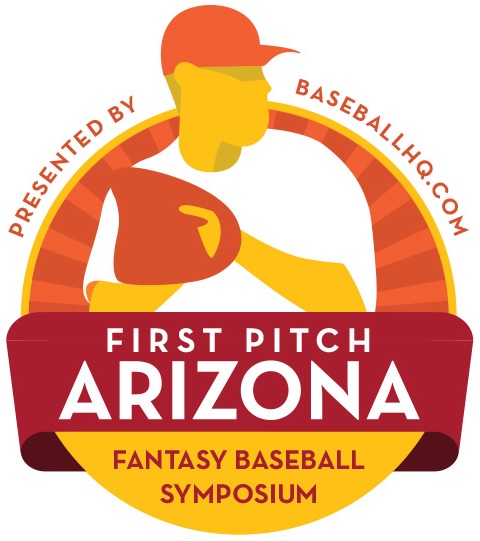 November 3rd-6th, 2022
Sheraton Mesa Wrigleyville West
EARLY BIRD REGISTRATION NOW OPEN
!