GM's OFFICE: LABR-Mixed Draft recap—Introducing the Zunino plan?
By Ray Murphy

@RayHQ
February 17th, 2017 12:00am
Earlier this week, USAToday sponsored the annual LABR Mixed League draft.
LABR is the grand-daddy of the industry/expert leagues, although this is only the sixth season of the mixed league format. I've been a participant in LABR-Mixed since its inception, with one (co-)championship and two second place finishes over five seasons.
To recap the format and particulars, LABR-Mixed is:
15 teams, standard 5x5 scoring (using BA, not OBP).
29 rounds (6 reserve spots; unlimited DL).
I had the 4th pick in the snake draft. (Draft order was set randomly.)
In terms of league setup, this is my preferred format. For more than a decade now I've been laying out my approach to these mixed straight drafts in our annual Straight Draft Guide (2017 edition coming in a few weeks).
Here is the completed draft grid.
As with the FSTA draft from last month, let me try and give a fairly comprehensive recap of my approach by sharing my thought process for a series of individual decisions that came up throughout the draft. Many of these decisions were flagged in real time on Twitter, so I'll include some relevant tweets as we go here.
Arenado over Altuve. Obviously, the first decision came in Round 1. I went in with the assumption that Trout and Betts would be off the board before pick 4, leaving me to evaluate these candidates for the fourth pick:
Nolan Arenado
Jose Altuve
Kris Bryant
Paul Goldschmidt
Clayton Kershaw
Was Kershaw really an option for me at 4? No:
@RayHQ last night had Kershaw been available would you have pulled the trigger on him?

— Matthew Ferrara (@mferrara78) February 14, 2017
No, I can't take Kershaw that early. Just not wired that way. As a result, don't think I've ever owned him. https://t.co/GF49j9tQan

— Ray Murphy (@RayHQ) February 14, 2017
Goldschmidt was out too, mostly because of draft flow issues. There is a cluster of 1B that fall around my 2nd/3rd round picks in the ADP that I am high on (Votto, Freeman, Encarnacion) and I wanted to retain the flexibility to collect one of them with my next pick(s), without creating the suboptimal 1B-1B opening pair.
That left Altuve, Bryant, and Arenado. Altuve checks all the boxes for scarce skills, elite BA, speed, all from an MI position. But I'm just a little concerned about the SB dropoff when he moved to the middle of the Astros' order in the 2nd half. And even though xPX backs his power gains from last year, I just can't get through my head that that little guy has legit 20+ HR power. Even though I trust the BA, I just have a lingering doubt that there aren't enough counting stats to go with the BA to support this draft position.
Comparing Bryant to Arenado was actually easier:
@BrentHQ @RayHQ why not Kris Bryant ahead of Arenado? Same position but Bryant has also OF elegibility. Thanks!

— Adrian (@amoralest1970) February 14, 2017
Higher floor on Arenado. Contact skills, power, durability, Coors all make him just about the safest choice in Rd1. Only wart is no SB. https://t.co/jVeWQYF6Ai

— Ray Murphy (@RayHQ) February 14, 2017
It turned out the top 3 went Trout-Kershaw-Betts, so I had my choice of any of the above. I selected Arenado.

Building a batting average foundation: While Altuve was the best Rd1 choice for a batting average foundation, Arenado is no slouch in the category. When I landed Freeman in Round 2, that poured a little more concrete into that foundation. I was eyeing Trevor Story in Rd 3, but missed him by two picks. I pivoted to Daniel Murphy, and noticed something cool on my RotoLab dashboard:
Opening trio of Arenado/Freeman/Murphy projects for an aggregate .300 BA. Set up to absorb some BA downside later. #LABR

— Ray Murphy (@RayHQ) February 14, 2017
How to address speed? Loading up on BA early like that has tradeoffs, the most obvious one being that these top three choices didn't offer me any appreciable speed. When I added Christian Yelich in Rd4, that further reinforced the strong BA, but meant that I had rostered under 30 projected SB with those four hitters. The Yelich pick closed the door on grabbing the last of the early-round speedsters (Dee Gordon went a pick later), ensuring I was going to be cobbling speed together later on.
This has been a topic in our forums lately. In various threads discussing strategy in the NFBC Draft Champions format (50 rounds, draft-and-hold, no pickups or trading), I've frequently advocated getting a Gordon/Hamilton/Villar type early to build an SB foundation. I didn't do that here, for a couple of reasons:
This isn't a draft-and-hold format. LABR has weekly FAAB and unlimited trading.
There isn't an overall/multi-league competition or prize here. I don't necessarily need to ace all 10 categories in order to win this league.
For those reasons, I was comfortable having a lower SB target than I might have in an NFBC league. The lesson isn't a new one: league context matters.
Sneaking names through the short side of the snake: Chair #4 is a good spot for employing some strategy on the short side of the snake (when the pick comes to you on the way back to #1). With six picks in between my two, that was close enough to think of them in pairs as you would on the wheel. But with only three teams between your two picks, I could monitor the roster construction on that side of me and make some educated guesses as to which of my paired targets I could sneak through those six picks. I did this with some success at a few points in the draft:
Rd 4-5: looking for an SP with one of these picks, I saw that FantasyFix (team 1) had gone Syndegaard-Sale on the rd2-3 wheel, so they were unlikely to take an SP at the Rd4-5 wheel. RotoWire (Team 2) had taken Kershaw at pick 2 and seemed unlikely to add a 2nd SP here. I had two SP on my radar: Jon Lester and Chris Archer. I preferred Lester, but was comfortable with Archer as a fallback. I took Yelich in four, and watched Lester almost come back to me: he went the pick before my rd5, to team 3. I took Archer with my round 5.
Rd 8-9: I had Kenta Maeda on my short list in Rd7, but picked Jose Ramirez. I watched Maeda come all the way back to Round 8. But again, with the three teams to my left having (at that point) six SP rostered, I elected to float Maeda through them and jump into the then-burgeoning closer run. (Those three teams had no closers at that point.)
@Jody27Ryan @BaseballHQ closer run was jumping; teams to my left had a bunch of SP already. Snuck Maeda through those 6 picks.

— Ray Murphy (@RayHQ) February 14, 2017
The result could probably be best described as "Questionable process, good outcome": I took David Robertson, then watched those next six picks as no closers went, but one SP did. Fortunately for me, that SP was Dallas Keuchel rather than Maeda, so I finally nabbed Maeda in Rd9.

David Robertson in the 8th.
Nate Jones in the 18th.

See what ya did there, @RayHQ. #LABR

— Ryan Bloomfield (@RyanBHQ) February 14, 2017
Robertson+Jones = 1 closer? 1.5? 2? Speaking of Robertson, as Ryan's tweet above details, I waited 10 rounds and then picked up his heir apparent in Chicago, Nate Jones. Besides the usual handcuff/backup move, theoretically ensuring I have the White Sox saves covered, adding Jones also gives me upside that you usually don't get from a handcuff. If Robertson gets dealt to Washington or some other venue where he can close, and Jones steps into the resulting void in Chicago, I net out up a closer for some fraction of the season.

Yup, time to start spending the BA cushion. Doesn't help to win BA by 10 pts. :) https://t.co/zCiQ6iOJCf

— Ray Murphy (@RayHQ) February 14, 2017
Spending down that BA edge: As the draft moved to its back half, the goal for my remaining batter roster spots was to cash in some of that batting average buffer that I had constructed, and grab counting-stat contributors without regard for BA risk. Wellington Castillo's 20 HR/.250 BA behind the plate fit perfectly, as did Yasmany Tomas' 25-30 HR bat and Tim Anderson's 30+ SB. That trio threw my projected counting stats back in line with my pre-draft targets, and didn't even hurt the projected BA appreciably (with Yelich, the top 4 hitters projected for a .298 BA over around 2300 AB, which is just about a third of the team's projected AB total.) Thus, I had latitude to chase BA downside even more aggressively. Which led to...
Also played in strongly to Zunino pick as 2d C in Rd16. The stuff you can do with a BA cushion … #LABR https://t.co/7njjSEvEJ9

— Brent Hershey (@BrentHQ) February 14, 2017
The capper: I covered Mike Zunino last week in the Speculator's list of UP: plays and detailed in particular how Carlos Ruiz's presence as Zunino's backup in Seattle seems to represent a vote of confidence in Zunino. We are currently projecting 22 HR in 469 AB; Zunino could outperform the HR total by building on last year's growth, or just buy playing well enough to earn more AB than that. Or both. The Forecaster's UP: 30 HR looked particularly tasty here, as I was in a position to not care at all about the BA downside here. Even after rostering Zunino, my projected BA stayed a couple of points above my target. And if Zunino doesn't deliver on the power UP:, I should at least be able to find a do-no-harm catcher who won't have the same BA downside.
The team:
Here's my complete roster (round in parentheses)
C: Wellington Castillo (11), Mike Zunino (16)
CI: Freddie Freeman (2), Alex Bregman (6), Nolan Arenado (1)
MI: Daniel Murphy (3), Jorge Polanco (23), Tim Anderson (12)
OF: Christian Yelich (4), Jose Ramirez (7), Yasmany Tomas (13), Jorge Soler (17), Mallex Smith (21)
Util: Chris Carter (24)
Bench: Andrelton Simmons (26), Melvin Upton (29)
SP: Chris Archer (5), Kenta Maeda (9), Carlos Rodon (14), Vincent Velasquez (15), Alex Wood (19), Daniel Norris (20), Matt Andriese (23), Luke Weaver (25), Reynaldo Lopez (27)
RP: David Robertson (8), Jeurys Familia (10), Nate Jones (18), Matt Bush (28)
What do you think of this team? Let me know in the comments area.
For more information about the terms used in this article, see our Glossary Primer.
Shopping Cart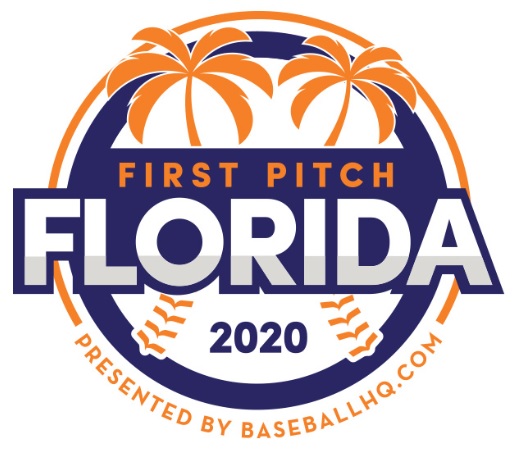 Inaugural Event!
February 28-March 1, 2020
St. Petersburg, FL
A few seats still left!