GM's OFFICE: The Great First Pitch Survey outtakes
By Ray Murphy

@RayHQ
March 1st, 2019 2:07am
Last weekend, we kicked off our annual First Pitch Forums road trip, with stops in Chicago and Atlanta. These events are always a seasonal highlight for us, and last week was no exception. We rolled out our "Great First Pitch Forum Survey of 2019" program, and the Chicago and Atlanta audiences were super engaged.
In case you missed it, in early February we circulated a series of mini-surveys covering a host of topics regarding the upcoming season. We posted the surveys here on the site, pushed them via social media, asked our friends across other industry sites to get their readers' eyes on it. This worked very well, as we got over 2000 total responses.
If you live on the East Coast, you can still join us for the full program next weekend, March 8-10, as we make stops in Boston, New York Metro area, and Baltimore. And if you live anywhere, you can sign up for the virtual event, a series of three one-hour events that take place on weekday evenings in March. Find all the details on 2019's First Pitch Forum events here.
With more than 80 questions across those surveys, we pulled the best 30 into the primary program, and another 15 into a "lightning round" phase at the end of the program. (Note that both in-person and virtual attendees will receive the entire dataset in two weeks.) But our trimming still left some interesting results on the cutting-room floor, so Brent and I decided to highlight a few of those outtakes here to give you a feel for the kind of subjects and results you can expect from this year's First Pitch Forum.
First, we asked identical questions about the LA and Houston rotation battles:
Which of these Houston SP gets the most starts in 2019?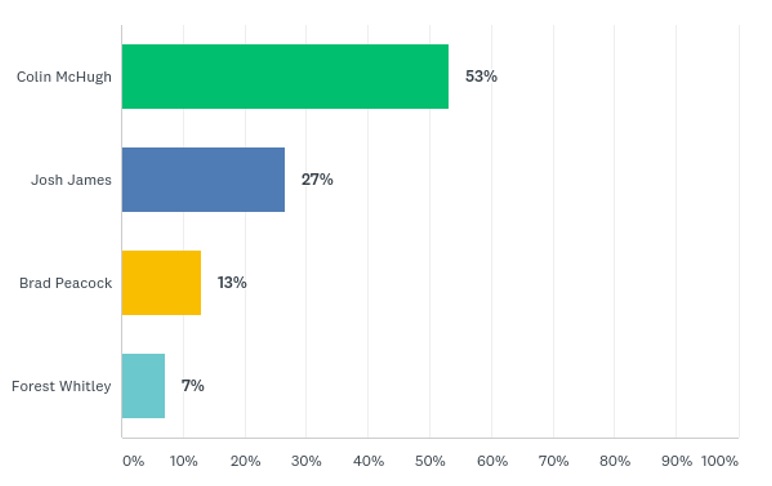 Which of these Dodger SP gets the most starts in 2019?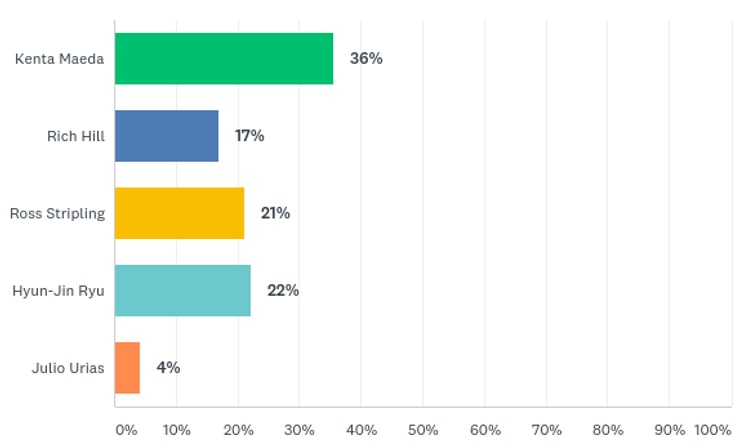 These results highlight one of the challenge of doing a survey in February and presenting results in March: news starts to shift quickly at this time of year. Both of these rotations have made camp news already, as Josh James and Clayton Kershaw (not listed in the Dodgers question, but still a factor) have fallen behind due to injury concerns.
In these cases, the recent news is the micro-level point, but the macro-level point is that the news doesn't matter: only one guy in each list can get the most starts and be the "right" answer, but every single one of these pitchers is likely to get opportunities, likely extended ones, at some point during the season.
In terms of the results here, I think the public got the Dodger question right: Maeda and Stripling are the two guys without significant injury histories, so they should be available to make more starts. They are the pair that I would be pushing up my draft board if the Kershaw news continues to get worse.
On the Houston list, if you come at that question from the perspective of trying to find a path for Forrest Whitley, then the Josh James injury is the first domino you needed to fall. Another injury or two in that rotation could crack the door open for Whitley, and if that happens he could just kick it down and become a 150-IP rotation fixture from the get-go. (R.M.)
Which Twin will lead the team in HR?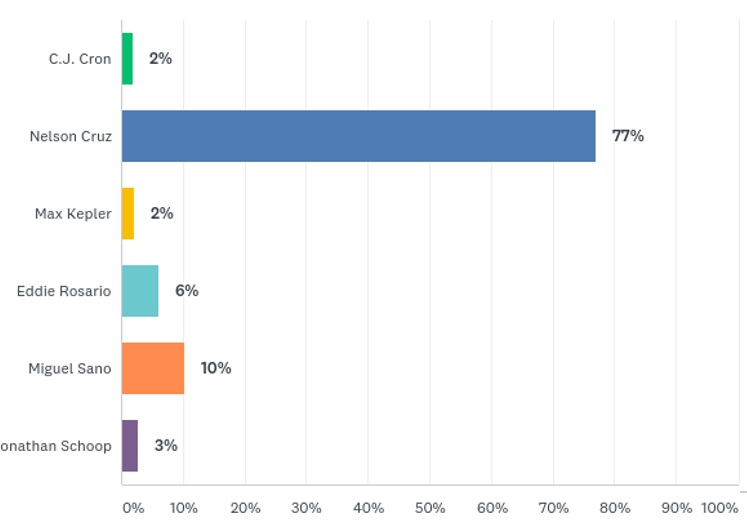 We messed up on this question; we could have gotten much more interesting results by excluding Cruz. You can't necessarily project that the small-sample distribution of the non-Cruz vote would have held in that case, but there are five other interesting candidates in that cluster.
According to our projections, it's a close call:

MIN Batter    pHR
==========    ===
Cron           22
Kepler         22
Rosario        24
Sano           27
Schoop         28

Again on the theme of "shifting news in camp," the determining factor in this race might actually be new arrival Marwin Gonzalez, and where he finds his ABs. He seems like a direct threat to Sano, if Sano can't get off to a good start both offensively and defensively (since Cruz is now blocking the DH spot).
It seems notable that Schoop wins this poll according to our projections (and wasn't far off from Cruz's 34 HR projection) and registered only 3% of the vote. Might be a buying opportunity there. (R.M.)
Which hitter is most likely to return to their 2017 HR level?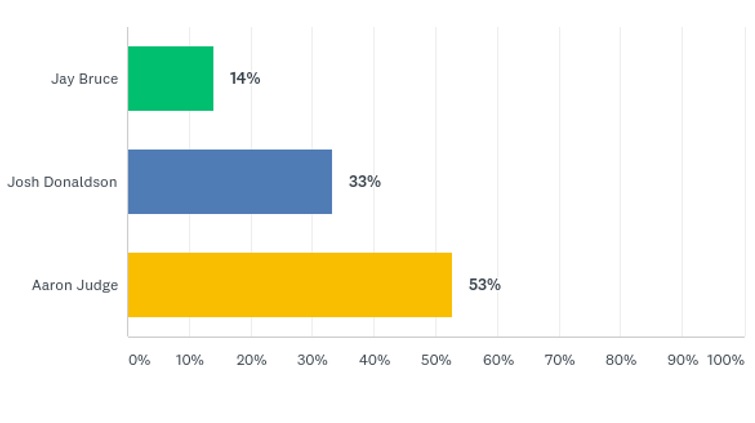 We didn't provide this info in the survey, but to me the question hinges on the different bars each guy has to recapture 2017: Judge hit 52 HR in 2017, Bruce 36, Donaldson 33. It stuns me that Judge wins this poll so handily, just because 52 HR is such a high bar. Regression remains the most powerful force in the game, and it won't take much at all to go wrong to pull Judge below 50 HR. (Heck, the changes in the composition of the ball since 2017 may be enough of a counterbalance already.)
Our current projections have Judge at 37 HR, Bruce at 28, Donaldson at 23... so, we're voting "none of the above". But if the people who answered this poll would give me Bruce and Donaldson against their Judge, I'd take that bet in a heartbeat. Since we have Donaldson at only 433 projected AB right now, it may simply be a matter of him staying in the lineup for 550 AB (admittedly, no sure thing) to make his number.(R.M.)
Which Met gets the most AB in 2019?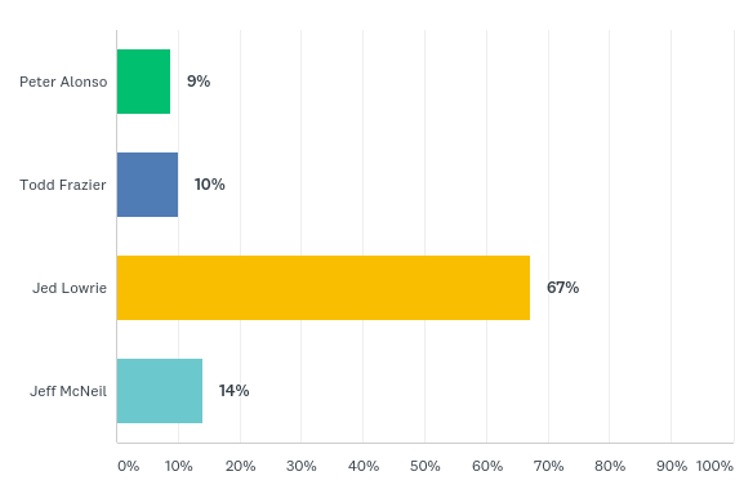 This looked like an easy question a few weeks ago, but with Lowrie and Frazier both now injured and at least questionable for Opening Day, it might be worth another look. Pete Alonso homered in his first spring game; it will take more than one day to stake a claim to a job, but his opportunity might be expanding here.
With the moving parts the Mets now have on hand, in their own mini-version of "Team Pretzel," the real beneficiary might be McNeil. If Alonso doesn't make the team, the Mets could move Cano to 1B to open the year and plant McNeil at 2B. Or McNeil could get more time at 3B if either Lowrie or Frazier aren't ready to start the year. And since we're talking about the Mets, the next injury is just around the corner, and that one could be the one that really frees McNeil. (R.M.)
For 2019, J.T. Realmuto or Gary Sanchez?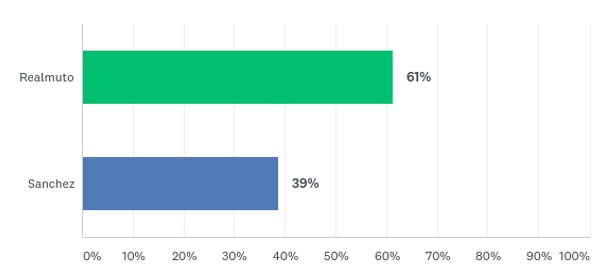 A two-part "shifting news" casualty between when the survey was conducted and the present day. First, Realmuto got traded from a HR-squashing park for RHH (-27%) to a HR-enhancing one (+24%); obviously it gave him a notable bump in our BaseballHQ.com (as well as everyone else's) projections. Second, the ADP gap between these two has gotten smaller (Realmuto was 55, Sanchez 66 at survey time; now Realmuto 51, Sanchez 55).
But the question overall had added weight given the very poor catchers pool, Our surveyors preferred Realmuto at almost 2-1, which makes sense given his all-around category assistance. But we're surprised that Sanchez and his high BA risk—though it comes with much more prestigious power—has closed the ADP gap some in the last month. As for now; you'll likely need to grab one of these before Round 6 to come away with either. (B.H.)
Which hitter with an ADP of round 15 or later is the best bet to produce both double-digit HR and SB?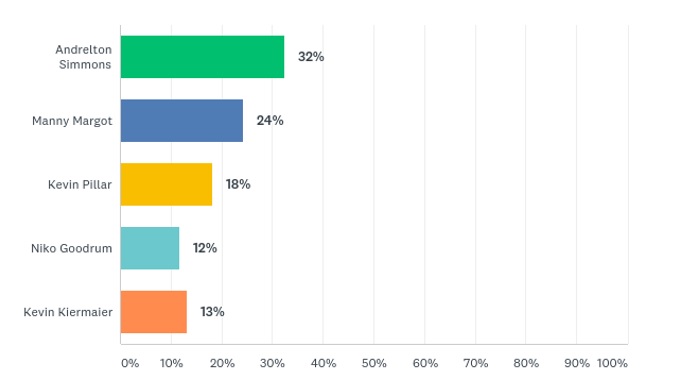 Mid-draft power/speed combinations is what we polled folks about here, and Simmons' solid showing seems to be a nod to his durability more than his track record. He's one of the elite contact guys in the league (92% in 2018), but Simmons has not yet cracked a 15/15 season. Though his HctX jumped, FB%, xPX, hr/f all stayed stable in 2018, and he's been an efficient base stealer. Pillar might be flying under the radar as best choice here; he was one 2018 SB shy of back-to-back 15/15 seasons, and has logged 500+ MLB AB in each year since 2014. Kiermaier has the skills but not the health—but note Margot in what seems to be a purely upside play, despite a disappointing 2018 and now even more competition in the SD outfield. He might be suffering from the shiny new toy bias among the names here. (B.H.)
Which prospect outside the HQ100 Top 50 will produce the most value in 2019 only?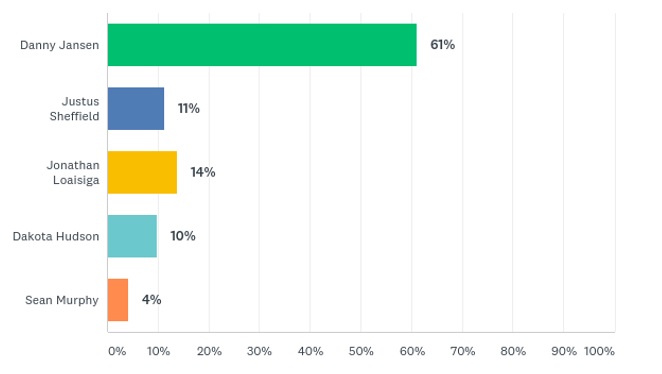 Jansen ran away with this, likely in part from some mix of catcher-casting (seen as one of the next useful offensive performers at a dry position) as well as being aware of the poor track record for rookie pitchers. Still, though, Sheffield/Loaisiga/Hudson combined to capture just over one-third of all the votes. Sheffield seems closer to a rotation spot than Loaisiga, though the latter's short-track-record of MLB skills definitely outpaced the former. The polar opposites of these two in terms of projected team support and home ballpark context makes this choice an interesting one if we were had made all the choices pitchers here. Both have shown some level of skills as they've climbed the ladder to the majors. (B.H.)
Which of these players will have the most plate appearances in 2019?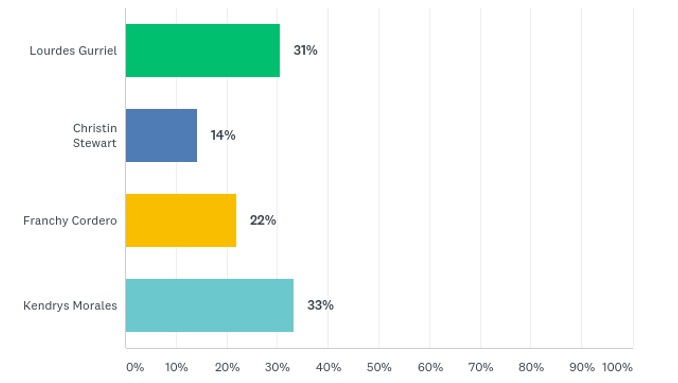 One could make the case that Morales should have run away with this—whether it's DH-only eligibility, age (36), or player fatigue, he seems to be somewhat forgotten in drafts (currently a 437 ADP). And though he's not what he once was, it still seems you can write in .250/20/60 and be done with it.
But the curious player here is Stewart. Though he was an easy fourth-place finisher here, he seems to have a good path to playing time with the rebuilding Tigers, and in fact sits comfortably atop this quartet in our latest BaseballHQ.com projections with 455 at bats. The others come in at Morales 431, Gurriel 388, and Cordero 350. Now, they may be risky AB, as Stewart has a history of high strikeout rates in the minors, but he's a young player with some thunder that may get an extended chance in Detroit. (B.H.)
Hope to see you on the road—or via the computer—over the next days as we continue our Great First Pitch Forum Survey Tour!
For more information about the terms used in this article, see our Glossary Primer.
Shopping Cart