GM's OFFICE: First Pitch Arizona Rookie League, September 2017
By Brent Hershey

@BrentHQ
September 11th, 2017 7:52am
With three weeks to go in the season, we figured it's time again to check in with our First Pitch Arizona Rookie League experiment. For those unawares, this is an eight-team industry league that we put together at the 2016 First Pitch Arizona conference in Phoenix last fall. (Obligatory plug: This year's conference, Nov. 2-5, is filling up quickly, but you can still save $100 on registration if you sign up by Friday.)
The preseason article with full rules explanation is here, but the Cliffs Notes version is this:
League size of eight teams
Team rosters of 14 players (eight position players, one UT, five pitchers)
Categories are AB, BA, HR, RBI, SB for hitters; IP, W, K, ERA, WHIP for pitchers
Traditional roto scoring
ALL players must have rookie eligibility as of beginning of the 2017 season; only stats accrued in MLB count towards standings
A true draft-and-hold; no trades, FA acquisitions or injury replacements
We checked in with updates in April and June, but since there are more AB/IP as players get recalled throughout the season and in September, this is as busy a time as any. Through games of September 8, the standings were: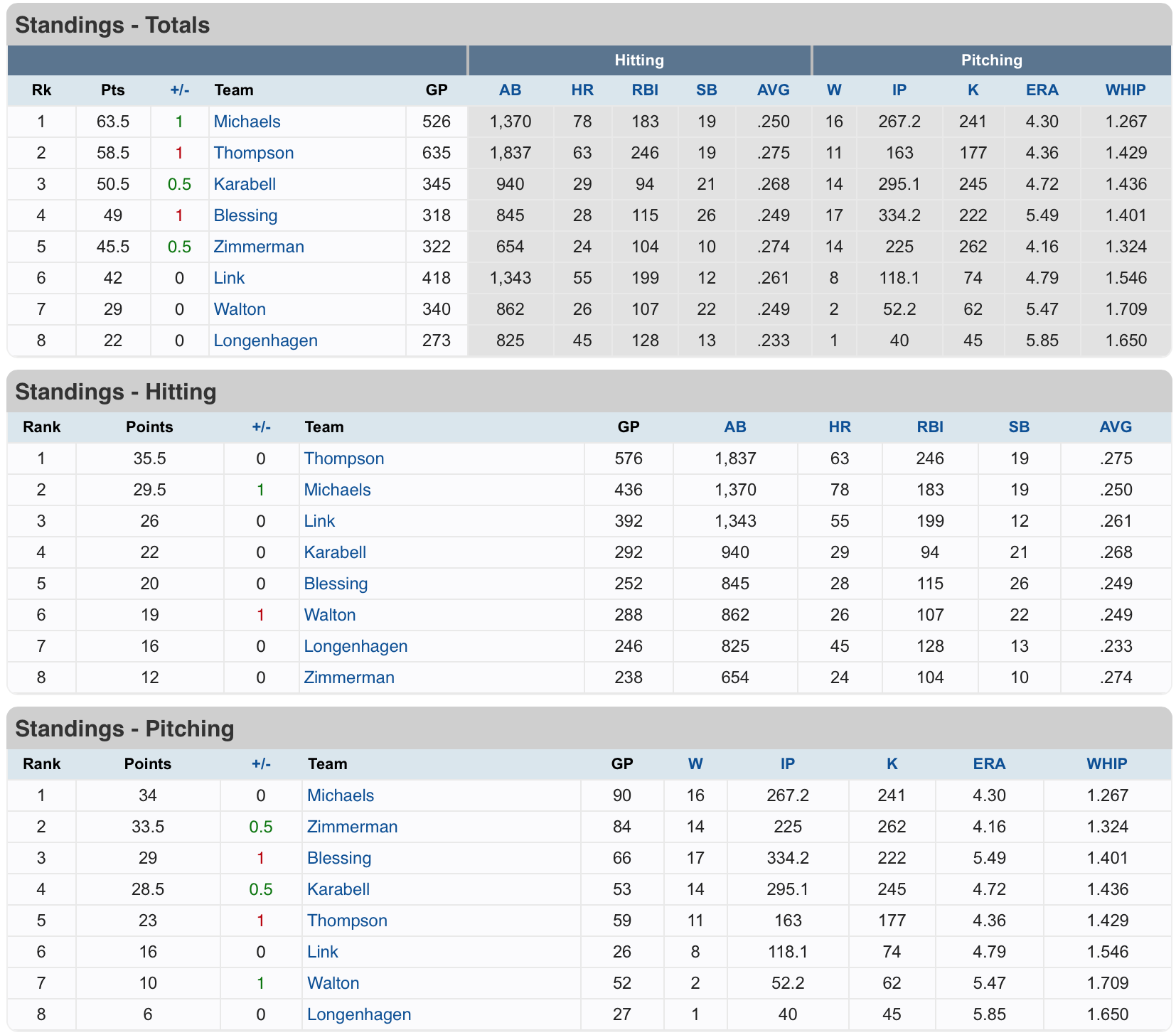 The public link to the league, where you can view individual rosters, can be found here.
Some Standings and Category observations with three weeks left:
The Bellinger/Judge Effect. On the real baseball field, rookies Cody Bellinger and Aaron Judge have been the obvious stat standouts from a "Rookie of the Year" perspective. But at this late juncture in the season, I was curious to see whether these big performances correlate with success in this league. In other words, with a limited player pool, and not knowing just how much each of these rookies would play upon the draft (which took place in October 2016), does having one of these monsters correlate with success?
Yes and no, at least this year. While Aaron Judge is on Lawr Michaels' first-place squad, and certainly his unreal first half got Michaels out of the gate quickly, Michaels' offense has been bolstered by a couple low-BA sluggers in Matt Chapman and Hunter Renfroe. On the other account, Bellinger's season was the bright spot for Eric Longenhagen, who is in eighth place overall. As of September 8, Bellinger's 410 AB consisted of almost exactly half of his team's 825 for the season.
Races have tightened up some since June. Michaels is still in the overall lead, and though teams 2-4 have remained the same, the standings have shifted within that block. Which makes sense—part of the equation in this league is that, in theory at least, there will be more contributors for each team as the season moves along. And now, especially with September roster expansion, the AB and IP should be piling up at the league's greatest pace. AB totals per team have gone up in every subsequent month; IP have fluctuated some, but generally have been on the rise throughout the season.
So while Michaels has a comfortable lead, the overall small samples (and portions of tight categories in HR, SB, wins and others) should lead to an interesting final three weeks.
The presumed importance of AB and IP. One of the elements I was interested in to see was if the AB and IP, each of which are categories in this format, would simply be a proxy for overall results. In other words, as AB/IP piled up as the season went on, are the overall standings just a mirror of those two categories?
The hitting categories have pretty much worked out that way. Jock Thompson will accumulate the most AB by far; he has almost a 500-AB lead with three weeks left to play. Of his nine rostered hitters, only Jake Bauers and Kevin Newman have yet to make an MLB appearance (and those two could well get a September cup of coffee; both are still in their Triple-A playoffs). And though Thompson is #2 in HR and #1 in RBI, it's his league-best BA that's really helped his cause. Compiling good BA hitters has been a boon.
For pitching, the team accumulating the most IP has not resulted in the most pitching points. Chris Blessing and Eric Karabell are 1-2 in IP, but are 3-4 overall in total pitching points. Here, Jeff Zimmerman is squarely middle of the pack in IP but has collected the most strikeouts, and is running #1 in ERA and Ks and #2 in WHIP. And several of the pitching categories are close enough for team movement over the season's final three weeks.
Some Team Observations (in current standings order):
Michaels (Mastersball.com): From a September playing time perspective, he seems a bit vulnerable on the hitting side, as four of his nine hitters have yet to log an AB; Jesse Winker has been hurt, and Hunter Renfroe has been in the minors and not yet recalled for September. But it seems he only has maybe 1.5 pts of downside in AB, HR, RBI and SB. Batting average is a big tighter. Antonio Senzatella and Josh Hader are anchoring his staff for now, but again there's not a lot of downside when you look at each individual pitching category. Senzatella (127.1 IP; 10 W, 95 K, 4.74/1.267) is the type of player who has proven to be very valuable in this league.
Thompson (BaseballHQ.com): Does he have the upside to catch Michaels? On hitting, he has very little downside, but could make up some ground in SB, where three SB separate four teams in the #2-5 slots. Wilmer Difo (9) and Mitch Haniger (4) lead his team in SB. On pitching, he's neither moving up nor down in IP and Ks; Thompson's opportunity—though limited—will be in ERA/WHIP. And with a staff that is down Jose DeLeon and Alex Meyer due to injuries, his hopes are tied to Brock Stewart, Cody Reed and Francis Martes.
Karabell (ESPN.com): On offense, Karabell looks to gain team ABs from late-season callups Jorge Alfaro, Dan Vogelbach, Ryan McMahon, Ramiel Tapia and Sam Travis. There's a slight chance of some upside in RBI, where he's currently eighth, and he's a part of the SB mix. Where he can make up some ground is on the pitching side, where his Jharel Cotton/Lucas Giolito/Ben Lively/Sean Newcomb quartet of starters should pile up innings the rest of the way.
Blessing (BaseballHQ.com): He still has some upside in several hitting categories, but the volume of chances (HR, RBI, AB) are going to be a hurdle. Only Ozzie Albies and Andrew Benintendi are sure-fire everyday bats on his roster, but they will give him a fighting chance in SB/BA. Casey Gillespie/Roman Quinn and Pete O'Brien could end up with a collective zero once the last out is made. Blessing is still in first place in Wins and IP, though Ty Blach/Amir Garrett/Jeff Hoffman/Reynaldo Lopez might make it tough to hang on to those leads.
Zimmerman (FanGraphs.com): Fascinating squad given this format. He's dead last in overall hitting points, but A.J. Reed is probably his only dead roster spot in September. The inexperienced group led by Franklin Barreto/Renato Nunez/J.P Crawford/Harrison Bader/Teoscar Hernandez could move him up with a strong month. But as stated above, he's dominated in K/ERA/WHIP so far, despite the early-season Tyler Glasnow debacle, thanks to none other than Chad Green and his 92 K, 1.93/0.709 season. Luke Weaver and the possibility of a resurgent Glasnow should keep his pitching points safe.
Link (RotoWire.com): He probably only has two points of hitting upside, in AB and SB, though each will be tough given his roster construction—unless Greg Allen becomes Jarrod Dyson in September. His pitching this season has essentially been Robert Gsellman (97.2 innings of his 118.1 team total). A start or two by Yohander Mendez is unlikely to make a difference.
Walton (Mastersball.com): The team has been an injury magnet all year long, from his #1 pick Alex Reyes, to Andrew Roles to Austin Meadows to the surprising T.J. Rivera. Pitching, specifically, has been a Murphy's Law situation; the staff has only amassed 52.2 IP total, and 46.2 of them are accounted by Edubray Ramos (4.82 ERA/1.693 WHIP). Bradley Zimmer/Dominic Smith/Amed Rosario is a fun trio of youngsters to watch in the final three weeks, but they won't make a difference.
Longenhagen (FanGraphs.com): Bellinger has kept him out of last place on the hitting side, but injuries have hurt here, too (Gleyber Torres, Lewis Brinson, James Kaprielian, Yoan Moncada). This team hasn't recorded an inning pitched since Frankie Montas last appeared on July 28.
We'll be back with a league wrap up once the season has concluded. Given the experimental nature of the league, feedback or format, rules, and/or applicability is welcomed in the comments fields below.
For more information about the terms used in this article, see our Glossary Primer.
Free Weekly eNewsletter
The industry's #1 analytical weekly e-mail newsletter is ABSOLUTELY FREE!
More Information
Shopping Cart
Listen to Baseball HQ's weekly audio programs.
Subscribe today!
Learn More