GM's OFFICE: 2022 Organization Reports Primer
By Brent Hershey

@BrentHQ
December 6th, 2021 1:01am
We're back—in more ways than one!
First, after time spent on First Pitch Arizona and the Baseball Forecaster during October and November, we turn the page to December and meet Prospect Season front and center. Hang on for a crazy six weeks of prospect knowledge and opinions tailored to helping you win your fantasy league, this year and in the future.
Second, our detailed reports return after a full 2021 season of MiLB games. The cancellation of 2020's minor league season made the 2021 version of this series a bit different, as we did our best to refresh the lists and source information where we could because there were no minor league games. But the games returned last summer, and the fruit of our BaseballHQ.com's prospect team's labors will be evident as we work our way through each MLB club's farm system with an eye on future fantasy value.
So, starting tomorrow, December 6, we will begin rolling out our annual Organization Reports, as we've done for many years. The goal? To prepare you for the 2022 season with team-by-team reports on rookie-eligible players you should know about. Whether it's the almost-ready Triple-A outfielder primed to make a 2022 impact, or an exciting and raw rookie-league player worth a stash on your dynasty roster, our OrgReports, as we call them, give you the fantasy-specific information to stock your farm systems.
---
For full scouting reports, skills grades, lists, rankings and sabermetrics on more than 900 prospects, order the 2022 Minor League Baseball Analyst today! It's your perfect prospect companion all season long! Ships in late January 2022.
---
What follows is a quick primer on our background, format and grading system that we hope gives you the proper context to consume these reports over the next six weeks. The link to this article will appear often in our work, as you might need to refer to repeatedly as we reveal these lists. But our hope is that the content provides a clear sense of preparing you for 2022.
Background
Yes, these are top prospect lists, and in one sense they are like the many other quality prospect lists you'll find around the Internet this time of year. There is one specific characteristic, however, about our OrgReports that we feel makes them stand out: They are compiled, evaluated and ranked specifically with fantasy baseball in mind. We know that you're not just looking for the best prospects; you want the best fantasy prospects. As an award-winning fantasy baseball-specific site, we feel it's our task to do that "translation" for you. Our writers write and editors edit with the goal of how much a player will contribute to a fantasy baseball roster. Among a few of the considerations as we prepare these reports:
Position(s) matters. For instance, almost all fantasy leagues require a catcher. Given the lower bar offensively for that position, we attempt to adjust when we evaluate backstops. Finding a catcher who consistently contributes on offense can be a challenging endeavor. Given how much emphasis is put on a rookie catcher's defense, and learning to manage a big-league staff upon his promotion, it often takes for the bat to "catch up." We attempt to account for that here, because finding a reliable catcher who can contribute to your fantasy squad is a huge built-in advantage. And knowing who to stay away from can be just as valuable.
Speed matters. Given the recent MLB downturn in stolen bases and SB attempts overall, those players who are successfully able to compile stolen bases continue to increase in value. Of course, SB totals in the minors are not always the best proxy for MLB SB success—pitchers and catchers are better equipped at the majors, for one thing, there's always the question of whether the player can either hit or get on base enough. And we haven't even broached the subject of having a manager who uses that weapon in today's launch angle environment. All that to say we take special care in evaluating speed-first players, because if they make it and can become reliable SB sources at the MLB level even if they lack other tools (looking at you, Myles Straw), they will have a unique skill set for impacting our fantasy baseball teams.
Defense matters. This point has long been touted on the opposite side: Defense doesn't matter when evaluating MLB prospects for fantasy utility; we only worry about the bat. But given the growing importance in the real-life game on position flexibility and players able to play multiple positions, it's past time to consider defensive flexibility as an important part of prospect evaluation. Prospects who are able to play MLB-quality defense at several positions are many times more likely to get opportunities to play (which equals more AB) than, say, a player who is merely adequate defensively at just one position. The MLB game's shift to 26-man rosters and carrying more pitchers than previous seasons almost means that bench players especially HAVE to be capable at several positions. And it's even better if some of a teams' starting eight position players can "double" up on positions. So while no, it doesn't matter how many errors in the field a certain top-hitting shortstop makes for fantasy baseball purposes, it may matter just how many positions a player can adequately man that will be the difference between a big-league roster spot and one at Triple-A.
A pitcher's "stuff" matters. With strikeouts in the game continuing to rise, and with some multi-inning relievers knocking on the 100-K door each year, pitchers who can get whiffs continue to garner attention. Now, it's obviously only one tool: As Alex Reyes or Brusdar Graterol shows, having some baseline of control, command, secondary pitches still matter—and a lack of such will eventually force a pitcher to the bullpen. But in general, we'll rate a high-K, wild pitcher higher than a Low-A change-up artist with a 2.00 ERA. Yes, a pitcher's stuff can improve, but showing the raw skills of pitch movement and getting swings-and-misses seems to project better to fantasy success than pitchers cruising on average velocity and overall arsenal but pinpoint control.
There are more elements to this complex process, of course, but those are just some examples of elements that we at BaseballHQ.com may take into our rankings and evaluations differently than other "baseball-only value" lists.
Then of course, this year's reports attempt account for a player development curve that was put on hold for an entire year by the pandemic. Though of course players in the past have missed entire minor-league seasons due to injury, this circumstance was different: some fully healthy players (those not invited to the 2020 alternate sites) went an entire year without competition. Again, our analysts will take that into account as best we can as we attempt to project player performance forward, knowing that the full outcome of that catastrophic 2020 shutdown won't be known for years.
Lastly, with the above, it may seem curious that we still categorize these lists by MLB team—after all, beyond -only leagues, which MLB team a player is on has very little bearing as to a player's future value. The answer, for now … is that it's just the easiest way to produce these lists. In our case—like other outlets—we have one analyst solely responsible for each individual organization. It helps with our workload of attempting to see with live looks as many of these players as we can throughout the season. And it helps because each of the evaluators fills in the gaps with information from contacts who are often are assigned to whole organizations. So while after these next six weeks we combine lists into an overall HQ100 Top Prospect list, and rank players by positional groupings, we still refer back to these OrgReports as the basis for our work.
Format
For each MLB organization, the author lists the top 15 fantasy prospects in our estimation, based on eventual fantasy impact at maturity. In that way, these lists are dynasty or keeper-league focused—but as you work your way through the entries, you can easily pick out the players who are likely to debut in 2022, and often their commentary will give you a good sense of our impressions as to whether that player is likely to be a quick adjuster or not. Remember, projecting baseball prospects is hard ... though as an example from 2020, let's use Kyle Lewis' entry of what the format will look like (and the content turned out pretty, good, too, as Lewis snagged the AL Rookie of the Year Award):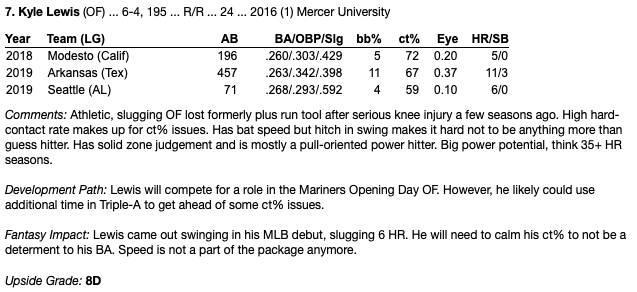 The biography line and the stats snapshot are self-explanatory, each fills in the initial picture as to what this player could be like. Is he still a teenager, or is he 24 already and only in Double-A? Does he have the prototypical size and build of a 200-IP starting pitcher? Where was this player drafted—higher draft picks tend to have longer leashes by the organization, since they have bonus money invested in that player already. That's followed by some summary stats for the past five stops a player has had. Here, look at sample size but also how successful a player was at each level. Then we get to the good stuff.
Comments is an overview of the player, which may include some talk of specific tools, adaptability, anything from his history that is important to know.
Development Path takes in a couple factors, such as how close/far he is this player to the majors? At what level is he likely to start 2022? How much work is still to be done before this player is ready to compete at the MLB level?
Fantasy Impact attempts to distill all of the above into a paragraph on what this player could become, and how he might impact a fantasy roster. What categories will he effect? Sometimes, we'll suggest a range of possible statistical outcomes for him once he reaches maturity. Other times, we might mention a statistical comparison to a current player. This tries to give you the most realistic expectation of what this player COULD BE.
Then, the report ends with a Grade.
The Grade
BaseballHQ.com's unique grading system was developed by Deric McKamey, a former prospect writer and current scout for the St. Louis Cardinals. The system debuted in the 2007 Minor League Baseball Analyst, and we've been using it on the site and in subsequent MLBAs ever since. Sometimes there's some confusion for both new and old readers on the specifics of the system, so we'll take some time here to explain how we best intend to use it along with some examples of current MLB players.
The system is a two-part scale: A number grade comes first, which represents a player's upside—again, at full MLB maturity, not at the present day. And then a letter grade follows, which attaches some probability that the player reaches that upside. Let's break these elements down even further.
Upside
Upside, of course, is what we're all chasing in this prospecting endeavor. We want to get the highest performing players onto our fantasy rosters, even if we have to wait a bit for the production to materialize. And that's exactly why we use this measure—we want to help identify which players have the highest upside, regardless of other factors.
As prospect analysts, our goal is to be realistic as possible with this number grade. This is why not everyone is a 10—even though, in the purest technical sense, there still the infinitesimal chance that you or I would be a Hall of Fame-caliber player. Each analyst brings their own perspective and experience to providing these number grades. It comes from years of scouting players, seeing comps, realizing who worked out, who improved, who didn't—and understanding to their best of their ability the "why"s behind those examples. Also, while we can be realistic, there are still players like Jacob deGrom (graded as a 7D in his final OrgReport year of 2014) and Jose Altuve (7C in 2011), as well as the flip side of Jay Bruce (10C in 2008) and Matt Wieters (10C in 2009). Remember: we will get these wrong. Fulltime MLB scouts will get some wrong. It's the nature of the business.
But back to the number grades. Let's run through the top five levels of number grades here with the "key"—but also with several corresponding established MLB players at their current level to help level-set our expectations. And of course, some of these players can still move up or down a tier as their careers develop. This is just a snapshot of who they are now:

10 Potential Hall of Famer    Mike Trout, Mookie Betts;
                              Jacob deGrom, Clayton Kershaw
9  Potential Elite Player     Trea Turner, Vlad Guerrero, Jr, Juan Soto; 
                              Corbin Burnes, Lucas Giolito, Liam Hendriks
8  Potential Solid Regular    Alex Verdugo, Dansby Swanson, Charlie Blackmon; 
                              Ian Anderson, Sean Manea, Sonny Gray, Mark Melancon
7  Potential Average Regular  James McCann, Brian Anderson, Max Kepler; 
                              Marco Gonzales, Zach Plesac, Steven Matz
6  Potential Platoon Player   Rowdy Tellez, Joc Pederson, Leury Garcia; 
                              Kolby Allard, Erick Fedde, Brad Keller

So as you consume these number grades, you may find the examples above helpful given some of their real-life production levels.
Probability/risk
The second part of the Grade is a letter, given in the A-E academic scale. The letter portion is best thought of as a proxy for risk: Essentially, it is the probability that the evaluator thinks the player will reach his upside grade. We break it down into percentages, like this:
A: 90% probability of reaching potential
B: 70% probability of reaching potential
C: 50% probability of reaching potential
D: 30% probability of reaching potential
E: 10% probability of reaching potential
It's best to remember that this is NOT how close a player is to the majors—though that is one small aspect of the letter grade—as in, proven production at higher levels of the minors usually increases a player's probability grade. For instance, a player who has performed well against AA competition has some aspect of a smaller risk than a Low-A teenager.
Other things that can affect a players' letter grade:
Quality makeup. Here are two examples of makeup that could affect a player's letter grade positively: A drivenness to put in the work to improve, and/or the ability to block out other distractions and keenly focus on his craft.
A sense of conquering foundational skills that can "set the table" for further overall improvement. Think of a low-A pitcher with impeccable ability to throw strikes, or a Double-A hitter with innate ability to put the bat on the ball. Even if there are other aspects of these player's skill set that are —say, the pitcher can't command his fastball and the hitter has not yet developed in-game power—sometimes the foundational skills are building blocks for skills that come later. Recognizing these different tools and knowing how to express them in the letter grade is one of the things we ask our evaluators to consider.
Note that a lower letter grade that indicates more risk may include:
Concerns about a player staying healthy. If he has trouble in the minors, how likely is that to continue as he climbs the ladder?
Lack of fundamental baseball skills. This is the flip side of the above. We see this in toolsy but undisciplined players, sometimes pure athletes who have come to baseball later in their youth and have to refine their hitting mechanics or strike zone judgment. A pitcher might throw hard and have a nasty offspeed swing and miss pitch, but can't find the plate.
Makeup that might hold a player back from improving. Of course, judging and grading makeup is one of the toughest calls. But that still goes into our thought process.
One essential takeaway: not all players with the same grade are created equal. That's why it's so important to not just look at the grade … the real work our crew does is in the written comments .. where we break down a player's tools/skills and attempt to give a snapshot of the player's future. Related, don't obsess over the differences in the grade. Yes, for sure, an 8B and a 9C are very close … and there is some merit to say that every 8B could easily also be graded a 9C. But we ask our evaluators to make a call, and provide them space in the comments to give their understanding of this player's potential future. In the end, YOU make the call for YOUR team. Some owners don't mind the risk, and just want to shoot for upside. It is likely those owners will have more 9Ds on their roster. Others may want more sure things, and are going to lean towards the 8As and 8Bs, or even 7As, who are meant to have lower risk in their profiles. It's just how this works.
Conclusion
We do all of this knowing that there will instances when we will be wrong; and those when we'll be right—such as our early-career reports on Vlad Guerrero (9B) and our 2018 ceiling for Corbin Burnes (9E). Fantasy or not, both hits and misses are the nature of this business. But we hope you will find value in our work to help guide your decisions for your teams.
It starts tomorrow with the division schedules below; there will be a division's worth of reports every week until Mid-January, when we'll reveal our annual HQ100 Top Prospect list. Until then, enjoy the reports!
2022 Organization Reports Schedule
December 7-10: AL Central
December 13-17: NL Central
December 20-24: AL West
December 27-31: NL West
January 3-7: AL East
January 10-14: NL East
For more information about the terms used in this article, see our Glossary Primer.
Free Weekly eNewsletter
The industry's #1 analytical weekly e-mail newsletter is ABSOLUTELY FREE!
More Information
Shopping Cart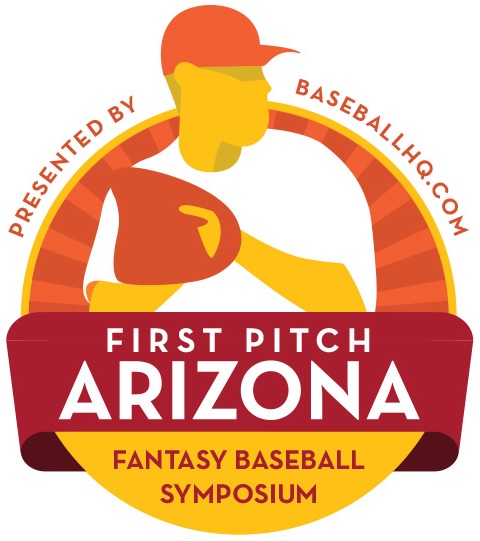 November 2-5, 2023
Mesa, Arizona
REGISTRATION NOW OPEN!