GM's OFFICE: 2021 Organization Reports—A Pandemic Primer
By Brent Hershey

@BrentHQ
November 30th, 2020 1:01am
For our long-time followers and website subscribers, making the Turkey-Day Turn means more than just "Let me dig into the Forecaster PDF." It also means that Prospect Season is just around the corner, as BaseballHQ.com's crack minors staff begins the weeks-long task of breaking down each MLB club's rookie-eligible players and their fantasy futures. Whether you're seeking tips on players to aid in your championship run in 2021, or if you're in farm-stocking mode in your keeper or dynasty league, BaseballHQ.com's Organization Reports (AKA OrgReports) are a vital resource and a great way to get through the winter.
This year, though—like most everything else in the world—things have changed a bit. Let's re-set our context first.
The coronavirus pandemic, of course, has upended all of our schedules—and for us, put a major wrinkle in our normal calendar of offseason research and preparation. On the major-league side, we've had to figure out how to evaluate a 60-game sample in terms of a "season," something that you'll hear a lot about both here at the site and in the forthcoming Baseball Forecaster. But on the minor-league side … um, well, yeah, that's a whole 'nother ball of wax.
The cancellation of the 2020 minor league baseball season disrupted the whole minor league baseball ecosystem, to put it mildly. While the business ramifications are one thoroughly valid part of the story (think in terms of the COVID impacts on any small business—especially one whose business model is predicated on thousands of spectators and customers gathering at a stadium), we are going to focus on the on-the-field impact. No games for an entire season is a nasty mandatory "pause" button put into each minor-league player's career path. The 17-year-old high-bonus kid at an MLB club's Dominican Academy was affected. The 22-year-old college senior drafted in the 23rd round in 2019 with half a year of pro experience was affected. The 27-year-old pitcher who has been toiling in Triple-A for three years and whose dream of an MLB career is hanging by a thread—he, too, was affected. Like the virus itself, this pause button played no favorites, affected every player's development cycle differently, but it most certainly affected every player in some way.
How 2020 Impacts our 2021 Reports
As we approach the 2020-21 offseason to help you, the fantasy player, better prepare for the season to come, the question for us was "How do we best do that in a world where our most-recent data set (actual minor league games) is over one year old?"
Our answer is something we'll keep coming back to this offseason—in the Org Reports, in our 2021 Minor League Baseball Analyst publication, and in our reports and evaluations once the minors gets started back up again (in 2021, we hope)—is this: We are going to consider our analysis from a year ago as a firm baseline for the 2021 season. Put another way: Unless we have strong evidence to the contrary, our we will always default to our 2020 evaluations.
There are several reasons that we arrived at this stance:
There were no games in 2020. Well of course, you say … but we still want to walk though what place this undisputable fact had in our approach to prospects for the 2021 season.
Though there is lots of useful prospect information to be gathered via observing workout videos, live batting practice, pre-game fielding drills—let alone the intangibles like player makeup—the closest thing we have getting a sense of how a prospect will perform at the major league level, is how he performs in minor-league games. With our fantasy outcomes in focus, MLB game performance is what most matters. That's why our scouting reports in a normal year lean heavily on our prospect team's evaluation of a player's in-game exploits. Best-case, those are in-person, but in other cases, we use other contacts who have seen a player in-person, or do some of our own work via video of minor league game action.
Without any competitive games to go on (other than those rookies who played in the majors), our "game data bank" for each prospect was put on hold. Alternate sites were a fine idea to serve the MLB club for backups/replacements and for club officials to have some developmental involvement with a handful of players, but the alternate site games there were intrasquad, they were not made available to any outside scouts or media, and there was no record-keeping of any kind for the general public. Which means, stated above, the last set of "hard data" we have for almost all the minor league players is now more than a year old.
So while stories of alternate-site adjustments or tweaks (both positive and negative) continue to leak out about minor leaguers, we have made a conscious decision to be a bit skeptical of that information up-front. In a way, it parallels to what we've learned about a "normal" spring training news cycle—that so much of what we are fed as news (players in best shape of their life; with a new pitch or a new plate approach) is really "noise" until proven otherwise in actual MLB games. And yes, sometimes we'll miss on changes that actually take hold and result in a player achieving a new level of performance. But we'll also not be smitten by the new Robbie Ray arm swing until we see it actually affect his MLB outings.
So with no minor league baseball in 2020, no new reports to add to our list, we're going to return to our reports of exactly a year ago.
Why? Well, it's because this second part of our 2021 approach.
We trust our work from a year ago. Back when there were games, and stats, and in-person reports of either ourselves or our contacts, our team set about compiling all that information in a way that's presentable, and hopefully useable, to you as a reader of BaseballHQ.com. As we do every fall/winter, those descriptive words, individual player grades, ranking lists of prospects on each MLB team, at each position, and culminating with our HQ100 prospect list represent our best foot forward in information we can give to you to apply to your own fantasy baseball contexts.
For us to somehow redo those reports, reshuffle those lists, re-grade all those players, without the benefit of one more game being played by most of the subjects, seems disingenuous and could undercut our credibility. We worked hard, as we do each fall/winter, at assembling data and presenting the players in anticipation of the 2020 season—so how could we redo that for 2021 without seeming to undercut our 2020 evaluations? We came to the conclusion that in fact, we could not.
We certainly understand the proliferation of prospect coverage over the past decade-plus—some geared specifically towards fantasy application, some one a more baseball-only level. And we fully expect deep prospect hounds to be consuming the opinions of many of those other sites and publications in addition to our own. But for us at BaseballHQ.com, we feel our time-tested and unique fantasy-ready rankings, grades and evaluations have value for our subscribers, and we feel our subscribers reciprocate in taking our words and observations seriously. And in this sense, defaulting back to the opinions/data from the nearest possible facsimile of an MLB contest—minor league games in 2019—still provides the best and most useful all-around viewpoint for our subscribers. The point is that we trusted those evaluations and perspective a year ago, and we still trust them now.
With that in mind, you will encounter repeated links back to our 2020 Organization Reports in our 2021 Reports. And we encourage you to click through those, to remind yourself why we love C.J Abrams (SS, SD) or what about James Kaprielian (1B, MIN) gives us some pause. For most players, those 2020 Reports still stand—skills overview, fantasy impact and development path (though arguably, the date of debut might be pushed back a year). With no new games, most players' future role and overall grade will not have changed. Even those that did make MLB appearances in 2020, many times those sample sizes are so small that very little can be seen as changed for 2021 (but we've got those players covered, as you'll see below).
So, given the above, obviously the 2021 Org Reports will look much different than its recent predecessors. Let's take a quick walk through the format change to give you a sense of what to expect, and how you can best use this year's reports.
Org Reports: 2021 Version
First up with be our team Top 15 list, presented in chart form, with Rank, Player Name, POS, 2020 level, Grade and ETA. First, a couple of definitions: The "2020 level" column provides a snapshot look at the player's highest attained level, and has only three options: MLB (played in the majors, with a link to his PlayerLink page where you can find additional analysis); ALT (was assigned to the alternate site); or " - " (neither). Especially in terms of top prospects at lower levels, whether the MLB team assigned them to the alternate site or not can be interesting. The "Grade" column is our player grade, which in most cases will be a repeat of the 2020 grade; and "ETA" is the player's new expected MLB debut year.
The list itself will in almost all cases have changed, due to players who are no longer considered MLB rookies, or those who have exited the organization in the past year (usually via a trade). We highlight those changes in expanded narrative form in the sections below the list. First, a paragraph about each player who was on the 2020 Top 15 but no longer are there (losses/graduations). Second, we give a scouting and fantasy snapshot of players who entered the 2021 list for the first time. These players are also bolded in the list itself to signify their 2021 entry. If any of the player grades have changed from last year, those will also be highlight in a separate section. And finally, an "Additional Notes" column touches on any other significant information and/or strengths and weaknesses of each organization in terms of fantasy utility.
Again, the fact that we continue to lean hard on our 2020 reports—and have prominent links to those lists throughout—means that this year's Org Reports will focus heavily on how these lists differ from the ones last year.
•
With all those changes for 2021, we stress that the underlying processes, philosophy and grading tools for the Org Reports remain the same. A quick recap for veterans—or explanation guide for first-timers—on our grading system:
The Grade
BaseballHQ.com's unique grading system was developed by Deric McKamey, a former prospect writer and current scout for the St. Louis Cardinals. The system debuted in the 2007 Minor League Baseball Analyst, and we've been using it on the site and in subsequent MLBAs ever since. Sometimes there's some confusion for both new and old readers on the specifics of the system, so we'll take some time here to explain how we best intend to use it along with some examples of current MLB players.
The system is a two-part scale: A number grade comes first, which represents a player's upside—again, at full MLB maturity—not at the present day. And then a letter grade follows, which attaches some probability that the player reaches that upside. Let's break these elements down even further.
Upside
Upside, of course, is what we're all chasing in this prospecting endeavor. We want to get the highest performing players onto our fantasy rosters, even if we have to wait a bit for the production to materialize. And that's exactly why we use this measure—we want to help identify which players have the highest upside, regardless of other factors.
As analysts, our goal is to be realistic as possible with this number grade. This is why not everyone is a 10—even though, in the purest technical sense, there still the infinitesimal chance that you or I would be a Hall of Fame-caliber player. Each analyst brings their own perspective and experience to providing these number grades. It comes from years of scouting players, seeing comps, realizing who worked out, who improved, who didn't—and understanding to their best of their ability the "why"s behind those examples. Also, while we can be realistic, there are still players like Jacob deGrom (graded as a 7D in his final OrgReport year of 2014) and Jose Altuve (7C in 2011), as well as the flip side of Jay Bruce (10C in 2008) and Matt Wieters (10C in 2009). Remember: we will get these wrong. Fulltime MLB scouts will get some wrong. It's the nature of the business.
But back to the number grades. Let's run through the top five levels of number grades here with the "key"—but also with several corresponding established MLB players at their current level to help level-set our expectations. And of course, some of these players can still move up or down a tier as their careers develop. This is just a snapshot of who they are now:

10 Potential Hall of Famer    Mike Trout, Mookie Betts;
                              Jacob deGrom, Clayton Kershaw
9  Potential Elite Player     Bryce Harper, Trea Turner, Aaron Judge; 
                              Aaron Nola, Lucas Giolito, Josh Hader
8  Potential Solid Regular    Carlos Santana, Willy Adames, Justin Turner; 
                              Kyle Hendricks, Jake Odorizzi, Raisel Iglesias
7  Potential Average Regular  James McCann, Caesar Hernandez, Evan Longoria; 
                              Andrew Heaney, Marco Gonzales, Kevin Gausman
6  Potential Platoon Player   Raimel Tapia, Freddy Galvis; 
                              Reynaldo Lopez, Joey Lucchesi, Jordan Lyles

So as you consume these number grades, you may find the examples above helpful given some of their real-life production levels.
Probability/risk
The second part of the Grade is a letter, given in the A-E academic scale. The letter portion is best thought of as a proxy for risk: Essentially, it is the probability that the evaluator thinks the player will reach his upside grade. We break it down into percentages, like this:
A: 90% probability of reaching potential
B: 70% probability of reaching potential
C: 50% probability of reaching potential
D: 30% probability of reaching potential
E: 10% probability of reaching potential
It's best to remember that this is NOT how close a player is to the majors—though that is one small aspect of the letter grade—as in, proven production at higher levels of the minors usually increases a player's probability grade. For instance, a player who has performed well against AA competition has some aspect of a smaller risk than a Low-A teenager.
Other things that can affect a players' letter grade:
Quality makeup. Here are two examples of makeup that could affect a player's letter grade positively: A drivenness to put in the work to improve, and/or the ability to block out other distractions and keenly focus on his craft.
A sense of conquering foundational skills that can "set the table" for further overall improvement. Think of a low-A pitcher with impeccable ability to throw strikes, or a Double-A hitter with innate ability to put the bat on the ball. Even if there are other aspects of these player's skill set that are —say, the pitcher can't command his fastball and the hitter has not yet developed in-game power—sometimes the foundational skills are building blocks for skills that come later. Recognizing these different tools and knowing how to express them in the letter grade is one of the things we ask our evaluators to consider.
Note that a lower letter grade that indicates more risk may include:
Concerns about a player staying healthy. If he has trouble in the minors, how likely is that to continue as he climbs the ladder?
Lack of fundamental baseball skills. This is the flip side of the above. We see this in toolsy but undisciplined players, sometimes pure athletes who have come to baseball later in their youth and have to refine their hitting mechanics or strike zone judgment. A pitcher might throw hard and have a nasty offspeed swing and miss pitch, but can't find the plate.
Makeup that might hold a player back from improving. Of course, judging and grading makeup is one of the toughest calls. But that still goes into our thought process.
One essential takeaway: not all players with the same grade are created equal. That's why it's so important to not just look at the grade … the real work our crew does is in the written comments .. where we break down a player's tools/skills and attempt to give a snapshot of the player's future. Related, don't obsess over the differences in the grade. Yes, for sure, an 8B and a 9C are very close … and there is some merit to say that every 8B could easily also be graded a 9C. But we ask our evaluators to make a call, and provide them space in the comments to give their understanding of this player's potential future. In the end, YOU make the call for YOUR team. Some owners don't mind the risk, and just want to shoot for upside. It is likely those owners will have more 9Ds on their roster. Others may want more sure things, and are going to lean towards the 8As and 8Bs, or even 7As, who are meant to have lower risk in their profiles. It's just how this works.
Conclusion
The other thing that remains the same about these Org Reports from previous years: That they are already fantasy-specific rankings. While not all-things-to-all-people, the lists and our evaluations weigh the tools that translate to fantasy success: power, speed, hitting ability for hitters; run prevention, baserunner suppression, strikeouts for pitchers. These lists, as well as our signature HQ100 overall list that comes out in January, are ranked within a keeper or dynasty-style context.
We do all of this knowing that there will instances when we will be wrong; and those when we'll be right—such as our early-career reports on Juan Soto (9C) and Walker Buehler (9B) and Rafael Devers (9C). Fantasy or not, both hits and misses are the nature of this business. But we hope you will find value in our work to help guide your decisions for your teams.
It starts tomorrow with the division schedules below; there will be a division's worth of reports every week until Mid-January, when we'll reveal our annual HQ100 Top Prospect list. Until then, enjoy the reports!
2021 Organization Reports Schedule
December 1-4: NL West
December 7-11: AL West
December 14-18: NL East
December 21-24: AL East
December 28-31: NL Central
January 4-8: AL Central
For more information about the terms used in this article, see our Glossary Primer.
Free Weekly eNewsletter
The industry's #1 analytical weekly e-mail newsletter is ABSOLUTELY FREE!
More Information
Shopping Cart
SAVE THE DATE!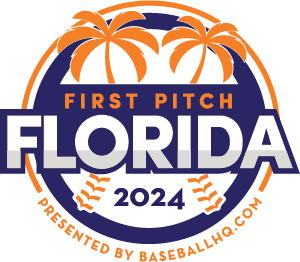 March 1-3, 2024

Clearwater, FL