GM's OFFICE: The 2016 First Pitch Arizona Rookie Draft
By Brent Hershey

@BrentHQ
January 18th, 2017 1:06am
Well, that went quick.
Seems just like yesterday when we were wrapping up the 2016 baseball season, and yours truly and a host of others were making final preparations for our 2016 First Pitch Arizona (FPAZ) weekend. Two books later, here we are, back and ready to tackle the 2017 GM's Office column.
And let's start by looking back and ahead at the same time. I'm speaking of an exercise we put together for the FPAZ conference that has some direct implications for preparing for 2017—with some fun and competition built into it.
One of the undoubtable trends in MLB in recent seasons is the impact that rookies have on our fantasy baseball pennant races. In 2016, the class wasn't as prolific overall as the 2015 (Correa/Lindor/Snydergaard, etc.), but try telling that to anyone who was robbed of a first-place finish because of Trea Turner or Gary Sanchez last year. Nabbing the right rookies can—and do—make a big difference in the fantasy standings.
With that in mind, we set out last fall to construct an activity for our FPAZ whereby a group of industry folk drafted (and commented on) rookie-eligible 2017 players. The goal was to give FPAZ attendees some additional insight on what rookies might take be good investments in 2017 drafts. Anyone that's been to the conference knows that there is plenty of prospect talk—and viewing, thanks to the AFL—over the course of the weekend. But we were looking for a session that might lend itself specifically towards 2017 application, and it seemed like some sort of mock draft would be in order, where participants talked about and defended their own selections.
When designing the exercise, though, we figured—why don't we make it competitive, and have the results actually mean something?
Thus was born the First Pitch Arizona 2016 Rookie Draft league.
The concept is simple: create a team of all rookie-eligible players that would complete in a nearly-traditional rotisserie league throughout 2017. Keep score through the season, make it so others can take peeks at it throughout the year, and of course crown a champion in October. Simple enough, right?
But first, a few adjustments were in order.
Adjustments
Of course, we had to make some tweaks along the way to make sure our concept viable—and to be clear, as an experimental league, we still don't know just how viable this format will be. It will be somewhat volatile for sure, as there's no doubt several players not rostered that we'll look back on in nine months and say, "How did we miss him?" But that's all part of the exercise. On to the rules:
Eligibility: As stated from the title, the pool is limited to any player signed to an MLB club as of late October, 2016; and, more importantly, who retained rookie status (less than 130 AB or 50 IP in majors) for the 2017 season. (We followed only the AB/IP minimum rules, not the service-days portion of the official MLB rookie eligibility.) Position eligibility was determined as follows: A player is eligible at any position which he appeared in at least 20 games in the minors (all levels) in 2016, according to his Baseball-Reference.com register page. In addition, if applicable, he is also eligible at a position he appeared at in the majors more than any other position in 2016. So for example: For our purposes, Yoan Moncada is eligible at both 2B (92 G in minors) AND 3B (5 G with BOS—no G at 2B). As you'll see, position eligibility is only relevant for the draft.
Roster and league size: We realized that even a traditional shallow league—10-teams, standard 23-man roster, 230 total players—would be too large; there's just not enough rookies who will make their debut in 2017. After some eye-balling, trial-and-error, and even a mock draft by a few BaseballHQ.com staff members, we settled on these parameters:
Team size would be 14—one player at every position (using "OF" rather than "LF-CF-RF"); one UT player; and five pitchers (no distinction between SP/RP).

The league would consist of eight teams.
That whittled down the player pool to 112 players total.
Simplicity to manage: In light of the fact that the crux of the league was to try to identify rookie-eligible players who would accumulate MLB stats over the 2017 season, we decided to make this league a strict draft-and-hold format. There would be no trades, no free agents, no acquisitions nor player moves of any kind during the season. The teams that owners drafted in late October 2016 would be the team they fielded in 2017.
In addition, all players will be "active" through the entire season, but will only accumulate statistics for this league when they appear in an MLB game. There's no need for a reserve list or moving a player on or off an "active" roster. All active, all the time. So naturally a player who is assured MLB playing time has an advantage over one who will start the season in the minors.
Scoring: Since projecting MLB playing time is so important, we attempted to tweak a couple categories to reflect this reality and give that playing time extra weight. Scoring is standard Rotisserie style, using these ten categories: AB, BA, HR, RBI, SB for hitters; IP, W, K, ERA, WHIP for pitchers. We cut out runs scored (team-driven) and saves (so few rookies get them) and replaced them with playing time scales: total team AB and total team IP. Again, projecting playing time here is a good portion of the battle. Not only are we looking for excellent performers, we are also seeking players who play and accumulate chances. Otherwise, the scoring system is familiar: fantasy teams generate total stats, are ranked in each individual category, and total team points are derived by adding up the points in each of the 10 categories.
The Draft
We found eight writers who agreed to participate in our inaugural FPAZ Rookie Draft. Random draft order was as follows (and are shown left to right in the photo above):
Chris Blessing, BaseballHQ.com
Clay Link, RotoWire.com
Lawr Michaels, Mastersball.com
Brian Walton, Mastersball.com
Eric Longenhagen, FanGraphs.com
Jock Thompson, BaseballHQ.com
Eric Karabell, ESPN.com
Jeff Zimmerman, FanGraphs.com
The group drafted via email chain the week before the conference, and spent 75 minutes at First PItch Arizona answering questions from a moderator on their choices, general strategy, and yes, even engaging in some trash talk. Some even brought their own props, as you'll notice in the picture above. Draft strategies varied along the spectrum of filling their roster with high-upside players who at this point seem further away from the majors, to players whose main attribute is MLB experience (while still meeting rookie qualifications).
The results of draft were distributed to the attendees of First Pitch Arizona during the session, and we've provided those results here in both pick-by pick form, as well as in team-grid form. Take a look at the draft, and feel free to present your comments below. Remember, it's only 2017 performance that we're chasing.
In sum, it was a fun exercise, and I have a hunch it's only just beginning. As the 2017 season gets started, we'll check in periodically with the standings and see just how this works out. Lawr Michaels of Mastersball has chimed in with thoughts on the draft already; there may be more to come.
Good luck to all!
For more information about the terms used in this article, see our Glossary Primer.
Free Weekly eNewsletter
The industry's #1 analytical weekly e-mail newsletter is ABSOLUTELY FREE!
More Information
Shopping Cart
Listen to Baseball HQ's weekly audio programs.
Subscribe today!
Learn More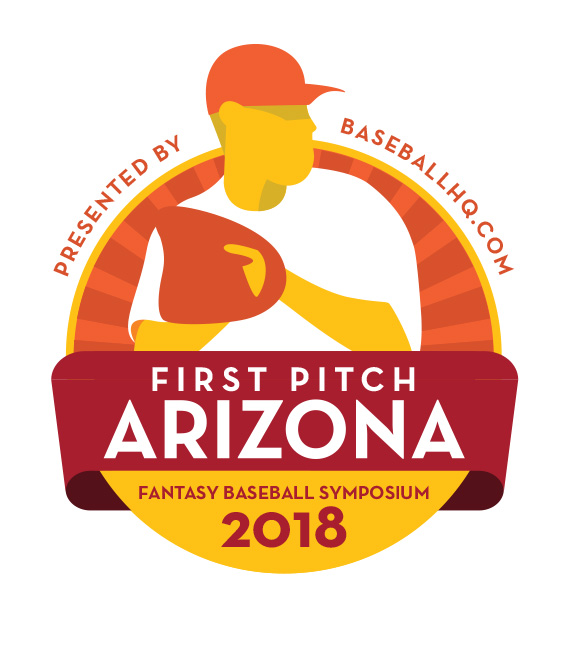 Nov 1-4, 2018
EARLY-BIRD REGISTRATION NOW OPEN!