First Pitch Forums - Online!
ALREADY REGISTERED? CLICK HERE TO ACCESS THE EVENT COMMAND CENTER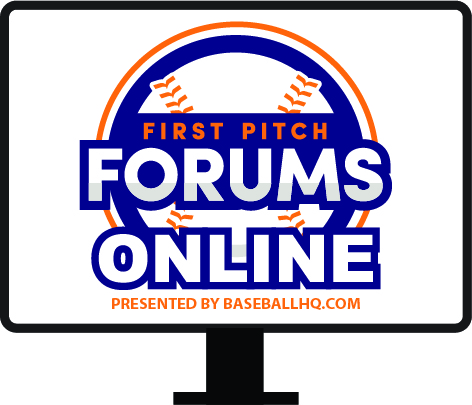 Saturday, March 11, 2023
11am-11pm (ET)
A funny thing happened over the past few years when we were forced to hold these First Pitch events online: we got pretty good at doing these things over Zoom. And since we realize that not everyone could join us in Florida this spring, or Arizona last fall, we're going to keep offering virtual versions of these spring events.
On Saturday, March 11th, join us for a full day cram session to get you ready for the 2023 baseball season. Here's the current schedule:
EVENT SCHEDULE IS SUBJECT TO CHANGE
Upated March 10, 2023
SATURDAY, MARCH 11, 2023 (all times ET)
11:00-11:10 am: WELCOME/INTRODUCTION: Brent Hershey and Ray Murphy, BaseballHQ

11:10-12:10 pm: EARLY EFFECTS OF THE NEW RULES: With Spring Training two weeks in, what does the March gameplay tell us about the 2023 season?
Ron Shandler (Baseball Forecaster); Jason Collette (RotoWire); Brian Walton (CardinalNation)

12:10-12:55 pm: BREAKOUT 1: Choose from two options:

Prospect Evaluation in Small Samples (Chris Blessing, BaseballHQ)
Yoshida, Senga and beyond: Asian imports for today and tomorrow (Tim McLeod, Prospects361; Tom Mulhall, Baseball Forecaster; Brent Hershey, BaseballHQ)

1:30-2:30 pm: BULLPEN UPDATE: Got a closer question? The world of saves, holds, leverage and more!
Doug Dennis (BaseballHQ); Greg Jewett (Reliever Recon)

2:30-3:15 pm: SPRING MOVERS IN ADP: Who's headed up or down in ADP in draft season, and what is the best way to attack those changes?
Ray Murphy (BaseballHQ); Rob DiPietro (Pull Hitter Podcast)

3:30-4:00 pm: BALLPARK DIMENSIONS UPDATE: Three ballparks have adjusted their dimensions for the 2023 season. What is the extent of the fantasy impact?
Derek Carty (RotoGrinders)

4:00-4:30 pm: TOOLS LAB: There are lots of data-tool resources these days; how do you get to know them all? Our 30-min sessions provide step-by-step instructions on the best uses for your pre- and in-season needs.

RotoLab with Ray Murphy
BABS update with Ron Shandler
In-season BaseballHQ tools with Matt Cederholm
Statcast how-tos with Tanner Smith (recorded)


4:30-5:15 pm: SATURDAY GAMES AND FANTASY IMPLICATIONS, 1: A real-time look at game results and news bits from the day's Grapefruit League action, and what it might mean for fantasy draft season.
Brent Hershey (BaseballHQ); Tristan Cockcroft (ESPN); Steve Weimer (BaseballHQ)

5:30-6:15 pm: ROSTER ANALYSIS: Attendees can schedule a 15-minute, one-to-one session with an industry analyst to get a second opinion on a keeper list, trade values or post-draft analysis.

7:00-8:00 pm: SATURDAY GAMES AND FANTASY IMPLICATIONS, 2: A real-time look at game results and news bits from the day's Cactus League action, and what it might mean for fantasy draft season.
Brent Hershey (BaseballHQ); Todd Zola (Mastersball); Corbin Young (BaseballHQ)

8:00-9:00 pm: UPDATING SPRING TRAINING INJURIES/Q&A: It has happened again—the injury bug bites hard in March. Which circumstances are worrisome, and which are overblown? Ask our analyst and doctor.
Matt Cederholm (BaseballHQ) and James Ferretti, D.O. (BaseballHQ)

9:10-10:10 pm: BEST PITCH OF MY LIFE—MARCH VELOCITY/PITCH MIX TWEAKS: Discussing which starting pitchers have looked different so far this spring, and how (or if) it should affect our draft strategy.
Brian Rudd (BaseballHQ); John Leghezza (The Athletic); Brant Chesser (BaseballHQ)

10:10-11:00 pm: ATTENDEE SURVEY RESULTS AND CLOSING Q&A
Bring your own notepad, your inquires and your questions, as these are intended to be interactive sessions. But if you have to step out for a few hours on Saturday, or can't join us live at all, don't worry: we'll have the videos available for you to view on-demand afterwards.
These twelve hours will be packed with invaluable insights; we're building it to be the perfect capstone to your winter of draft prep... for ONLY $49!
Free Weekly eNewsletter
The industry's #1 analytical weekly e-mail newsletter is ABSOLUTELY FREE!
More Information
Shopping Cart