First Pitch Forums - Online!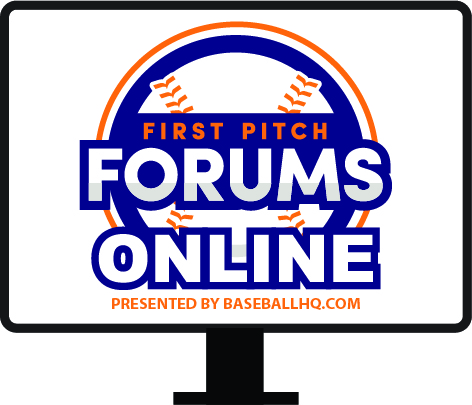 2020 Foresight
It's the perfect year to look ahead—which is exactly what BaseballHQ.com's
interactive First Pitch Forums Online will do. In three one-hour webinar-style sessions,
Ron Shandler, Ray Murphy and Brent Hershey will provide all the March insights you need—
from player analysis, to playing time insights, to draft strategy—to see you through your draft.
Join us for our VIRTUAL First Pitch Forum, hosted by Shindig.com.
The Forum will take place over THREE interactive one-hour sessions (9-10pm ET):
March 5, 2020
March 11, 2020
March 17, 2020

Over these three hours, we'll cover critical topics like:
Secrets of this year's player pool
RPs who could be closing by June
"Sluggers" to worry about if ball is de-juiced
Potential busts in the ADP top 50
Finding profit in muddy PT situations
2021's new 1st rounders
... and much more!
All sessions hosted by Baseball Forecaster publisher Ron Shandler, BaseballHQ.com co-GMs Brent Hershey and Ray Murphy, and will include other BHQ personalities.
Bring your own notepad, your inquires and your questions, as we'll leave time each night for audience Q&A. But if you can't join us live for one or all the sessions, don't worry: we'll have the videos available for you to view on-demand the day after each session.
These three hours will be packed with invaluable insights; we're building it to be the perfect capstone to your winter of draft prep... for ONLY $19!
Already registered for the program? Access the live sessions or archived content here. (Accessible to registered participants only.)
Shopping Cart