F/F SPOTLIGHT: Jorge Polanco
By Patrick Davitt

@Patrickdavitt
August 7th, 2019 12:05am
Jorge Polanco (SS, MIN) has been a breakout player in 2019. After establishing himself in 2017 as a promising speed-power contributor, he has refashioned his value proposition in 2019 by becoming a power-average contributor, upping his HR game and bumping his BA while de-emphasizing his SB. As a result of these adjustments, Polanco has become a sustainably more valuable fantasy player than when he was on the speed-first track.
Overview
Polanco is from "the cradle of shortstops," San Pedro de Macoris, in the Dominican Republic. He signed as a 16-year-old international free agent in 2009. Starting in the Dominican Summer League in 2010, he made his way up through the organization deliberately, repeating Rookie-level before a cup-of-coffee five-game call-up in 2014 as a 20-year-old. He bounced up and down between Triple-A and the big league club in 2016 before landing in The Show in 2017.
His calling cards in the minors were speed and defense. He stole 60 bases in 2,569 PA over eight minor league years, but his 58% success rate was not salutary. He also showed a useful ability to make contact (85% ct%) and drew enough walks (10%) to sport a .348 OBP.
In his two significant MLB seasons (2016-17,excluding his first two short call-ups), Polanco established himself as a useful offensive asset, slashing .265/.319/.415, with 17 HR and 101 RBI in 733 PA. He also stole 17 bases, at a 68% rate that was much more acceptable than his minor league level. His 5x5 fantasy values were $13 and $10.
Polanco went into 2018 with some expert optimism about his fantasy potential. That season's Baseball Forecaster projected him for a 15-15 season, noting his growth as a hitter in the 2H of 2017, and the past skills that supported his growth, then said, "This might be your last chance to get him cheap."
Not cheap enough. During draft season, MLB announced that Polanco had tested positive for the PED Stanozolol, a potent muscle-building steroid. He served a suspension, and was reinstated with 77 games left in the season, hitting .288 with 6 HR and 7 SB (and 7 CS).
In 2019, he is on track to soar past previous performance levels. If he maintains his YTD pace through the end of the season, he will end up slashing .300/.359/.501, with 24 HR, 77 RBI, and over 100 runs scored, batting second in the potent Twins lineup. Even in the current age of great fantasy shortstops, Polanco will end up as a highly useful fantasy asset.
The question, of course, is whether he can keep it up.
Hit Tool
Polanco's value starts with his plate discipline, and in particular his ability to make contact and above-average foot speed, especially from home to first. He is a switch-hitter.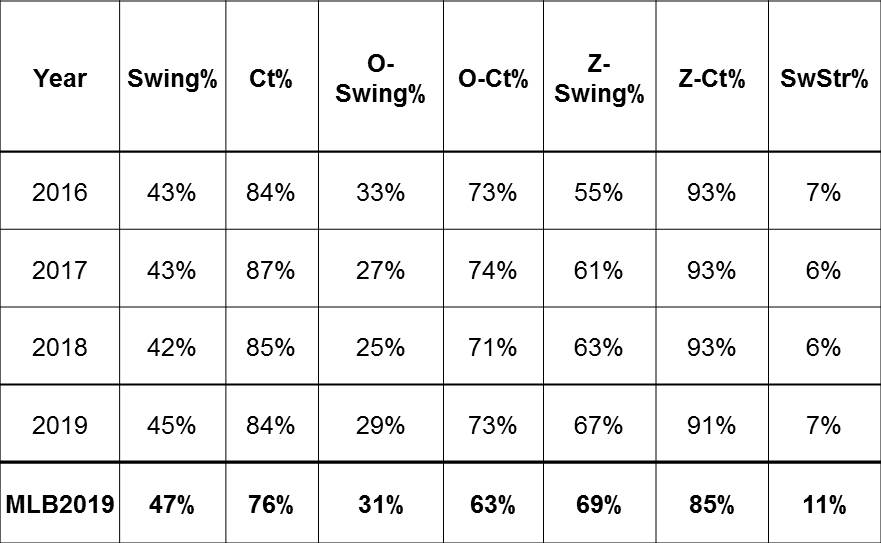 The table shows that Polanco swings about as often as the MLB average, but that he has a knack for making a lot more contact, resulting in a significantly lower Swinging Strike Rate. This ability to get wood to leather is enhanced when he swings outside the zone, although he also makes more contact inside the zone.
A detailed look at Polanco's discipline shows that when he's swinging right-handed (i.e. vs LHP), he likes the ball higher than a lot of hitters, with 70-plus percent swings at pitches waist-up over the plate, but not at pitches at the top of the zone right down the middle: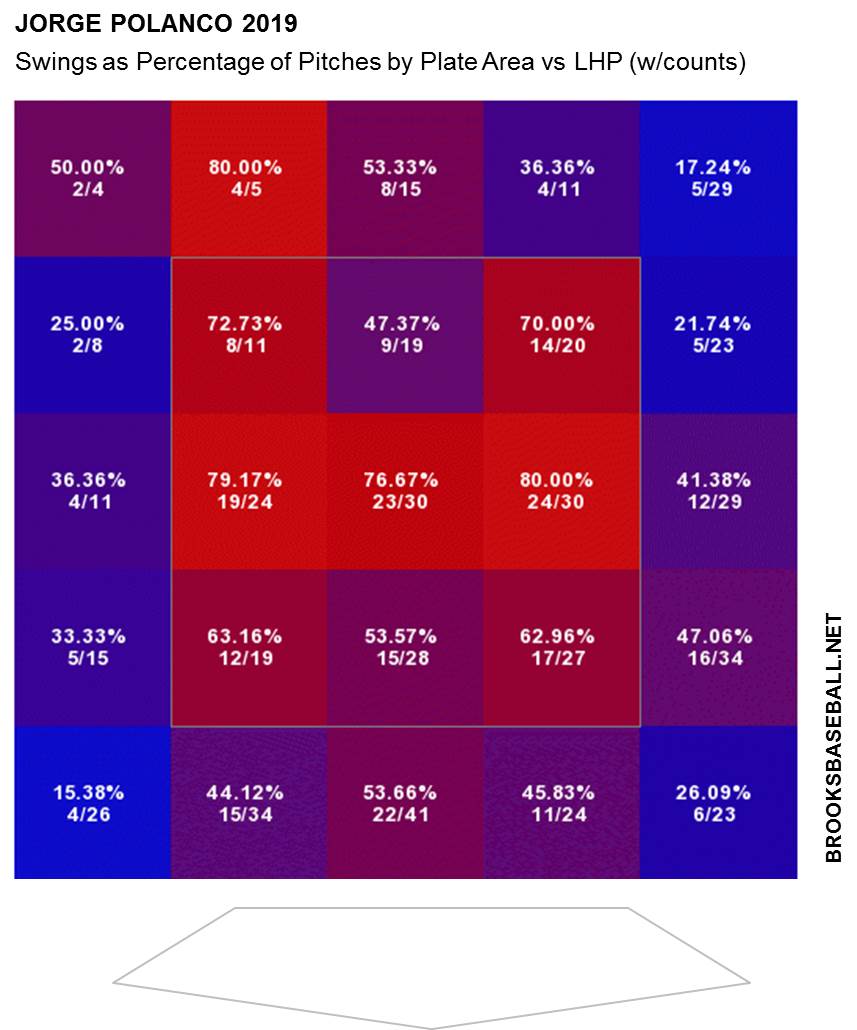 And while the sample size is very small, it's worth noting that Polanco is also aggressive swinging from the right side at pitches on the inside edge but above the top of the zone. It's a small sample, to be sure, but this could be a sign that Polanco is adapting to the cultural shift in baseball towards trying to pull and loft the ball.
Swinging lefty (vs RHP), Polanco seems more tightly focused on in-zone discipline, even to the extent of laying off more in-zone balls low-and-in, while being more aggressive at the top of the zone and middle-in. As we would again expect, he is not prone to swinging at pitches outside the strike zone entirely, although he will take a whack at a belt-high offering that doesn't catch the plate: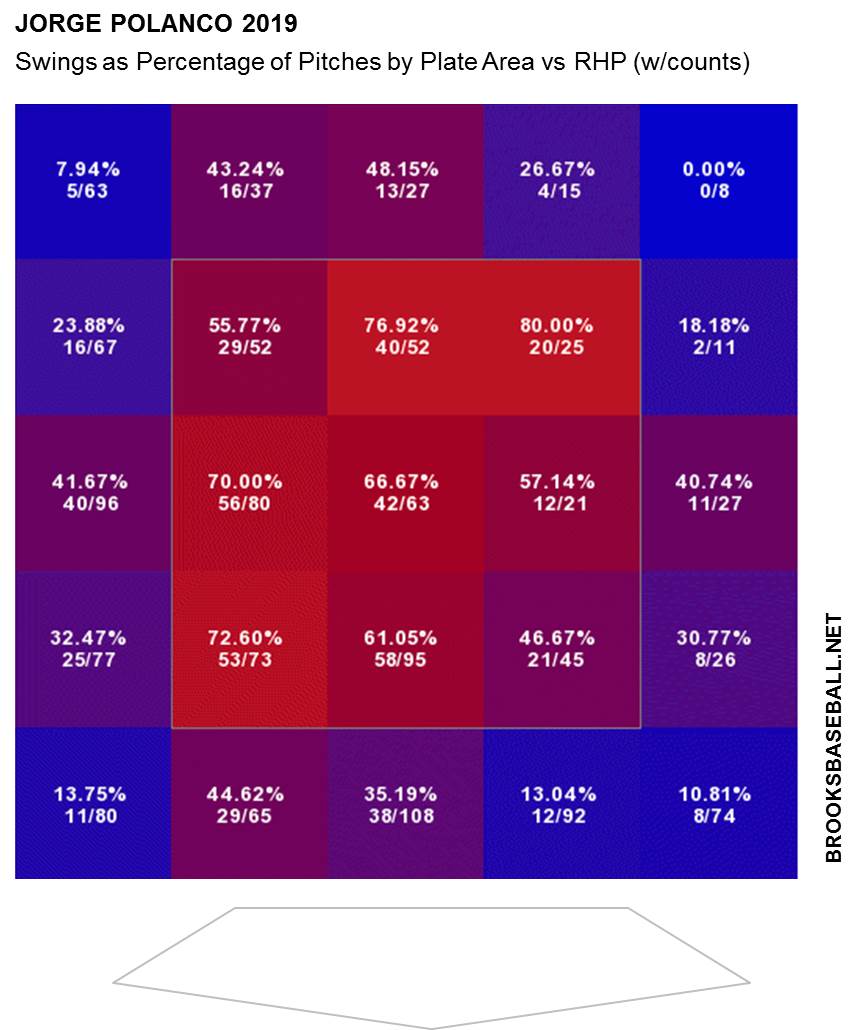 Polanco's approach is also oriented to the count. He is, as we would prefer, very choosy with no strikes, while still getting to the ball when he is facing two strikes:
Finally, Polanco's future success might well depend on his ability to make contact, even foul off, pitches low in the zone. He actually does very well with pitches out-of-zone high, as we see from this map of his Launch Angles (LA) in the out-of-zone areas defined by Statcast (Zones 11-14):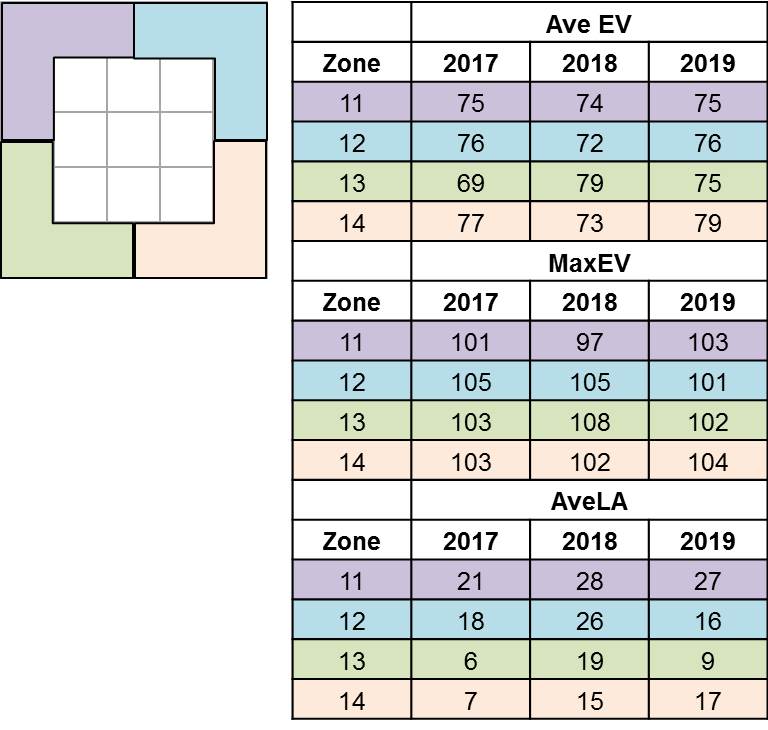 Zone 13 in particular (down-and-in batting right, down-and-away batting left) induces a lot of grounder contact, although Polanco corrected that in his interrupted 2018 season. Zones 11 and 12, above the zone, show average launch angles consistently in the line-drive range between 10 and 25 degrees, with some spillage into low fly ball angles. Polanco's average LA this season is in line drive territory in six of the nine zones inside the strike zone, and very close in the others.
Finally, Polanco gets a little more BA floor from his foot speed. His 4.14-second home-to-first mark is 35th-best in 2019 YTD, in the company of noted speedsters like Harrison Bader (4.12), Greg Allen (4.15), and Adam Eaton (4.15). A few leg hits never hurt anyone's BA.
His hit rate metric, a standard measure of luck, looks normal at 33%, in line with his past seasons and supported by his 80+ percent contact rate, mid-20s LD%, and above-average speed. It is worth noting that his walk rate, which has been at 8% this season, is a source of some value reduction in OBP leagues.
Power
As mentioned in the introduction, Polanco's speed-power profile has moved pretty aggressively away from the speed and towards the power, with an complementary benefit in BA.
According to Polanco's Statcast data via baseball-savant.com, he has improved his Barrel% from below 4% of Batted Ball Events (BBE) in the last couple of years to almost 7% in 2019. This does not get him into the game's power elite, of course—his 6.8% mark is 212th out of 420 qualifying hitters, almost dead in the middle, while big boppers like Nelson Cruz and Aaron Judge are over 20%.
Polanco is much higher on the Average Distance (Dist) leaderboard, in 12th spot at 214 feet, and he's 23rd in "Sweet Spot Percentage" (SwSp%), which counts any BBA with an LA between 8 and 30 degrees. These metrics have an uncertain connection with power, but Polanco is in the realm of hitters like Cody Bellinger and Rhys Hoskins in Dist, and Yordan Alvarez and Luke Voit in SwSp%.
Polanco has the plate approach for a decent power profile, as we saw earlier, and his Statcast metrics suggest enough bat speed to generate longballs. He has already made steps in the LA "revolution," increasing his average LA from around 15% in 2016 to 19% this season, which is reflected in a shift to a more pronounced fly ball tilt—since putting up a 36-26-36% GB-LD-FB line last year, Polanco has a 27-26-47% line this season.
As well, he has bumped his percentage of hard-hit balls, classified as BBEs greater than 95 mph Exit Velocity (EV), from 28% last season to 35% this year, which helps account for a surge in Slugging Percentage (Slg), from the low-.400s in 2016-2018 to over .500 this year. That Slg is also supported by Statcast's Expected Slugging (XSLG), which is .473, 90 points higher than previous seasons.
If Polanco wants to increase his power production further, without selling out by swinging more aggressively at dubious pitches, one path might be to get to the ball sooner, catch it more out in front of the plate, and thus pull it. Even in this improved power year, Polanco has remained the same all-field hitter he was in the previous two years:

Most analytical writing has confirmed that pulling the ball is highly advantageous to HR production, particularly for hitters who lack the pure physical power of the Aaron Judge types who can smoke balls into the opposite-field seats.
But though Polanco's HRs are all pulled, his gains so far have come without any increase in pulling the ball overall. His pull percentage this season, as relayed through Fangraphs, is a little above 36%, 252nd out of 336 hitters with 100+ PAs. It's not impossible to hit home runs with that pull level—at this writing, Polanco had 16 HR in 486 PA (21 HR/650 PA), well ahead of his previous best, 13 HR in 544 PA (16/650) in 2017. But even three added points of pull percentage might push him into the next tier of power producers, perhaps getting him into the realm of hitters like Gleyber Torres (40% pull, 21 HR in 418 PA, 33/650).
In general, though, Polanco looks full value for his home runs YTD, with a 10% HR/FB rate that is higher than in his past years, but squares with the metrics cited above and with the beneficial power effects attributed to the "juiceball."
Speed
As mentioned in the introduction, Polanco's calling-card in the minors included useful SB totals, but at the cost of too-high caught stealing numbers and the resulting too-low SB% success rates. Modern teams and managers are already de-emphasizing the running game, understanding the runs-added and expected-wins ramifications of being put out on the basepaths.
Notwithstanding his top-decile home-to-first speed, Polanco has only decent overall sprint speed at Statcast. His 28.1 feet/second (f/s) puts him 124th on the Statcast leaderboard of 495 players with at least 10 monitored "running opportunities" on the basepaths. That 28.1 f/s cohort includes some current or recent-past SB producers, like Lorenzo Cain, Ketel Marte, and Kris Bryant, and it's actually faster than Shohei Ohtani, Danny Santana, Kevin Pillar, and even Mookie Betts (27.8 f/s).
But it is a baseball truism that SB ability is about more than raw speed. It is also about less tangible or measurable skills as leadoff, timing, "reading" the opposing pitcher, sliding skill, and so on. And for those or other, unknown reasons, Jorge Polanco just hasn't been a very adroit base-stealer in the major leagues (nor, as noted earlier, in the minors, either).
He did manage a 72% success rate in 2017, his first near-full-time year, going 13-for-18. The next year, however, he slipped backwards to 7-for-14, a rally-killing 50% success rate. He has bounced back a little this year, to 57% (4-for-7), but 57% is not going to encourage his club or manager to give Polanco an open fare ticket to run. In fact, it is easy to infer that most of Polanco's SB attempts are now the result of hit-and-runs in which the batter failed to make contact.
This might be the result of organizational philosophy and/or managerial dictate. In 2016-18, under manager Paul Molitor, an SB threat himself in his day, the Twins ran in 5% of their SB opportunities (Go Rate), using Baseball-Reference's definition. That was the same level as the sport generally in all three of those seasons as well.
That same 5% is also the MLB Go Rate this season. But new manager Rocco Baldelli has put the emergency brake on the running game—the Twins now go in just 2.7% of their opportunities, about 42% under MLB average. The only team with a lower Go Rate is LA. Interestingly, both teams rely on a bombs-away, HR-focused approach to generate runs.
And speaking of runs, baserunning also plays an underappreciated role in fantasy value outside of SB, in such areas as going first-to-third on a single (Sngl 1-3, below), scoring from first on a double (Dbl 1-H), and scoring from second on a single (Sngl 2-H). A baserunner who is adept at running the bases after getting aboard can add further value by getting himself nearer to scoring runs or by scoring runs outright more often than his peers (amplifying the advantage of hitting second in a power-packed MIN order).
From that perspective, Polanco shows a potentially major fantasy advantage on the bases, exclusive of SB: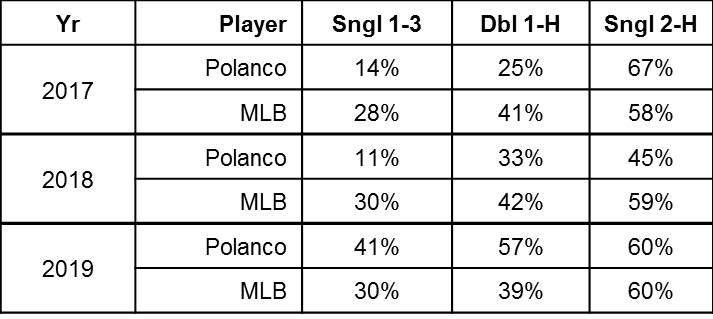 Note the pattern. In the last two Molitor years, Polanco significantly lagged MLB in Sngl 1-3 and Dbl 1-H, while outpacing the overall in single 2-H. Then this year, even as his SB Go Rate has all but vanished, he is newly aggressive on the bases, widely outstripping the MLB average in the first two categories while keeping pace with the third.
Foot speed does not appear to be the critical factor here. The Statcast data show Polanco is a little quicker this year than in the previous two, but only slightly (0.3 f/s). Nor is there a team-wide organizational influence, as the Twins are MLB-average in second-to-home on singles, where Polanco is also on par, but:
The Twins are MLB-average in first-to-third on singles while Polanco is well ahead
And the Twins are way under MLB average in getting home from 1st on a double, while Polanco is 18 percentage points ahead
On an individual basis, Polanco is above the median in two of these baserunning categories, slightly below in the third (all minimum 250+ PA):
36th out of 145 hitters in going first-to-third on a single (minimum 15+ such opportunities)
63rd out of 157 in going home from first on a double (5+ opportunities)
And 76th out of 134 going home from second on a single (10+ opportunities)
Overall, Polanco is at 50% in converting all three baserunning opportunities in aggregate, comfortably above the 43% median among players with 250+ PA in 2019. The top-decile achievers in this aggregate are 56% and higher, led by Javier Baez at 73%.
Conclusion
Jorge Polanco this season has earned $20 in mixed 5x5 standard scoring, per BaseballHQ.com's valuation system. There is little reason to worry he will fall off suddenly this season. In particular, while his SB skills have been lacking and opportunities seemingly cut off, Polanco's foot speed is paying dividends on the basepaths, which when combined with his hitting second in a powerhouse MIN lineup, augurs well for his ongoing ability to score 100+ runs this season.
Looking ahead, we can anticipate more of the same, with a smidgen more power as Polanco, who just turned 26, finishes his physical growth and enters what should be his peak power years. As noted, however, we should be mindful of Polanco's pull percentage as a leading indicator that the MIN staff is coaching him in that direction and that he is "getting it." Absent that development, and assuming the juiceball stays in play, a reasonable estimate would be peak HR production in the 23-25 range, with the usual RBI limitations from hitting second.
In all, this report concludes that Polanco's overall peak will be on the order of 24 HR, 75 RBI, 100 Runs, 6 SB, and a .295 BA. If there is upside, it would be in HR, as mentioned, with some coaching to increase his pull rate, and perhaps in SB, given technique coaching and perhaps a shift in organizational preference away from the current station-to-station, power-oriented offense.
Naturally contextual changes in team, team construct, and injury can and would affect those estimates. But in an era of very high shortstop values in fantasy, Polanco's skills point to something of a consistent bargain, churning out $20-$25 seasons as a consistent but sub-star-level fantasy producer.
For more information about the terms used in this article, see our Glossary Primer.
Shopping Cart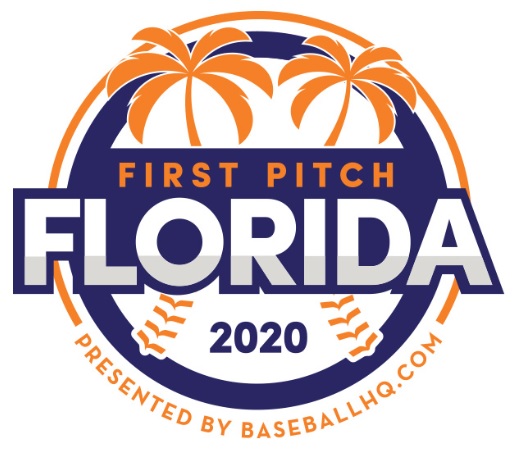 Inaugural Event!
February 28-March 1, 2020
St. Petersburg, FL
A few seats still left!