F/F SPOTLIGHT: German Marquez
By Ryan Bloomfield

@RyanBHQ
May 15th, 2019 1:05am
The unstoppable force vs. the immovable object. Who wins?
That's been the question surrounding German Marquez (RHP, COL), who was one of the more polarizing pitchers this draft season. Marquez was a Top 100 pick after an epic second half of 2018, and unlike so many high-priced aces so far this year, he hasn't disappointed (3.43 ERA and 1.14 WHIP through nine starts).
But there are legitimate questions surrounding Marquez despite his recent success. Can we trust him after just four to five months of dominance? And even if we can, is Marquez good enough to conquer Coors Field, something no other starting pitcher has been able to do?
We'll work both of those angles in this week's Spotlight; first looking at the changes Marquez has made since July 2018, while also diving into his skills and approach at home vs. on the road.
The unstoppable force (Marquez)
Signed as a 16-year-old out of Venezuela by the Tampa Bay Rays in 2011, Marquez came to the majors with decent prospect pedigree. His first Playerlink entry (September 2016) tabbed him with #3 starter upside and an 8D prospect rating, and it came with several reasons for optimism:
Marquez throws with easy arm action and increased strength has led to his fastball now consistently touching 94-97 mph.

His curveball has also been enhanced, making it more of a plus offering that can wipe out hitters from both sides.

Marquez doesn't walk many and he generally is more of a ground ball pitcher. Given his age and electric arm, the Rockies could benefit for several years to come.
Marquez made his MLB debut at 21 years old and stayed afloat with a nondescript 4.70 ERA over his first 52 starts through June 2018. Since then? Try a 2.88 ERA with 196 strikeouts in 162 innings. Let's examine Marquez's pre-breakout skills (before June 2018) to post-breakout in traditional Facts/Flukes style:

Year    IP   ERA/xERA  Ctl   Dom  Cmd  H%/S%  GB/LD/FB  FpK/SwK  hr/f  CmdvL  BPV
====   ===  =========  ===  ====  ===  =====  ========  =======  ====  =====  ===
2017   162  4.39/4.23  2.7   8.2  3.0  32/73  45/22/23  60%/10%   15%   2.3    97
18-1H   91  5.14/4.18  3.5   9.2  2.7  33/68  43/22/34  60%/10%   16%   1.8    93
---------------------------------------------------------------------------------
18-2H  105  2.57/2.45  1.9  11.7  6.2  32/78  52/23/25  69%/16%   15%   3.8   190
2019    58  3.43/3.15  1.9   9.2  4.9  31/75  55/19/26  67%/14%   17%   2.6   148

Marquez's 2H breakout came with plenty of skill support in 2018—it's carried over to this season:
Marquez continues to miss bats with ease; his swinging-strike rate (SwK) has been in the stratosphere since last July. Expect the Ks to keep coming in bunches.
He's simultaneously cut down on walks, as Marquez's pinpoint Ctl gets full backing from an elite first-pitch strike rate (FpK).
An elevated hr/f has driven a minor wedge between ERA and xERA, but Marquez is making strides keeping the ball on the ground and his xERA is in great shape.
The skills wane slightly against lefties (CmdvL). It hasn't burned Marquez yet this year, as LHB have a .293 OBP against him 2019, but that's due to a fortunate 26% H%.
A quick glance down the BPV column confirms: Marquez has re-invented himself since the midpoint of 2018. The momentum hasn't stopped this year—he's one of just six pitchers with a 14% SwK and 67% FpK (min. 40 IP)—and he's the only one in that group with a 50% GB%.
What changed? Let's dive deeper.
Pitch Mix
Here's an animation that shows how Marquez's pitch mix and velocities have changed over the last three seasons (courtesy of BaseballSavant.mlb.com):

A couple of takeaways. First, notice the velocity increase (blue blob moving to the right) on Marquez's curveball from 2018 to 2019. It suggests he's throwing a sharper, harder curve this year, and it's producing some sweet results (all pitch-level data in this column is from MLB Statcast).

                     CURVEBALL
Year  Usage (vLHB)  SwK% (vLHB)  Ball%   Vel  GB%
====  ============  ===========  =====  ====  ===
2017   25%          15.3          39.5  80.6  47%
2018   23%  (23%)   20.5 (14.6)   40.8  82.1  47%
2019   20%  (20%)   29.3 (24.1)   33.9  84.4  72%

Marquez's curveball is a weapon against both left- and right-handed batters: it's getting a ton of whiffs (SwK), he's throwing it harder (Vel), he's throwing it for strikes (Ball%), and he's seen a major spike in ground balls with it this season.
A quick comparison of Marquez's 2018 curveball—a bit loopier at 81 mph vs. PIT—compared to a sharper version earlier this season against Ketel Marte, whose nod of approval is included for good measure:
A second takeaway from the animation above: the big yellow blob that shows up in 2018 and grows in 2019 is Marquez's slider. Zooming in to a monthly view of Marquez's pitch mix in 2018, we see a major spike in slider usage starting in June/July. Coincidence? We think not: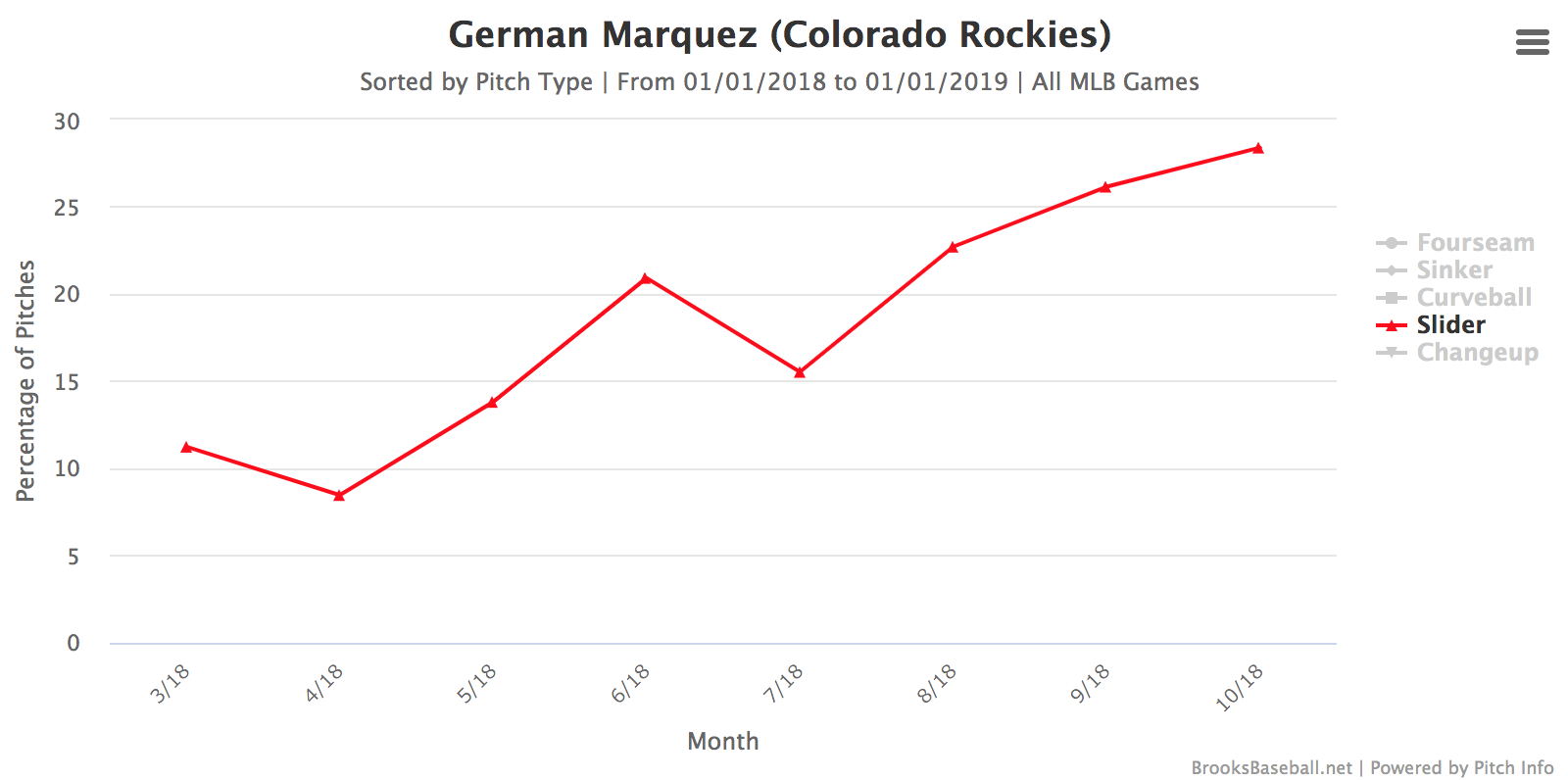 A quote from Marquez in September 2018 when asked about his recent success:
"The slider was the pitch I had to learn, and now it's come along," Marquez said. "I can throw it in a fastball count. I think it's pretty good right now."
Marquez is apparently a pretty humble guy, as the slider has been more than just "pretty good"; it's been dominant:

                   SLIDER
Year  Usage (vLHB)  SwK% (vLHB)  Ball%  GB%
====  ============  ===========  =====  ===
2017    4%    --     --     -      --    -    
2018   15%  (  7%)  20.5 (14.2)   32.7  57%
2019   25%  ( 18%)  23.3 (11.0)   30.6  60%

While the slider isn't as effective vs. LHP, its combination of whiffs and strikes for a single pitch is extremely rare. Marquez's slider is one of just two pitches in the game this year (min. 200 pitches thrown) with a 22%+ SwK and sub-31% Ball%. The other? Josh Hader's fastball. Filthy.
Release Point
Marquez has also tightened up his release points, hitting the same spot consistently across all of his pitches. From BrooksBaseball.net, we can see Marquez's pre-breakout release points weren't as consistent, but he's tightened things up since last July: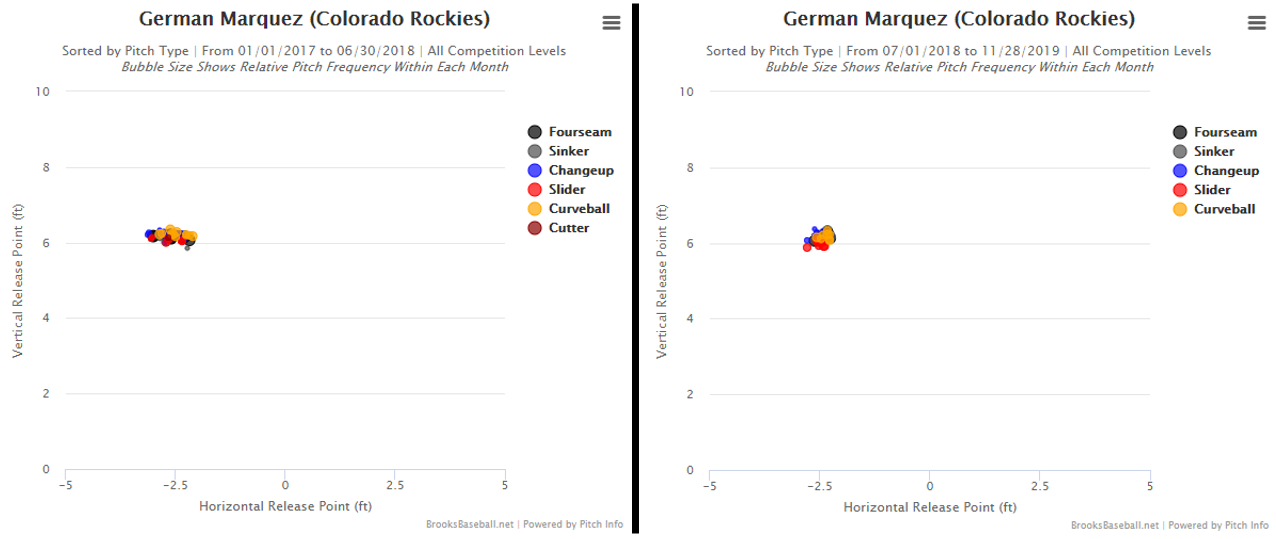 Based on skills and repertoire alone, Marquez seems to be the unstoppable force. He's one of just three pitchers with a 20%+ SwK% on two pitches since the beginning of 2018 (min. 500 pitches; Carlos Carrasco, Blake Snell), he's able to throw both for strikes, and he can mask them with a more consistent release point.
He's pitching like an ace, but what about the elephant in the room? Is Marquez good enough to tame the untamed?
The immovable object (Coors Field)
Marquez signed a five-year, $43 million contract extension with Colorado this offseason. Life-changing money for sure, but it also means he'll likely pitch at Coors Field through the 2023 season, if not longer. To level-set just how hard it is to pitch there, here are a few facts about Coors:
Per the Baseball-Reference.com Play Index, there have only been 20 pitcher-seasons in Colorado's franchise history where a starting pitcher has posted a sub-4.00 ERA (min. 100 innings).

Of those 20, just two pitchers were able to repeat with another sub-4.00 mark the following year (Ubaldo Jimenez, 2008-10; Jhoulys Chacin, 2010-11)
Jimenez is the only pitcher in franchise history to post two straight sub-3.50 ERAs as a member of the Rockies.

Since Coors Field opened in April 1995, here's how opposing teams have fared vs. COL at home vs. away (splits from FanGraphs.com):

Park          ERA  WHIP  H%  hr/f
===========  ====  ====  ==  =====
Coors Field  5.62  1.59  33  13.7%
Elsewhere    3.51  1.22  28  10.4%

Even the great Clayton Kershaw has struggled in 21 career starts at Coors: 4.57 ERA, 1.30 WHIP. Simply put, Marquez would be well into uncharted waters if can maintain his ace status at home. However, a dive into Marquez's post-breakout skills (July 2018 and later) suggests he's had no trouble slaying the beast:

           OUTCOMES    |           SKILLS           |  LUCK FACTORS
Split  IP   ERA  WHIP  |  Ctl   Dom  Cmd  GB%  BPV  |  H%/S%   hr/f  
=====  ==  ====  ====  |  ===  ====  ===  ===  ===  |  =====  =====
Home   76  3.20  1.28  |  1.9  11.6  6.1  54%  190  |  37/82  23.1%
Away   87  2.60  0.85  |  1.9  10.2  5.4  52%  162  |  24/74  11.1%

Marquez has actually been better at Coors Field:
By going back to last July, we're starting to creep out of small sample mode, as Marquez has made 12 starts at home and 13 on the road with similar success no matter where he pitches.
He's striking out even more hitters at home while maintaining the same impeccable control. The result has been a near-Vintage Eck BPV.
Even by Coors Field's standards, Marquez's H% and hr/f have been over-inflated at home. His 3.20 surface ERA has actually been a tad unlucky.
Going back to our pitch-level analysis, here's Marquez's post-breakout pitch mix and results at home vs. away:

Pitch             Usage  SwK%  GB%  Strike%
================  =====  ====  ===  =======
Fastball - Home    43%    6.2  51%   71.8
Fastball - Away    40%    7.3  51%   69.3
-------------------------------------------
Curveball - Home   17%   29.3  50%   64.4
Curveball - Away   21%   26.4  52%   69.3
-------------------------------------------
Slider - Home      20%   25.6  62%   70.7
Slider - Away      21%   21.8  50%   71.6

The prevailing thought that breaking balls don't break as much at Coors' elevation doesn't seem to affect Marquez at all. In fact, the swinging-strike rates on his slider and curveball are actually better at home. The usage rates show that Marquez's approach doesn't change, he can keep all of his top three offerings on the ground, and he can consistently throw them for strikes. No warning signs here, either.
Winner: The unstoppable force
It seems wrong to project Marquez to be someone that hasn't really existed before: a reliable ace on the Colorado Rockies. But we can make the case that this franchise has never had a pitcher quite this good, either. To recap some main points from our deep dive:
Marquez has been pitching with ace-level skills since July 2018: he's racking up whiffs and strikeouts, showing pinpoint control, and posting an elite BPV/xERA combo.
The skills spike coincides with a major bump in slider usage, a sharper (and more effective) curveball, and the ability to find a consistent release point throughout his repertoire.
Pitching at home hasn't affected Marquez at all—his skills have actually improved at Coors Field since the breakout began.
There are a couple of nits to pick—Marquez may struggle against better LHB-heavy lineups, and we're still in the first calendar year of his breakout—but the underlying skills and stuff have been just as impressive as his surface results.
If Coors Field can be conquered, Marquez might actually be the man to do it.
For more information about the terms used in this article, see our Glossary Primer.
Shopping Cart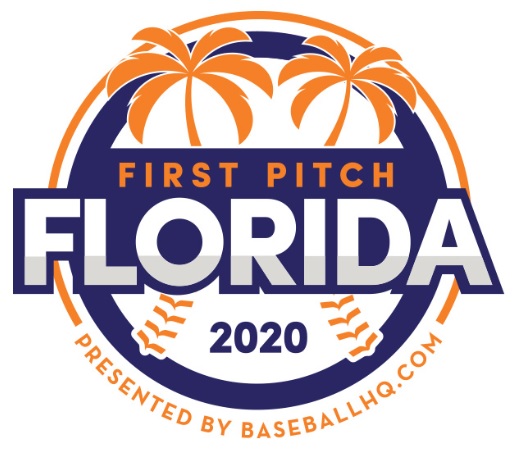 Inaugural Event!
February 28-March 1, 2020
St. Petersburg, FL
A few seats still left!