F/F SPOTLIGHT: Andrew Benintendi
By Ryan Bloomfield

@RyanBHQ
June 26th, 2019 12:05am
Back in a February Facts/Flukes column by our own Robert Berger, we posed an interesting question: Is Andrew Benintendi (OF, BOS) a second-rounder?
On one hand, the answer seemed simple. Benintendi was an elite prospect—he ranked #2 overall on our 2017 HQ100—who posted roto values of $23 and $31 in his first two full big league seasons. He'd already proven his worth at the MLB level, and would be hitting near the top of a potent BOS lineup, allowing him to rack up plate appearances and counting stats galore.
But on the other hand, Benintendi was coming off a second half where his power completely evaporated (3 HR in 270 AB), leading to a somewhat tepid write-up in his Baseball Forecaster box:
According to BPX and R$, an all-around growth season. But there are warning signs: crashed after strong 1st half (as 1st half xPX foretold), and season-long drop in HctX is worrisome. Overall, a still-developing talent, and combo of plate skills, OBP and SB acumen form a nice foundation. But a return to 20 HR level is not assured.
Fast forward through 2019's first half, and the Forecaster looks to be spot-on. Benintendi has delivered all-around production, albeit with a lower batting average (.274) and just 7 HR. In traditional Facts/Flukes style, let's check on Benintendi's skill profile before and after 2018's second-half swoon:

Year   AB   BA/  xBA  bb%  ct%  GB/LD/FB  h%  HctX   PX/xPX  hr/f  Spd/SB%/SBO
====  ===  =========  ===  ===  ========  ==  ====  =======  ====  ===========
2016* 342  .289/.288    8   84  36/25/39  33   112  117/116    6%  116/47%/19%
2017  573  .271/.256   11   80  40/21/38  31   112   85/100   11%  110/80%/14%
18-1H 309  .285/.279   12   81  37/24/39  32    79  126/ 83   13%  115/94%/17%
------------------------------------------------------------------------------
18-2H 270  .296/.269    9   83  45/24/31  35    90   80/ 77    4%  114/75%/10%
2019  284  .274/.227   10   73  36/19/46  35    97   96/131    7%  129/80%/12%

Benintendi has completely changed things up this year:
The jump in strikeouts is alarming, as Benintendi's ct% has dropped more than any other hitter in baseball (min. 250 AB) from 2018 to 2019.
He's joined the launch-angle revolution, but there's a problem: hr/f says most of those flies have been cans-of-corn; not home runs. While xPX suggests Benintendi deserves a few more HR, PX says he's been just a league-average power hitter throughout his career.
Despite all those fly balls, a fortunate h% has salvaged Benintendi's batting average. Underlying xBA hints we're more likely to see a BA drop than a return to 2018's high-water mark, however.
The speed game is carrying Benintendi's fantasy value right now. He doesn't run wild on the basepaths, but he's efficient (SB%) and has excellent raw wheels (Spd).
The skills unveil a total shift in approach from Benintendi this year: we're seeing a career-high fly ball rate and career-low contact rate, but with little power production to show for it. Despite the lukewarm results, is Benintendi v2.0 a more attractive fantasy asset than before? Let's take a deeper dive...
Feel the breeze
Let's start with the most foundational hitting skill of all: contact. Benintendi has sustained plus bat-to-ball skills throughout his career, but has thrown that approach out the window in 2019. Here's a deeper look at Benintendi's plate discipline skills. First, some definitions (courtesy of FanGraphs):
Swing%: Percentage of pitches seen that are swung at (MLB average: 47%)
Z-Contact%: Percentage of times a batter makes contact at swings in the strike zone (85%)
O-Contact%: Percentage of times a batter makes contact at swings outside the strike zone (62%)
SwStr%: Swinging-strike rate, or the percentage of pitches swung at and missed. (11.1%)

Year  ct% |  Swing%  O-Contact%  Z-Contact%  SwStr%
====  === |  ======  ==========  ==========  ======  
2017  80% |   44.0      71.2        89.4       7.7
2018  82% |   45.9      76.5        87.5       7.6
2019  73% |   51.1	68.5        84.5      11.1

A few takeaways from this detail-level look:
Benintendi's been much more aggressive at the plate, swinging at over half the pitches he's seen thus far.
The additional hacks haven't been fruitful—Benintendi's whiffing more often both outside and inside the zone—causing a major jump in his swinging-strike rate.
A closer look at whiff rates (whiffs/swings; from baseballsavant.mlb.com) show he's getting beat on the inner-third of the plate more often this year: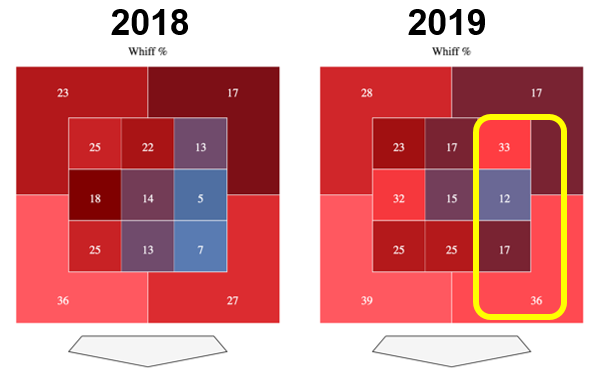 Benintendi's aggressive plate approach has hurt his strikeout rate, and as we mentioned in our initial skill scan, introduces considerable BA downside. But while we never like to see a drastic drop in contact like this, it's not the end of the world in today's strikeout-fueled game. The common trade-off among hitters with higher strikeout rates is more power, which brings us to our next section:
Launch angle—it's not for everybody
Benintendi's 2H power outage from 2018 seemed to weigh heavily on him entering the season. From a Boston Globe feature in March by BOS writer Alex Speier:
"I'm somewhat trying to buy into launch... kind of," Benintendi said. "I'm working on my swing." … "Sometimes if I get a pitch to hit, I'll speed up my swing, and it kind of takes away from it finishing high," he said. "When I speed up, I roll my wrist, then I roll over and hit a topspin ground ball."
Benintendi's certainly hitting for more loft, but it's a double-edged sword: fly balls have a .118 batting average on balls in play across MLB this season. Translation: if they don't clear the fence, they can kill your batting average. Let's take a deeper look at Benintendi's power metrics to see if his new FB swing should translate to more home runs. From MLB's Statcast data on baseballsavant.mlb.com:
EV: Average exit velocity
FBDist: Average flyball distance
Barrels/PA%: Percentage of plate appearances resulting in a "barrel", the most effective type of batted ball.
P%: Percentile rank among hitters with 150+ batted ball events; the higher (max: 100%), the better.

Year	 EV  (P%)  FBDist    Barrels/PA%
====    =========  ========  ===========
2017    87.1 (44)  177 (57)    4.0 (46)
2018	88.4 (53)  182 (70)    4.7 (53)
2019	87.6 (25)  199 (85)    6.0 (55)

In graph form, here's how Benintendi's raw power ranks among his MLB counterparts over the past three seasons: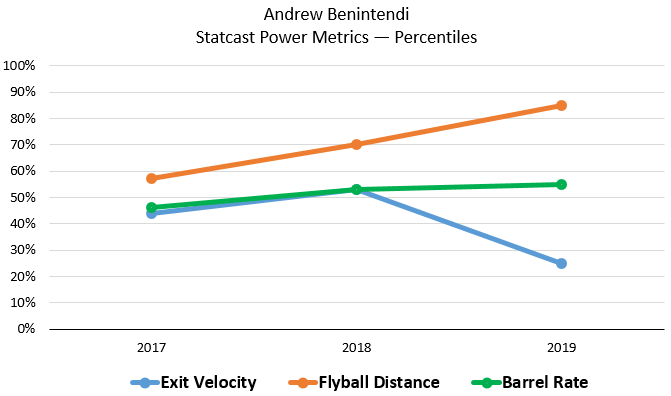 The data is somewhat mixed: the overall quality of Benintendi's contact has been league-average (Barrels/PA%) or even worse (exit velocity), and while his fly-ball distance and xPX this year look great, it's worth noting that Fenway Park is tough on left-handed hitters, suppressing LHB HR by 21%. The overall power profile screams "average", which jibes with our collective scouting eye. Benintendi was never identified as a big power bat despite his lofty prospect status:
...from Chris Blessing's Eyes Have It on a 2015 version of Benintendi:
"With only HR power down the line to his pull side, the left-handed hitting Benintendi is more a gap-to-gap extra base threat than an over-the-fence power hitter."
…and our initial call-up report from 2016:
"Making contact comes natural to him and he should hit for average pop in the majors [...] There are some questions as to how much power he'll develop, but he has a mature eye and knows which pitches he can drive."
Platoon splits
Benintendi, a lefty, has been given plenty of leash against left-handed pitching early in his career. He turned those extra looks into a big performance jump against southpaws in 2018; have those gains stuck around?

Year     AB  HR	 BA / OBP/ SLG   bb%  ct%  PX   EV
======  ===  ==  ==============  ===  ===  ==  ====
2017    112   1	 .232/.336/.286	 14%  79%  34  83.9
2018    150   4	 .247/.301/.393	  7%  73%  96  86.8
2019     63   1	 .238/.383/.333	 18%  71%  64  85.1
---------------------------------------------------					
Career  353   6	 .235/.324/.331	 11%  74%  59  85.4

Not really:
A common theme: Benintendi's contact has slid against LHP, so while his plus plate patience gets him on base and keeps him from a platoon, he's still a BA liability against same-sided pitching.
He's given back 2018's power gains vs. LHP thus far. His career numbers (6 HR, 59 PX in 353 AB) and subpar exit velocities don't inspire much confidence here.
As odd as it sounds, those of you in standard formats might consider benching Benintendi during LHP-heavy weeks. As always (shameless plug alert), consult our Weekly Hitter Matchups space each Sunday to best optimize Benintendi's production, as we don't see much room for growth against lefties.
Conclusion
We've seen a completely different version of Andrew Benintendi in 2019, with mixed results. To recap:
It seems he's making a conscious effort to trade contact for more power, as Benintendi owns the largest ct% drop of any hitter vs. 2018. It hasn't yet hurt his .274 batting average, but there's plenty of downside if this new approach sticks.
Benintendi's making decent contact on fly balls, but his raw power metrics remain merely league average, turning this "launch angle revolution" into just more fly ball outs.
He gets on base enough to avoid a platoon, but depending on your league size, Benintendi's lack of 5x5 production vs. LHP makes him a borderline streaming option when BOS faces a bunch of lefties at home.
It's not all doom and gloom for Benintendi. His speed game is strong, which will always buoy his roto value in today's SB-starved game. We can also pin hopes on this age-old BHQism: "once you display a skill, you own it". It's always easier said than done from behind a keyboard, but if we could give some advice: ditch the launch angle, revert back to the contact-centric approach we saw from 2017-18, and enjoy that skill-supported, five-category production.
Unless that happens, Benintendi's new approach puts him at risk of being just an above-average, not elite, fantasy asset (.250-.260 with 10 HR/SB) the rest of the way.
For more information about the terms used in this article, see our Glossary Primer.
Shopping Cart
March 4-6, 2022
Clearwater, FL
In-person event! Details coming soon...