FACTS/FLUKES: Weaver, Morales, Willingham, McGee, Machado
By Dan Becker
August 26th, 2012 11:05pm
Weaver continues to elude regression... Since his breakout season in 2010, some evaluators have been waiting for superstar Jered Weaver (RHP, LAA) to come back down to earth. Instead, the lanky righty has continued to baffle hitters and disappoint critics by posting excellent numbers and he's currently on track to post his second straight sub-3 ERA:

Year   IP   ERA  xERA   H%   G/L/F    Ctl  Dom  Cmd  BPV
====  ===  ====  ====  ===  ========  ===  ===  ===  ===
2008  177  4.33  4.27  31%  33/21/46  2.8  7.7  2.8   76
2009  211  3.75  4.45  29%  31/19/50  2.8  7.4  2.6   67
2010  224  3.01  3.57  29%  36/16/48  2.2  9.3  4.3  124
2011  236  2.41  3.68  26%  32/19/49  2.1  7.6  3.5   88
2012  148  2.74  3.80  24%  37/21/42  2.0  6.9  3.4   85

Weaver continues to pitch at a high level while benefiting from good fortune, but his slightly diminished skills are cause for some concern:
ERA has consistently outperformed xERA since 2009 so there is evidence that Weaver's ability transcends certain generalized regression factors. That said, his current H% is simply not sustainable.
Weaver is generating more ground balls than at any point in his career and his FB% has dipped to a career low as a result. Weaver still has an obvious FB% slant to his batted ball profile, but generating more ground balls is a plus.
Terrific Ctl has never been better but Dom and Cmd have both diminished for the second straight season. The decline in Dom is most concerning as it has dipped below 7 for the first time in Weaver's career.
While his BPV still shows the significant value in Weaver's current skill set, his steep drop-off in terms of strikeouts is a red flag. Weaver has proven he can succeed in spite of less than elite stuff via pinpoint control and deception, but his task will become even more complicated if he misses bats at less than a league average rate going forward. He remains a solid investment for the duration of 2012 and beyond, but check his BPIs at season's end rather than automatically placing elite value on Weaver heading into 2013.
Morales rediscovers his power stroke... It has been a long road back for Kendrys Morales (DH/1B, LAA) since he suffered one of the most bizarre and grisly leg injuries in recent memory while celebrating a walk-off grand slam. Morales lost more than a year and a half while recovering from the injury and looked pretty rusty early on in 2012. He has picked it up since, however, and is flashing the power that fueled his 2009 breakout:

Year      AB    BA   xBA  bb%  ct%   Eye   PX  HR  hr/f  BPV     
====     ===  ====  ====  ===  ===  ====  ===  ==  ====  ===
2009     566  .306  .293   8%  79%  0.39  160  34   18%   77
2010     193  .290  .290   6%  84%  0.39  112  11   22%   49
2011     ******************* Did Not Play - Injury *********
2012     374  .275  .253   6%  76%  0.24  111  16   19%   13
------------------------------------------------------------
2012-1H  217  .281  .240   6%  75%  0.24   96   8   17%   -5
2012-2H  153  .275  .272   6%  78%  0.27  130   8   22%   40

Morales still has weaknesses in his approach, but his power has returned in a big way since the All-Star break:
BA has remained consistent this season in spite of weak bb%. xBA in the 2H has been boosted in part by ct% improvement. However...
Contact rate and Eye remain well short of pre-injury levels. Eye especially indicates that Morales' approach right now is a work in progress even when compared to his below average track record.
Overall, PX is right in line with 2010 but since June he has posted a triple digit PX and +20% hr/f each month. His 2H HR production reflects this surge, while his overall hr/f is steady and supported by past performance.
Morales has had a great deal to overcome since the fluke injury that temporarily derailed his career, but he appears to be finding the stroke that made him a legitimate MVP candidate back in 2009. This is critical because Morales' BPV history is a testament to the limited nature of his overall skills so without a high average and power production, he doesn't offer much else to his owners in terms of compensatory value. At the very least, Morales has remained healthy this season and established that his power breakout was no mirage. Owners looking for a competent hitter with HR upside could do a lot worse.
Willingham delivering rare post-30 breakout... There has never been any question as to whether Josh Willingham (OF, MIN) had 30+ homerun power in his bat, but for various reasons he's never quite reached his potential. But at age 33, Willingham has proven to be one of the few bright spots in Minnesota this season as his breakout performance has turned him into one of the savviest offseason acquisitions in the big leagues:

Year   AB    BA   xBA  bb%  ct%   Eye   PX  HR  hr/f  BPV     
====  ===  ====  ====  ===  ===  ====  ===  ==  ====  ===
2008  351  .254  .270  12%  77%  0.59  138  15   13%   71
2009  427  .260  .279  13%  76%  0.59  151  24   17%   66
2010  370  .268  .255  15%  77%  0.79  128  16   11%   70
2011  488  .246  .253  10%  69%  0.37  166  29   17%   48
2012  430  .260  .281  13%  73%  0.55  183  31   23%   82

Willingham's approach and power are legitimate, but he does still carry some risks:
BA continues to lag behind xBA, but Willingham's strong approach provides a very reasonable BA floor to compliment his power.
Walk rate and ct% have rebounded from 2011 levels and Eye has responded accordingly.
Willingham is carrying a career high PX in concert with his career high in home runs. His hr/f history does suggest there is some regression coming here however.
Willingham has appeared in 119 of a possible 125 games for the Twins. For a player with a career high of 521 ABs that has struggled to stay healthy in the past, there is more than a little injury risk involved here.
Willingham has been a huge asset for the Twins this season, but his breakout has been more attributable to consistent playing time and good health than any sort of unforeseen spike in skills. He has always been a player with huge power upside, but platoons and/or DL stints have prevented him from reaching his full potential in the past. There are no guarantees that Willingham will suddenly become an ironman at age 33, but as long as he is healthy he will continue to be one of the more underrated sluggers in the game.
McGee steps it up... At the outset of spring training 2011, Jake McGee (LHP, TAM) appeared to be the odds on favorite to win the closer's role in Tampa Bay. McGee struggled early on, however, and earned a demotion to the minors rather than the opportunity to close games. The extra seasoning on the farm seems to have done the trick as McGee is putting together a standout campaign:

Year    IP   ERA  xERA    vR   H%  GB%  Ctl   Dom  Cmd  hr/9  BPV
====   ===  ====  ====  ====  ===  ===  ===  ====  ===  ====  ===
2010*  111  3.52  3.22  .000  34%  55%  3.2   9.2  2.9   0.3  112
2011*   61  3.77  4.71  .400  33%  33%  3.0   8.6  2.9   1.3   73
2012    39  2.33  2.71  .115  28%  46%  2.3  10.9  4.7   0.7  158
*Includes MLEs

McGee's already impressive skills have improved across the board and he has the makings of a shutdown closer:
Ctl has taken a step forward for the second straight season, but Dom has moved into elite territory. Cmd has improved accordingly and BPV reflects the rare skills McGee is currently displaying.
ERA is stellar although xERA expects H% to eventually spur some minor regression. The long ball gave McGee problems in 2011, but his hr/9 this season indicates he's righting the ship on the strength of increased GB%.
He had previously carried a decisive platoon split, but McGee is thriving against RH hitters this season.
The Tampa Bay Rays have found ways to win all season in spite of an anemic offense and the stellar performances of McGee and the rest of the bullpen has been a big factor in that success. Considering that he's surrounded by other strong options, McGee will continue to get somewhat limited work overall, but his superior results and the eradication of his platoon issues will earn McGee more high leverage opportunities. Owners shouldn't expect any save opportunities, but McGee is an ideal LIMA option and has proven he has the stuff to slam the door if and when he gets the call.

First Impression: Manny Machado (3B, BAL)
CALLED UP: August 10th
CURRENT ROLE: Starting 3B
POTENTIAL: All-Star SS/3B

Year/Level   AB    BA   xBA  bb%  ct%   h%   Eye   PX  HR  Spd  SB  BPV
==========  ===  ====  ====  ===  ===  ===  ====  ===  ==  ===  ==  ===
2011 -   A  145  .276  ----  14%  83%  30%  0.92  ---   6  ---   3  ---
2011 -  A+  237  .245  ----   8%  80%  29%  0.46  ---   5  ---   8  ---
2012 -  AA  402  .266  ----  11%  83%  28%  0.69  ---  11  ---  13  ---   
2012 - MLB   50  .240  .283   2%  78%  25%  0.09  188   3  137   0   91

Machado's surprise arrival has been quickly upstaged by his impressive, MLB-ready skills:
BA hasn't been a strength to this point in his career, but xBA predicts improvement once h% corrects.
Walk rate and Eye have been poor in the big leagues, but both were strong in the minors. Healthy ct% has carried over so there's reason to expect a strong approach in the future.
PX spike at the MLB level looks fluky based on production in the minors, but Machado projects to have above average power and his performance so far only supports this expectation.
Machado has shown strong Spd since his arrival, but overall he grades out as slightly above average. Still, he was successful in 76+% of his stolen base attempts this year at Double A so there is double digit SB upside.
Machado's promotion was shocking when it was first announced, but the 20-year-old has proven so far that he has the ability to hold his own. While he is currently covering the hot corner for the O's, it remains to be seen if he shifts back to shortstop in the future because it was expected his lack of ideal quickness would push him to third base eventually. This will affect his fantasy value as shortstop is obviously much thinner than third base in terms of talent. Regardless, Machado has an advanced approach with emerging power and average speed and those kind of skills have value at any position. Machado has been young for every level at which he's played, so while it seems a long shot for him to stick in the big leagues at this age, he looks like he's ready to compete right now.

For more information about the terms used in this article, see our Glossary Primer.
Shopping Cart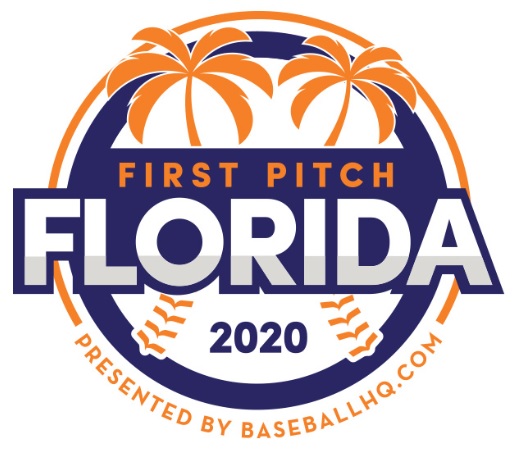 Inaugural Event!
February 28-March 1, 2020
St. Petersburg, FL
A few seats still left!