CHASING THE 2013 NFBC: The prep
By Glenn Lowy
March 4th, 2013 12:01am
As noted in our introductory article, BaseballHQ.com has teamed up with NFBC veteran Glenn Lowy for coverage of the 2013 National Fantasy Baseball Championship. Lowy will be publicly managing BHQ's entry into the contest and adding insights both before and after the draft, as well as some in-season reflections.
---
Since first joining high stakes fantasy baseball, my level of draft prep has gone through some adjustments.
I headed into my very first draft for the NFBC in 2009 armed only with the knowledge acquired from a couple fantasy magazines, the latest news on Rotoworld, and a mock draft or two.
Though somehow I still managed to cash in that league, I was inspired by dreams of much greater fortune for this hobby and the effort I put into preparing for my sophomore season multiplied. The prep started from day one of the off-season. I read every publication I could find and subscribed to every website. I attended every public seminar and garnered every piece of private advice. I entered preseason prep drafts as soon as they were offered and was drafting early and often by November.
Though the hard work paid off with a very successful 2010, a realization came that much of that work may have been unnecessary. And for someone with a family and career, maybe it was a bit impractical, as well.
Many of the publications I read and the websites I visited merely gave analysis I already received from sources like BaseballHQ.com—and often with more depth. I also realized that much of the time I spent on specific player analysis brought no new meaningful information. Much of what I was studying, I already knew.
I no longer felt I needed to work harder, but instead to work smarter. I made a decision to streamline, cutting down on the resources I utilized. I also narrowed my focus in player evaluation. Though the resulting time commitment was ramped down, the results continued to be positive in the years that followed.
As I look forward to the 2013 season, I continue to refine my draft preparation, seeking the most out of my dedicated time to achieve the most in fantasy success. A few insights:
Player Evaluation
Projections: I'm no longer a believer in projections. I don't make my own and typically don't spend time reviewing those of others. In recent years I've come to subscribe to the theory Ron Shandler has professed: that projections are a losing proposition.
Too many microscopic variables from at bat to at bat—let alone for an entire season—affect the outcomes. To rely too heavily on projections as absolutes for results can be a recipe for failure, as stats unfailingly fall within a much larger range. I've often heard an owner claim to have drafted some odd number of HRs, steals, strikeouts, even wins based on projections and therefore was within some odd number of his target. However, if each of his players is just one HR, steal or win off per projection, then that outlook can change drastically.
I prefer to evaluate players in a more general fashion. What skills does the player provide? How great are those skills? Average, above average, elite? Where are those skills trending? What outside variables affect those skills—ballpark, surrounding lineup, new team? How reliable is the expectation that those skills provide the anticipated results?
The answers for these questions provide a natural progression for placing players into my general tiers. Though these tiers are informal, flexible, and even unwritten, they're what I utilize moving forward into the draft season.
The model I've found most closely resembles my method of forecasting players is the Mayberry Method. In lieu of providing a specific figure per category such as 30 HRs, it instead provides a grade, such as 5 for elite power. It also provides a reliability rating based on the probability that the player actually achieves that grade. Though I've yet to fully examine or embrace the Mayberry Method due to outliers each season that I sometimes have trouble rationalizing (Josh Rutledge's top of the player pool score is an example this season), and though I've yet to utilize the model as a draft tool, I've recently considered it. This season and this team may provide the perfect avenue for trying it. That decision comes down the line.
ADP: There seems to be a recent undercurrent within the hobby by both industry writers and prominent players flouting ADP as a draft tool. While I understand the rationale, I believe ADP if utilized correctly is an invaluable source to a successful draft.
While I'd agree a mock draft based ADP has limited benefits, an ADP based on a more committed (in other words, "paying") userbase and from drafts of similar format to your own can inform your draft strategy. Though I'd never suggest drafting ADP by the numbers, comparing how you value the player pool against an ADP allows for the pre-draft targeting of players you see as undervalued and the ability to target them at a lower price.
Targets: You often read of who to take at the top of the draft—Braun, Cabrera, or Trout. Whether Cano is the obvious choice at number four is one question I've seen. Pujols, Votto, or Fielder. Verlander or Kershaw. All the way down the line for the early rounds of our drafts.
In recent seasons however, I've spent very little time evaluating the established players who year after year occupy the early rounds. I know what Miguel Cabrera is, I know what Robinson Cano is. I also know what they aren't. That isn't changing. I won't find anything that will alter my expectations for them no matter how hard I search within their peripherals. My choice on which of these types of players to take will revolve more on how I decide to build my team rather than some anticipated change in their expected stats for better or worse.
The vast majority of my player evaluation is spent on those players who occupy the middle or late rounds of drafts. The players for whom a rise in value have the most room to provide the largest profit. The players that can win your league for you—the Mike Trouts of last season.
For these later rounds, I look for players whose skills are there that haven't yet provided the results, or players whose skills and results were there but slipped last season, or players who we think might have the skills but haven't yet had the opportunity to show results. Post-hype sleepers, last year's bums, sometimes total unknowns. Those are some of the player types I often end up relying on year after year.
Somehow I whiffed on Mike Trout completely last year. Still, I did hit on Encarnacion, Rios, and Cespedes for several teams, on Chris Davis, Headley, and Alan Craig in a number of drafts.
Who will be this year's Mike Trout or Edwin Encarnacion, this year's Chris Davis or Chase Headley? The answer to these questions are much more important to our success than whether to take Cabrera or Braun first overall.
One irony is that several of these players noted above while targets last season, may turn out to be avoids for me this year. Even though they produced as hoped, their resulting price point will now be at full, and for some, above value.
Avoids: When I do evaluate the early rounds, my focus is typically not on those players who I expect to perform to their draft slot, but towards those who have given me pause that they will. Players that I see as overvalued, for any number of possible reasons.
Recency bias and hype are often the cause for players to be regularly drafted earlier than maybe they should. When both are combined and added to a small sample size (and God forbid a hot spring), the resulting rise up the draft boards is regularly a stop sign in my direction. I often see more potential downside in these types of players than I feel they are worth.
Out of the 14 mixed teams I drafted last year, Eric Hosmer, Desmond Jennings, and Matt Moore made none of them and Brett Lawrie only one. Do you see a player with a similar profile this year who's starting to fly up the boards in recent drafts? I do and he likely won't be on many or possibly any of my teams this year.
Of course potential downside hasn't kept me from drafting chronically injury prone players year after year. Maybe Troy Tulowitzski helping end the hopes of a couple of my teams last year will have finally taught me that lesson.
Draft Flow
Preseason Drafts: When I've completed my evaluation of the player pool and the market ADP, and when I've decided on my targets and the players I'll avoid, it becomes the time to put that information to a test. That's where preseason drafts come in. Not a believer in mock drafts, I feel lucky that the NFBC offers their Draft Championships as a preparation tool for the Main Event and larger entry drafts to come.
The NFBC Draft Championships is an early draft season overall contest with different entry costs that allows players to draft and manage teams without having to deal with FAAB in-season. It's a great tool to get a feel for draft flow and test the implementation of strategies. The slow draft format also allows for further player evaluation as you have the time to look deeper into any number of players you may be considering for a particular pick.
Though I had a team that finished 15th overall last year in this contest, the format's explosion in popularity this year to over 100 leagues has convinced me to enter only one team, into its highest entry league. With a four-figure entry fee, I know that the players' focus in this league will be on winning the league and therefore will be drafting towards that goal instead of trying out-of-left-field strategies at lower entry fees in go for the home run attempts at winning a 2000 team overall.
The participants in this league include some of the greatest in the NFBC, including our reigning Main Event champion and fellow BHQ subscriber Dave Potts. This is a challenging draft, played to win the league, just the type I need for my one preseason draft leading up to the Main Event.
As I write this article, the draft is still ongoing. The following though is a rundown of the first ten rounds of my draft with a note or two on my thoughts behind some of the picks. I drafted from the #12 position.
1.12 - Joey Votto 1B
2.04 - Clayton Kershaw P - Not one to typically take a pitcher this early, it took a while to pull the trigger. However, in a format where the $1 pitchers found in FAAB that often aid in a successful season won't be available, more from your ace may be needed.
3.12 - Allen Craig 1B, OF - A solid power/average bat, but even more importantly for this format— a multi-position eligible player. I've learned the hard way what a huge asset this is in a non-FAAB league.
4.04 - Ben Zobrist 2B, SS, OF - Another multi-position player that includes among them two shallow positions.
5.12 - Mark Teixeira 1B - Another 1B? A pretty reliable 30 HRs is hard to pass up at the end of the 5th round. Craig's multi-position eligibility pays dividends already.
6.04 - Yadier Molina C
7.12 - Shane Victorino OF - Needed an OF and speed, Victorino fit the bill. I believe the BA bounces back.
8.04 - Rickie Weeks 2B
9.12 - Jeff Samardzija P
10.4 - Joe Nathan RP
Summary
By the time this article posts, this draft will have finished and I'll have attended The First Pitch Forum in NJ bringing an end to my prep season. The rest of my time before the Main Event will be spent tweaking my player evaluations, monitoring spring news, but most importantly deciding on the strategies for my drafts.
My last pre-draft article in two weeks will look into the different strategies I'll be considering for the Main Event.
For more information about the terms used in this article, see our Glossary Primer.
Shopping Cart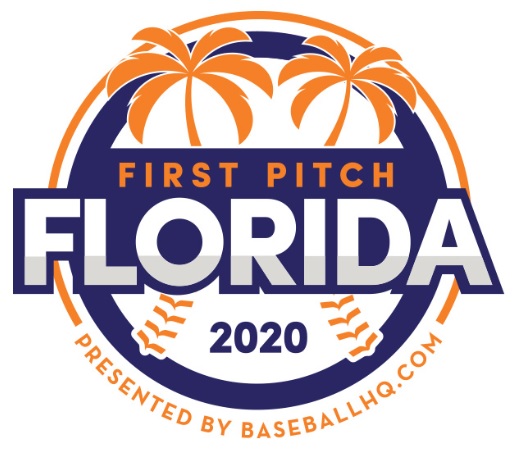 Inaugural Event!
February 28-March 1, 2020
St. Petersburg, FL
A few seats still left!