CALL-UPS: July 27-August 2
By BaseballHQ
August 1st, 2012 11:01pm
August 2, 2012
(Colby Garrapy)
Alberto Cabrera (RHP, CHC)
With Ryan Dempster on the move and Casey Coleman being sent down, Cabrera got the call on Wednesday afternoon. After pitching in the rotation for several seasons, Cabrera made the move to the bullpen where he has found instant success. His three pitch mix features a plus FB sitting 95-97 with life, a solid but inconsistent SL, and a straight CU. Cabrera does not offer much deception with his delivery, but his ability to repeat it has contributed to his plus Ctl (2.3) out of the pen. He relies heavily on his FB that he keeps down in the zone with good life, getting on hitters quick. To find success at the next level, Cabrera will have to make adjustments and develop consistency with his secondary pitches so he can change speeds against better competition and not rely solely on his overpowering FB.
STATS: 36 g, 4-1 3.11 ERA, 55 IP, 5.3 Cmd, 2.3 Ctl, 12.1 Dom, 6 HR, .263 oppBA
CURRENT ROLE: Middle Reliever
POTENTIAL: Middle Reliever
RATING: 6B
August 1, 2012
(Chris Mallonee)
Moises Sierra (OF, TOR)
The 23 year-old Sierra will get his first taste of the major leagues following the July 30 trades sending Travis Snider to PIT and Eric Thames to SEA. Sierra could split time in LF with Rajai Davis until Jose Bautista returns from the DL, but an extended stay is no guarantee after Bautista is healthy. Sierra has an athletic 6'0'/225 frame, good speed, and an excellent throwing arm. On the down side, he gets caught stealing too often (7 successful attempts in 13 this season) for someone with his speed, and has only average range in the outfield. Two DL stints kept Sierra out of all but 20 games in 2010, but had a significant uptick in power in 2011, hitting 18 HR in 495 AB. He has followed that up with 17 HR in 377 AB in 2012. His previous high HR total in a season was 9 in 2008. Sierra projects as league average OF at best, but more likely a reserve OF ceiling.
STATS: Las Vegas (AAA) – 377 AB, .289/.360/.472, 17HR, 0.45 Eye, 7 SB, ct% 77
CURRENT ROLE: Starting OF
POTENTIAL: Reserve OF
RATING: 7C
July 31, 2012
No call-ups.

July 30, 2012
No call-ups.

July 29, 2012
No call-ups.

July 28, 2012
No call-ups.

July 27, 2012
(Rob Gordon)
Starling Marte (OF, PIT)
The Pittsburgh Pirates recalled Starling Marte and the 23-year-old OF is expected to see regular playing time as the Pirates try to win the NL Central. Marte is one of the more exciting 5-tool prospects in the NL. Marte has shown the ability to hit, hit for power, with plus speed, and solid defense. He will likely see action in RF for now, but is arguably a better defender in CF than Andrew McCutchen. The only red flag at this point is his lack of plate discipline. Marte can be overly aggressive at the plate and has a career EYE of just 0.24, suggesting that he might struggle to hit for average over the short-term. Long-term, Marte has tremendous upside and is just starting to tap his full potential.
STATS: Indianapolis (AAA) – 388 AB, .298/.347/.500, 21 2b, 13 3b, 12 HR, 0.31 Eye, 21 SB
CURRENT ROLE: Starting LF
POTENTIAL: Starting CF
RATING: 8A
Explanation of BaseballHQ.com's prospect rating system
For more information about the terms used in this article, see our Glossary Primer.
Shopping Cart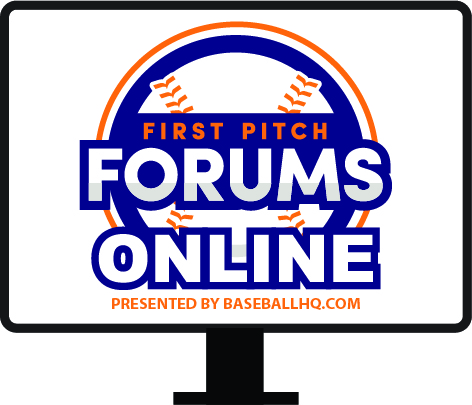 Our virtual First Pitch Forum returns!
Three online-only events: March 5, 11, 17
Join us live, or watch when you want
Just $19!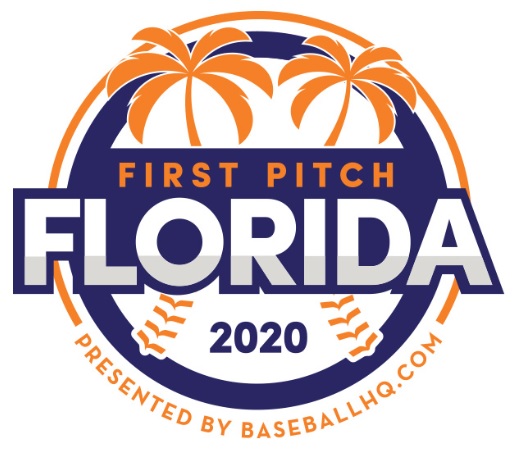 Inaugural Event!
February 28-March 1, 2020
St. Petersburg, FL
A few seats still left!