CALL-UPS: August 24-30
By Jeremy Deloney
August 29th, 2012 11:01pm
August 30
Tyler Cloyd (RHP, PHI)
The 25-year-old has been promoted and will make his major league debut with a spot start on Wednesday, August 29. Cloyd has put up extraordinary numbers in '12, his breakout season. He's flown under the radar for his entire career—he was selected in the 18th round of the '08 draft. With a career 3.27 ERA, 2.1 Ctl, and 7.2 Dom, the tall righty knows how to pitch. Cloyd relies on pinpoint location and exquisite command of a four pitch repertoire. He spots his high 80s fastball to both sides of the plate and has a cutter to give hitters another look. Additionally, his curveball can be dropped in the zone for strikes. Cloyd is very adept at changing speeds and his change-up is thrown with the same arm speed as his other stuff. His offerings play up due to a hint of deception. Because he lacks frontline velocity and a swing-and-miss breaking ball, continued control and command are paramount to big league success.
STATS: Lehigh Valley (AAA) – 22 gs, 12-1 2.35 ERA, 142 IP, 2.4 Cmd, 2.4 Ctl, 5.9 Dom, 14 HR, .210 oppBA
Reading (AA) – 4 gs, 3-0 1.80 ERA, 25 IP, 6.7 Cmd, 1.1 Ctl, 7.2 Dom, 1 HR, .239 oppBA
CURRENT ROLE: Spot starter
POTENTIAL: #4-5 starter
RATING: 7D
August 29
Chase d'Arnaud (SS, PIT)
The 25-year-old has been recalled for the first time this season after hitting .217 with 0 HR, 12 SB, and 36 K in 143 AB with the Pirates in '11. d'Arnaud is a solid overall player, but has too much swing-and-miss in his game to be effective as a hitter. The right-handed hitter likes to shoot line drives to the opposite field, but needs to focus on getting on base more in order to use his plus speed. He offers some pop, but not enough to overcome his high number of strikeouts. d'Arnaud has the speed and instincts to steal 30+ bases on an annual basis. He reads pitchers well and uses his wheels effectively. As a defender, he has significant arm strength and sufficient range to stick at SS. While he can slide over to play either 2B or 3B, his best position is at SS. d'Arnaud has committed a number of errors due to lack of concentration, but he is a stellar defender with good hands and feet. He could become a dependable big league infielder, though he has some work to do with his offensive approach. He is a career .265/.346/.404 hitter in the minors.
STATS: Indianapolis (AAA) – 377 AB, .247/.321/.379, 24 2b, 6 HR, 0.40 Eye, 33 SB
CURRENT ROLE: Depth infielder
POTENTIAL: Starting SS
RATING: 7D
August 28
No call-ups today.
August 27
Casey Kelly (RHP, SD)
The 22-year-old will be recalled on Monday, August 27 to make his major league debut. Kelly has missed a large portion of this season—he was out for most of April, May, and June before returning in late July—with elbow inflammation. Though he likely could've pitched earlier, the Padres were treating the situation cautiously. The tall and athletic righty was originally drafted by the Red Sox and began his career as a shortstop. After demonstrating the ability to pitch in the second half of '09, he was converted to the mound full-time. He was later acquired by San Diego in December '10. Kelly throws with clean, easy arm action and can generate excellent velocity in the mid-90s. He generally sits in the low-90s where his cutter and sinker work best. He keeps the ball consistently in the lower half of the strike zone and gets a lot of groundball outs. With a plus curveball, Kelly can get hitters to swing and miss, though he's been more pitch-to-contact as a pro. This may continue, particularly due to his strong sinker. As a control and command-oriented pitcher, he is adept at working the corners of the plate. The pitch that he'll need to find more consistency with is his change-up. Kelly often doesn't repeat his arm speed on that pitch and he'll need to upgrade it in order to fare better against lefties. He has a career 3.77 ERA, 2.4 Ctl, and 7.3 Dom.
STATS: Tuscon (AAA) – 2 gs, 0-0 2.25 ERA, 12 IP, 0 BB, 14 K
San Antonio (AA) – 3 gs, 0-1 3.78 ERA, 16.2 IP, 6.0 Cmd, 1.6 Ctl, 9.7 Dom, 1 HR
Padres (Rookie) – 3 gs, 0-1 4.00 ERA, 9 IP, 0 BB, 7 K
CURRENT ROLE: Starter
POTENTIAL: #2-3 starter
RATING: 8B
August 26
No call-ups today.
August 25
Steve Lerud (C, PHI)
With Brian Schneider headed to the disabled list, the Phillies summoned the 27-year-old career minor leaguer to the big leagues. Lerud was originally a third round pick of the Pirates in '03 out of high school and he had potential has a left-handed power-hitting backstop. Due to a number of things—injuries in particular—his offensive promise never materialized. He still offers some offensive punch (despite 0 HR in '12), but he's not a very good hitter. Lerud has only 21 AB above Double-A and he's a career .221/.311/.353 hitter in the minors. He has below average bat speed and has trouble making contact. Though he has a good eye at the plate, he swings and misses too often and hasn't found success against left-handed pitching. Lerud is a smart catcher who is adept at calling games. With average receiving skills and an ability to neutralize the running game with a strong arm and quick release, he offers some defensive value.
STATS: Reading (AA) – 102 AB, .235/.350/.304, 7 2b, 0 HR, 0.37 Eye, 0 SB
CURRENT ROLE: Backup catcher
POTENTIAL: Backup catcher
RATING: 5E
August 24
Francisco Peguero (OF, SF)
The Giants recalled the 24-year-old after placing Justin Christian on the disabled list. Peguero is all about tools, but two knee surgeries have sapped him of some of his speed. The right-handed hitter has shown glimpses of potential since signing in '05. He's been a consistent .300 hitter throughout his career while flashing moderate power and well above average speed. After stealing 40 bases in '10, Peguero is down to one this season. He can still leg out extra base hits, but his wheels may not come back until the '13 campaign. He has outstanding bat speed that allows him to catch up to any fastball while also maintaining ideal hand-eye coordination. His biggest downfall as a hitter has been his overly aggressive approach. He rarely draws walks and jumps at the first hittable pitch he sees. With more plate patience, Peguero could become an on base machine. Defensively, he is a terrific outfielder with above average range and a very strong arm. He can play CF, but is slotted for RF. He is a career .305/.335/.428 hitter with a high of 10 HR in '10.
STATS: Fresno (AAA) – 449 AB, .272/.297/.394, 20 2b, 10 3b, 5 HR, 0.18 Eye, 1 SB
CURRENT ROLE: Reserve outfielder
POTENTIAL: Starting outfielder
RATING: 8E
Explanation of BaseballHQ.com's prospect rating system
For more information about the terms used in this article, see our Glossary Primer.
Shopping Cart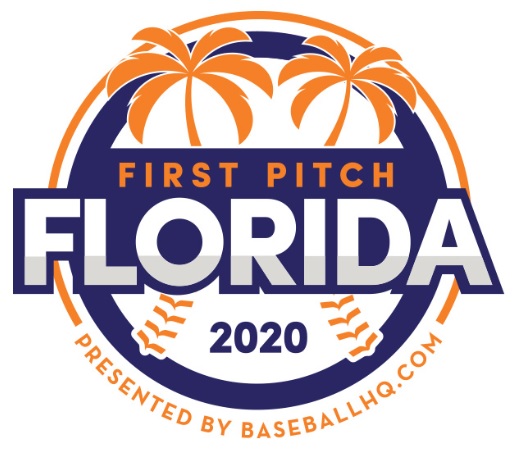 Inaugural Event!
February 28-March 1, 2020
St. Petersburg, FL
A few seats still left!