CALL-UPS: August 17-23
By Jeremy Deloney
August 22nd, 2012 11:01pm
August 23
Andrew Werner (LHP, SD)
The Padres recalled the 25-year-old from Triple-A to make a spot start on Tuesday, August 22. Werner was signed as a non-drafted free agent in October '10 after spending two years in the independent Frontier League. He won't blaze a fastball by hitters nor will he amaze with a big-bending breaking ball. However, his pinpoint command of a three pitch mix is enough for him to have a shot at big league success. Werner's fastball is quite ordinary—85-90 mph—but he spots it well to all quadrants of the strike zone. He also can sink it and cut it at will to induce his fair share of groundballs. His other pitches consist of an average curveball and change-up. He has good size at 6'2" 215 pounds, but he doesn't pitch aggressively. He has a tendency to nibble which gets him into trouble. Werner lacks a legitimate out pitch in his arsenal and the lack of velocity limits his upside as a starter. He has a career 3.46 ERA, 1.9 Ctl, and 7.4 Dom.
STATS: Tucson (AAA) – 4 gs, 1-2 5.79 ERA, 23.1 IP, 3.3 Cmd, 2.3 Ctl, 7.7 Dom, 1 HR, .271 oppBA
San Antonio (AA) – 18 gs, 4-8 3.23 ERA, 103 IP, 3.6 Cmd, 2.2 Ctl, 7.8 Dom, 6 HR, .272 oppBA
CURRENT ROLE: Spot starter
POTENTIAL: #5 starter
RATING: 6D
Collin McHugh (RHP, NYM)
The 25-year-old hasn't appeared on many top prospect lists within his own organization, but all he does is pitch well. He'll get his first big league taste when he gets a spot start on Wednesday, August 23. McHugh is a tall and athletic pitcher with a deep repertoire and solid command. He consistently works ahead in the count by locating his 87-93 mph fastball and keeps hitters guessing with a variety of secondary offerings. Though none of his pitches grade as above average, he uses a cutter, slider, curveball, and change-up to his advantage. He's posted a high Dom throughout his career, but he doesn't project well at the next level without plus velocity or a swing-and-miss breaking ball. McHugh adds a little deception in his delivery and arm slot which enhances his ability to retire right-handed hitters. He'll need to upgrade his change-up to combat lefties, however. He has a career 3.32 ERA, 2.9 Ctl, and 9.0 Dom.
STATS: Buffalo (AAA) – 12 gs, 2-4 3.39 ERA, 69 IP, 2.5 Cmd, 3.5 Ctl, 8.7 Dom, 7 HR, .218 oppBA
Binghamton (AA) – 12 gs, 5-5 2.41 ERA, 74.2 IP, 3.8 Cmd, 2.1 Ctl, 7.8 Dom, 4 HR, .228 oppBA
CURRENT ROLE: Spot starter
POTENTIAL: #4 starter
RATING: 7D
August 22
Tyler Skaggs (LHP, ARI)
The tall and athletic 21-year-old will be promoted in time to make his major league debut with a spot start on August 22. Skaggs throws with clean and smooth arm action to generate easy velocity. He deftly spots his 89-94 mph fastball to both sides of the plate and isn't afraid to pitch inside. While his fastball is an above average offering, his curveball is even better. His breaking ball is a legitimate big league out pitch and he can get hitters to chase it or drop it into the strike zone. Skaggs also operates with an average change-up that has the potential to be a third above average offering. Not only does he have natural stuff, but he mixes his pitches like a veteran. He works efficiently and quickly. Skaggs doesn't run into problems often, but he does have the tendency to rush his delivery and overthrow. His upside rivals that of most prospects, but he also has a high floor. He was a supplemental first round pick of the Angels in '09 before being traded to Arizona in July '10. He has a career 2.98 ERA, 2.6 Ctl, and 9.9 Dom.
STATS: Reno (AAA) – 9 gs, 4-2 2.91 ERA, 52.2 IP, 2.8 Cmd, 2.7 Ctl, 7.7 Dom, 4 HR, .253 oppBA
Mobile (AA) – 13 gs, 5-4 2.84 ERA, 69.2 IP, 3.4 Cmd, 2.7 Ctl, 9.2 Dom, 8 HR, .241 oppBA
CURRENT ROLE: Spot starter
POTENTIAL: #2 starter
RATING: 9C
Phillippe Aumont (RHP, PHI)
The 23-year-old has been recalled and will pitch in the middle innings. Aumont was a first round pick of the Mariners in '07 and has spent the majority of his career coming out of the bullpen. He pitches off his dynamic 92-98 mph fastball that features nice late movement. Because of his 6'7" frame and release point, he throws downhill and hitters have difficulty putting his pitches into the air. He can tally strikeouts with his fastball alone, but he also has a plus, big-bending curveball at his disposal. With this one-two punch, Aumont is tough to make hard contact against. However, his inability to repeat his complex delivery has led to severe command problems. While he has shown improvement in his mechanics over the past two seasons, he still has a ways to go. His frame makes it difficult to harness the moving parts. Nonetheless, he has high Dom ability and has the mindset and tenacity to pitch in the late innings. Aumont has a career 4.22 ERA, 5.0 Ctl, and 10.0 Dom.
STATS: Lehigh Valley (AAA) – 41 g, 3-1 4.26 ERA, 15 sv, 44.1 IP, 1.7 Cmd, 6.9 Ctl, 12.0 Dom, 3 HR, .209 oppBA
CURRENT ROLE: Middle reliever
POTENTIAL: Closer
RATING: 8C
August 21
Chris Rusin (LHP, CHC)
The 25-year-old will be recalled from Triple-A to make his major league debut on Tuesday, August 21 with a spot start. Rusin is a tall and athletic pitcher who was selected in the fourth round of the '09 draft. He has a rather ordinary repertoire, but has the ability to throw consistent strikes and deceive hitters with a tricky delivery. His fastball only sits between 86-91 mph, but he effectively mixes in a solid-average curveball that he can drop in the zone for strikes. While he doesn't profile as a strikeout pitcher, he keeps the ball down in the zone and generates groundball outs. Rusin is particularly strong against left-handed hitters due to his breaking ball, but his change-up is far from a polished product. The key for him is to command his fastball early in the count and then use his curveball to induce weak contact. Rusin has limited upside, but has good durability. He has a career 3.85 ERA, 2.4 Ctl, and 6.7 Dom.
STATS: Iowa (AAA) – 24 gs, 8-8 4.59 ERA, 133.1 IP, 1.7 Cmd, 3.5 Ctl, 5.9 Dom, 16 HR, .272 oppBA
CURRENT ROLE: Spot starter
POTENTIAL: #4-5 starter
RATING: 6D
Kyle McPherson (RHP, PIT)
After a 19-inning affair, the Pirates reached down to Triple-A to recall two pitchers, McPherson being one of them. The 24-year-old was Pittsburgh's 2011 minor league pitcher of the year, but began this season late due to shoulder inflammation. He's best known for peppering the strike zone with quality strikes. McPherson is tall and very athletic with off-the-charts pitchability. His pure stuff is good, but not great. He throws with clean, easy arm action that generates an 89-95 mph fastball that he commands and locates extremely well. He repeats his arm speed on his change-up, making it his next best offering. McPherson's curveball tends to be flat at times and he'll need to upgrade it to give him three average to above average offerings in the big leagues. Because of his ability to change speeds, he's been very tough on left-handed hitters. McPherson has a career 3.50 ERA, 1.5 Ctl, and 7.7 Dom.
STATS: Indianapolis (AAA) – 2 gs, 0-1 1.59 ERA, 11.1 IP, 6.0 Cmd, 1.6 Ctl, 9.5 Dom, 1 HR, .214 oppBA
Altoona (AA) – 9 gs, 3-5 4.25 ERA, 48.2 IP, 9.2 Cmd, 0.9 Ctl, 8.5 Dom, 5 HR, .278 oppBA
CURRENT ROLE: Middle reliever
POTENTIAL: #3-4 starter
RATING: 8D
Justin Wilson (LHP, PIT)
To add depth to the bullpen, the Pirates recalled the 25-year-old from Triple-A. The jury is out on whether his future lies in the starting rotation or the bullpen. Wilson was repeating Triple-A this season and while he hasn't improved his erratic control, he is continuing to dominate left-handed hitters (.133 oppBA) with a potent curveball with big break. Wilson can reach back and hit 95 mph on the gun (especially when he's coming out of the bullpen), but he generally sits between 88-93 mph. Wilson struggles with his inconsistent mechanics and release point which negatively impacts his command. He registers strikeouts with his curveball, though patient hitters may not swing at it. His change-up exhibits late movement, but it is also an offering that he struggles to control. Wilson has value, but until he improves his command and control, he'll be relegated to low leverage situations. He has a career 3.85 ERA, 4.5 Ctl, and 7.9 Dom.
STATS: Indianapolis (AAA) – 25 gs, 9-6 3.84 ERA, 131.1 IP, 2.0 Cmd, 4.5 Ctl, 8.9 Dom, 11 HR, .189 oppBA
CURRENT ROLE: Long reliever
POTENTIAL: #4 starter / Setup reliever
RATING: 7C
August 20
No call-ups today.
August 19
Charlie Blackmon (OF, COL)
The Rockies called up the 26-year-old to take the roster spot of Carlos Gonzalez who was placed on the bereavement list. Blackmon, a tall and athletic outfielder, missed time early in the season with a turf toe injury. He had 98 AB with Colorado in '12 and hit .255 with 1 HR before breaking his foot. He is an exciting and aggressive player who makes outstanding contact with a short, simple stroke from the left side. While he has good strength, his lack of premium bat speed may limit his power potential in the big leagues. As he rarely strikes out and he knows how to read pitches, he should maintain a fairly high BA. Blackmon has above average speed and sound instincts while on base. With his hitting ability and patient approach, he should get stolen base opportunities. He is a good defender who can play CF, though his arm strength may be most beneficial in an outfield corner. If Blackmon can improve against left-handed pitching, he could become a regular. He has a career line of .312/.376/.473 in the minors.
STATS: Colorado Springs (AAA) – 228 AB, .303/.385/.482, 18 2b, 5 HR, 0.69 Eye, 10 SB
Tri-City (SS) – 59 AB, .237/.348/.373, 5 2b, 1 HR, 0.70 Eye, 3 SB
CURRENT ROLE: Reserve outfielder until Carlos Gonzalez returns from bereavement list
POTENTIAL: Starting outfielder
RATING: 8D
August 18
Matt Carson (OF, MIN)
The 31-year-old is back in the big leagues for the first time since '10. The Twins recalled him from Triple-A to serve as a backup outfielder. Carson hit .200 with 5 HR with Oakland between '09 and '10. He is in his fourth organization. The right-handed hitter doesn't possess an overwhelming skill, but he exhibits good pop to the pull side and has enough speed to steal a few bags. Carson has a long, exploitable swing and he isn't particularly successful against good breaking balls. With an aggressive, swing-at-anything approach, his OBP is muted and his BA potential is slim. As a good fastball hitter, Carson can jerk balls out of the park or line them to the gaps for extra base hits. Defensively, he owns a strong arm and average range. He'll occasionally play CF, but is mostly a corner OF. He is a career .264/.325/.447 hitter with a high of 26 HR in '09.
STATS: Rochester (AAA) – 405 AB, .277/.339/.447, 23 2b, 14 HR, 0.32 Eye, 9 SB
CURRENT ROLE: Reserve outfielder
POTENTIAL: Reserve outfielder
RATING: 5C
August 17
Gil Velazquez (INF, MIA)
With the intent of adding depth to the infield, the Marlins recalled the 32-year-old from Triple-A. Velazquez has appeared in the majors with Boston between '08 and '09 and also with the Angels in '11; he has 16 career AB. The right-handed hitter is now in his fifth organization and he is likely to bounce around with minimal big league exposure. His defensive versatility and fine glovework will keep him around. He can play SS and 2B equally well with ample range and a strong, accurate arm. His clean, quick footwork allows him to turn double plays with ease. As a hitter, he's making much more contact than he used to, though he still is prone to strikeouts. Velazquez uses a short, compact stroke to put bat to ball and he runs well enough to get the occasional infield hit. He doesn't have much pop in his lean frame. He is a career .246/.308/.329 hitter with a high of 10 HR in '08.
STATS: New Orleans (AAA) – 363 AB, .314/.392/.383, 14 2b, 3 HR, 0.96 Eye, 5 SB
CURRENT ROLE: Reserve infielder
POTENTIAL: Reserve infielder
RATING: 4C
Explanation of BaseballHQ.com's prospect rating system
For more information about the terms used in this article, see our Glossary Primer.
Shopping Cart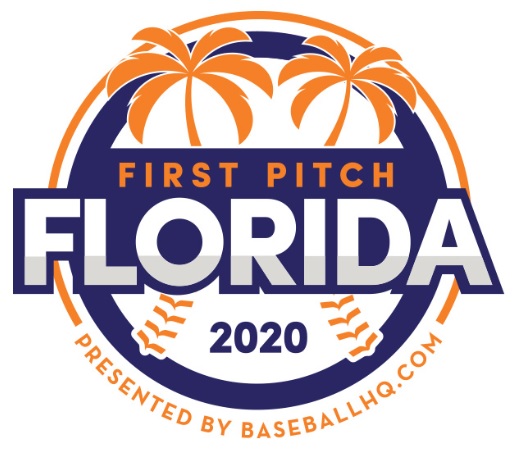 Inaugural Event!
February 28-March 1, 2020
St. Petersburg, FL
A few seats still left!